So you've decided to ditch the booze and lead a healthier life. But you still want to enjoy the complex and intriguing flavors that a well-made cocktail can bring. Well, you're in luck because there are plenty of great recipes for making a killer non-alcoholic cocktail, often called a "mocktail." These combinations can approximate the sensation of sipping on a stiff drink without the headaches and hangovers.
"Non-alcoholic spirits can truly be the champions when it comes to replicating the taste of your desired drink if your drink of choice is a cocktail," says BODi Culinary Specialist Holly Monks. "Since mixed drinks are just that: mixed. Much of the flavor you're looking for will be the same since the mixers won't change. Also, removing the alcohol will remove a good portion of empty calories."
The good news is that you can quickly whip most of these up at home without having to venture beyond your local grocery store. If you feel a little more adventurous, though, you can try out some of the newest non-alcoholic concoctions that use a blend of ingredients like botanicals and extracts to create passable faux-spirits. Some are entirely new beverages made from herbal ingredients.
1. Faux-jito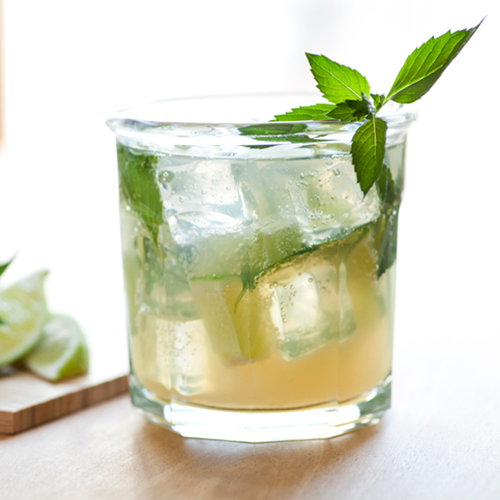 Ingredients
10 fresh mint leaves, plus more for garnish
½ lime, cut into 4 wedges
2 tsp. stevia or monkfruit sweetener (liquid or powdered)
1 cup ice cubes
½ cup seltzer
Instructions
In a medium glass, add mint leaves and 1 lime wedge. Muddle the mint and lime in the bottom of the glass.
Add two lime wedges and the sweetener, and muddle again.
Fill glass with ice, then add seltzer. Garnish with mint leaves and lime wedge, adjusting sweetness with more sugar, if desired.
2. New Yorker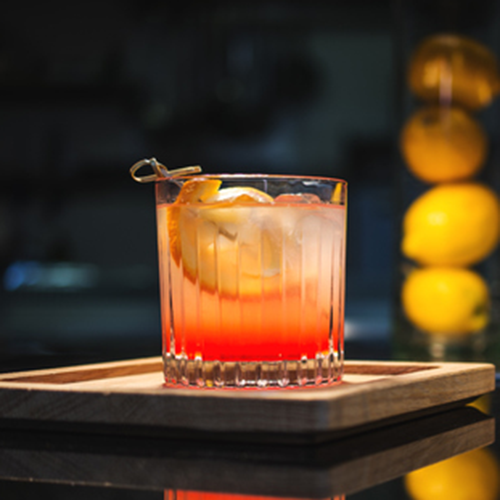 Ingredients
3 Tbsp. oolong tea
1 dash pure vanilla extract
1½ tsp. fresh lemon juice
1 tsp. pure maple syrup
1 Tbsp. egg white
1½ tsp. water
1½ tsp. pomegranate juice
Instructions
Mix tea with the extract.
Add the lemon juice, maple syrup, and tea mixture to a cocktail shaker. Stir the egg white with a fork, then pour into the shaker. Shake well until frothy, then add some ice and shake again.
Strain into a glass filled with ice. Add water to the pomegranate juice and pour into glass. Let drink settle, then enjoy.
3. Virgin Mary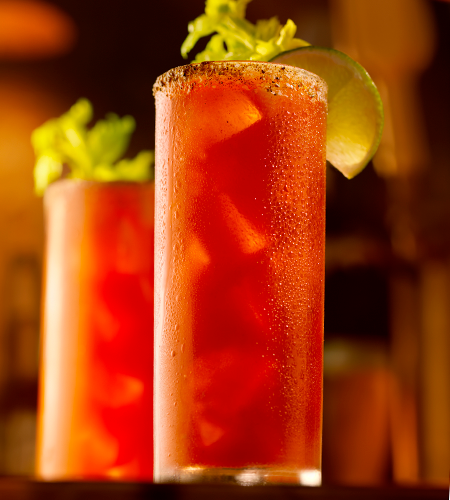 Ingredients
¼ cup + 2 Tbsp. tomato juice
1 Tbsp. fresh lemon juice
1 dash Worcestershire sauce
1 dash celery salt
Freshly ground black pepper
¼ tsp. vinegar-based hot pepper sauce, like Tabasco®
1 stalk celery, for garnish
1 pickle spear, for garnish
3 green olives with pimento, for garnish
Instructions
Add the tomato juice and lemon juice to a medium glass filled with ice, mix well.
Add the Worcestershire sauce, celery salt, pepper, and hot pepper sauce. Adjust with each to taste.
Garnish with celery, pickle, and/or olives if desired.
4. Raspberry Shrub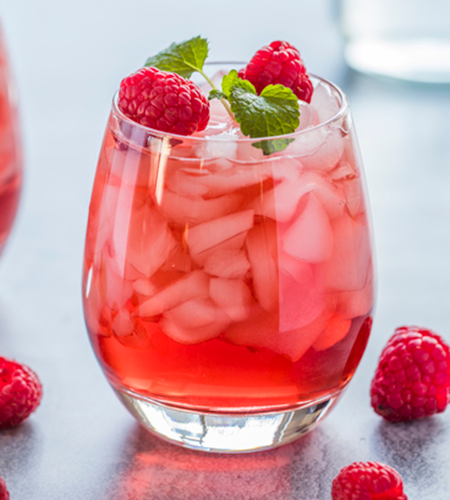 Ingredients
¾ cup raspberries
1 tsp. honey
¼ cup + 1 Tbsp. apple cider vinegar
4 mint leaves
2 cups sparkling water
Instructions
Add half of the raspberries to a large bowl and lightly muddle. Pour the honey over the raspberries and stir well. Cover and put in the refrigerator overnight.
Mix in the vinegar the next day, then use a fine-mesh sieve to strain into a large jar. Mash the mixture with the back of a wooden spoon through the sieve to extract all of the liquid.
Put in the rest of the raspberries, mint, and sparkling water. Add as much ice as you'd like and stir to combine.
5. Mock-garita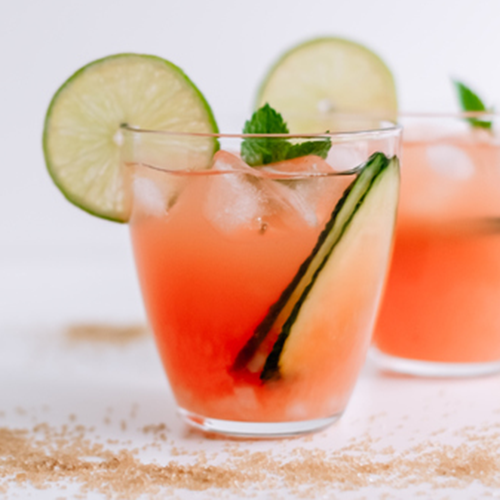 Ingredients
6 medium limes, juiced
2 medium oranges, juiced
2 tsp. coconut sugar
4 cups crushed ice
1 tsp. Margarita salt
4¼ cups seltzer (Makes 2 servings)
Instructions
Add lime juice, orange juice, sugar, and ice to a blender and pulse until well mixed. Put into a freezer and leave until firm.
Run the lime wedges along the rims of medium glasses. Place margarita salt in small plate and swirl glass rims into salt.
Pour the seltzer into the frozen mixture, blending until it turns slushy. Serve in salt-rimmed glasses.
6. Mock Mai Tai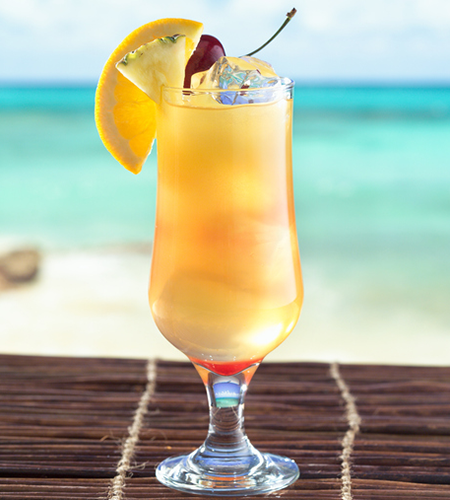 Ingredients
3 Tbsp. apple cider
1 Tbsp. apple cider vinegar
½ tsp. ginger syrup
1 Tbsp. fresh lemon juice
½ tsp. almond-flavored syrup
4 red apple slices, for garnish
Instructions
Add the apple cider, vinegar, ginger syrup, lemon juice and almond syrup to a cocktail shaker. Fill with ice cubes and shake well.
Strain the liquid into medium glasses (ideally chilled), add more crushed ice. Garnish with apple slices.
7. Ginless Gimlet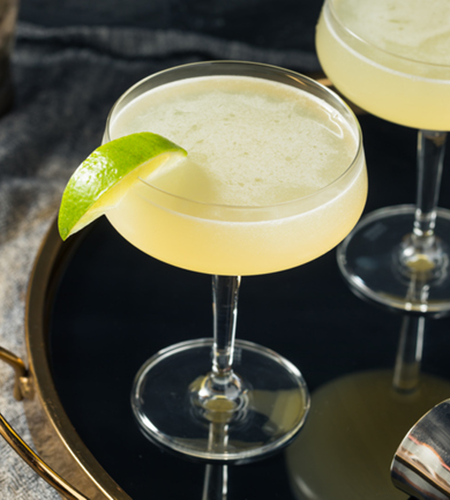 Ingredients
Instructions
Add all ingredients to a shaker filled with ice. Shake vigorously until well mixed.
Pour into a medium glass and garnish with lime.
8. Kina Colada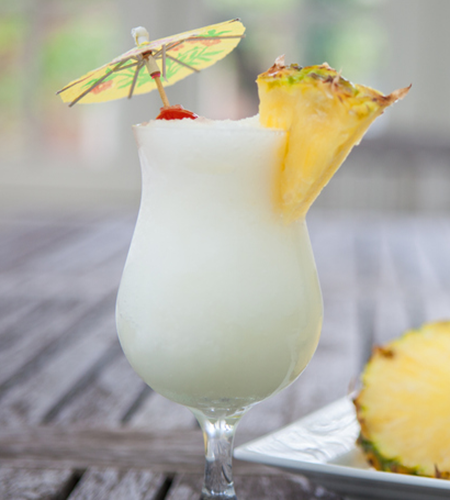 Ingredients
¼ cup Kin High Rhode
2 Tbsp. coconut milk
2 Tbsp. no-sugar-added pineapple juice
1 tsp. ginger syrup
1 pinch spirulina
1 pinch of ground cinnamon
Instructions
Pour Kin High Rhode, coconut milk, juice, syrup, spirulina, and cinnamon into a shaker into a shaker filled with ice. Shake vigorously for 30 seconds.
Strain into a medium glass filled with ice. Garnish with a pinch of cinnamon, if desired.
9. Cold Brew Highball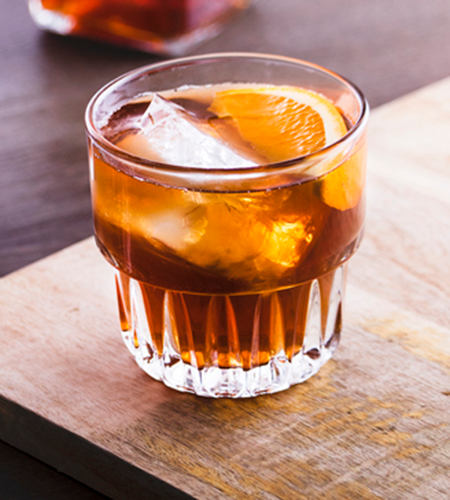 Ingredients
¾ tsp. Seedlip Spice 94
2 Tbsp. cold brew concentrate
1 Tbsp. no-sugar-added pink grapefruit juice
¼ cup + 2 Tbsp. craft tonic
1 piece of grapefruit skin
Instructions
Add Seedlip Spice 94, cold brew, juice, and craft tonic into a medium glass. Add ice and mix well.
Garnish with the grapefruit peel.