For some, a drink is an ideal way to unwind at the end of a long day or celebrate the weekend's arrival. But sometimes you have to drive, or parent, or maybe you've decided to be more health-conscious. Luckily, you can keep a clear head and still stay in good spirits by enjoying the best non-alcoholic drinks.
Whether you're looking for a cold brew on a hot day, the perfect wine pairing for the main course, or a cocktail concoction to dazzle your guests, here are the best non-alcoholic drinks for you to try.
We're living in a golden age of NA beers. Instead of settling for the sole option hidden in the back of the beer distributor, you've got a lot of tasty options. Here are a few of our favorites.
1. Heineken 0.0
Boasting the same skunky aroma as the original Heineken, this lager has a balanced taste with refreshing lemony notes, a soft malty body, and a subtle sweetness. It's the perfect choice for watching a game on TV or enjoying a summer day at the park.
Learn more at Heineken.
2. Athletic Brewing Co. All Out Stout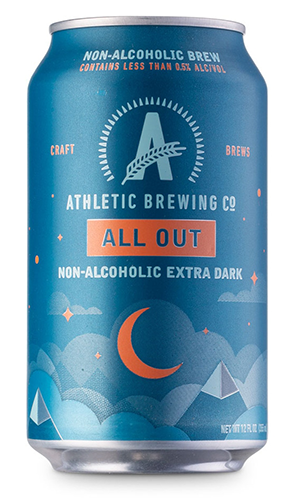 That's right — a non-alcoholic stout! Enjoy a thick, foamy head with hints of roasted coffee and chocolate. Pair this brew with a comfy chair and a roaring fire, or take it as a roadie on a long walk.
Learn more at Athletic Brewing.
3. Samuel Adams Just the Haze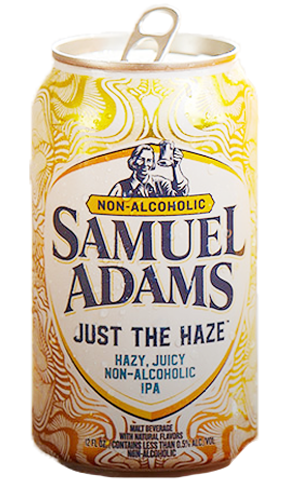 The craft beer pros at Sam Adams used four types of hops to create what they call a world-class IPA that happens to be non-alcoholic. It's golden, hazy, and citrusy, so bring a six-pack to your next get-together and see if your friends notice the difference.
Learn more at Samuel Adams.
These are just a few of our favorite NA beers. Check out our complete list for more great brews.
It's almost hard to imagine liquor mainstays like tequila and vodka in non-alcoholic form, but these distillers have found a way to make them pretty convincing clones. Straight up, on the rocks, or in a cocktail, here are some of our favorite NA spirits.
1. Seedlip Garden 108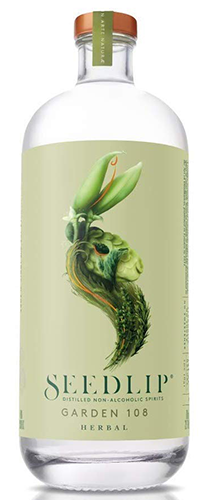 Get your tonic ready! This NA spirit, featuring herbs and botanicals like spearmint, rosemary, and thyme, boasts a flavor that's strikingly similar to gin. Seedlip's beverage lineup features the finest plant-based ingredients with the goal of changing the way the world drinks.
Get it on Amazon.
Learn more at Seedlip Drinks.
2. Ritual Zero Proof Tequila Alternative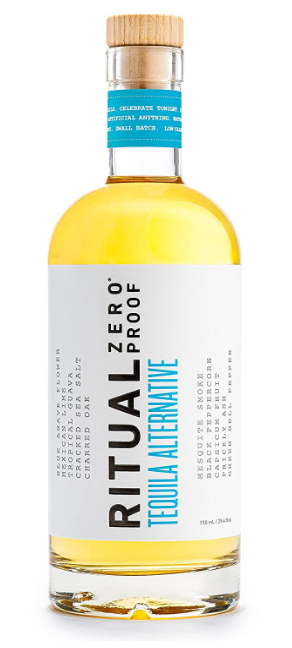 Just because you're staying sober doesn't mean you can't enjoy a margarita! Ritual's tequila alternative smells and tastes like the Mexican staple, so we hope you have plenty of limes and salt.
Get it on Amazon.
Learn more at Ritual Zero Proof.
3. Arkay Alcohol-Free Vodka

Arkay's vodka alternative stacks up to the real thing when it comes to aroma and taste, but it has no sugar, carbs, calories, or alcohol. It even promises to finish with a friendly vodka-esque burn. Don't forget to pick up some cranberry juice or Bloody Mary mix.
Get it on Amazon.
Learn more at Arkay Beverages.
Check out our best non-alcoholic spirits for alternatives to other popular drinks like whiskey and rum.
Whether you're searching for the perfect food pairing or sipping with friends, the perfect wine can be a highlight of a great evening. Here are our favorite non-alcoholic wines.
1. Leitz Eins Zwei Zero Riesling

This German winery makes the beloved Dragonstone alcoholic riesling, so this slightly dry, crisp non-alcoholic version is a testament to its NA chops. Enjoy it with chicken, fish, or your favorite Chinese takeout.
Buy it from The Zero Proof.
2. Ariel Cabernet Sauvignon

If you've got a steak on the grill, an oak-aged cabernet in your glass is always a great decision. This NA vino has hints of chocolate, cherries, and blueberries. We'll bet you don't even miss the real thing.
Buy it from Ariel Vineyards.
3. Chateau de Fleur non-alcoholic champagne

It's always a good idea to keep a bottle of bubbly on hand for an impromptu celebration. This sweet Champagne substitute — with apple and peach flavors — won't disappoint. To level up your celebration, pick up a champagne saber and turn opening the bottle into a spectacle.
Buy it from Amazon.
Looking for a great prosecco? How about a refreshing chardonnay? Check out our complete list of NA wines to find your perfect match.
There's something about mixing the perfect drink that elevates a cocktail from a simple beverage to an experience. For the mixologists, here are some of our favorite non-alcoholic cocktail recipes.
1. Faux-jito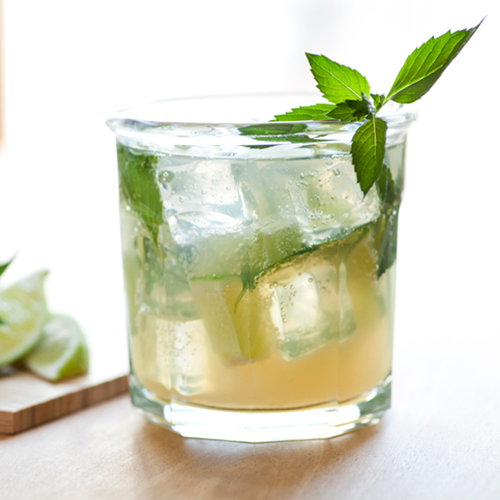 It's all the flavor of the traditional Cuban cocktail without the rum.
Ingredients
10 fresh mint leaves, plus more for garnish
½ lime, cut into 4 wedges
2 tsp. stevia or monkfruit sweetener (liquid or powdered)
1 cup ice cubes
½ cup seltzer
Instructions
In a medium glass, add mint leaves and 1 lime wedge. Muddle the mint and lime in the bottom of the glass.
Add two lime wedges and the sweetener, and muddle again.
Fill glass with ice, then add seltzer. Garnish with mint leaves and lime wedge, adjusting sweetness with more sugar, if desired.
2. Raspberry shrub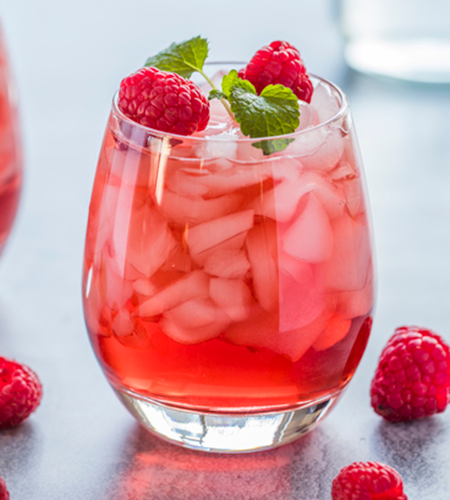 Create Las Vegas lounge vibes by serving this fruity concoction in a stemmed flute or martini glass.
Ingredients
¾ cup raspberries
1 tsp. honey
¼ cup + 1 Tbsp. apple cider vinegar
4 mint leaves
2 cups sparkling water
Instructions
Add half of the raspberries to a large bowl and lightly muddle. Pour the honey over the raspberries and stir well. Cover and put in the refrigerator overnight.
Mix in the vinegar the next day, then use a fine-mesh sieve to strain into a large jar. Mash the mixture with the back of a wooden spoon through the sieve to extract all of the liquid.
Put in the rest of the raspberries, mint, and sparkling water. Add as much ice as you'd like and stir to combine.
3. Cold brew highball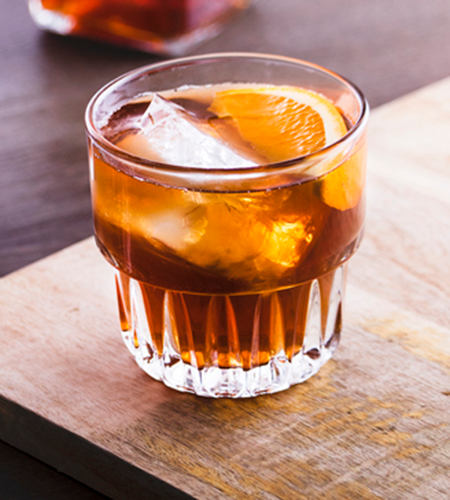 Just because you're abstaining from alcohol doesn't mean you can't enjoy a nice caffeine buzz.
Ingredients
¾ tsp. Seedlip Spice 94
2 Tbsp. cold brew concentrate
1 Tbsp. no-sugar-added pink grapefruit juice
¼ cup + 2 Tbsp. craft tonic
1 piece of grapefruit skin
Instructions
Add Seedlip Spice 94, cold brew, juice, and craft tonic into a medium glass. Add ice and mix well.
Garnish with the grapefruit peel.
If you're looking for more recipes to show off your mixology skills, check out our best non-alcoholic cocktails.



Credit : Source Post