Sometimes life gets busy, and finding time to support your healthy eating habits can be tough! Different situations call for different strategies. What saves time one week might be too time consuming in another situation so it's helpful to have a variety of ideas.
I created this Healthy Eating Shortcuts Guide from things I've done myself, and also asking the Team Betty Rocker coaches what they do. So in this reference, you'll find some of our best tips for our version of all or something healthy eating when we're busy or on the go!
Save this post to reference anytime, and we're hoping you'll share some of your own ideas in the comments section of this post!
Fast (healthy) foods to stock your pantry with
Here are some ideas to stock your pantry (and freezer) with for when you're short on time. I'm always thinking of sources of protein, veggies and greens, complex carbs and healthy fat.
PROTEIN IDEAS
Canned tuna, salmon or chicken: I often have canned tuna, salmon or even chicken on hand to throw a quick salad together. You could mix your protein with avocado or cottage cheese and some tasty dressing, throw in some diced veggies and you're ready to go. You could add it to a tomato-based pasta sauce, even on a homemade pizza. I try to find a low-sodium brand that is packed in water, not oil.
Pre-cooked meat or chicken cut into strips: Pre-cut and pre-cooked packets of meat are usually spiced in some way, which makes them a great quick protein source to add to a salad. Plus, there's no prep time. I don't use these every week because they tend to be a little high in sodium (check the label) but they're a great shortcut when you're pressed for time.
Hard boiled eggs: The prep for hard boiling eggs is minimal, and can be a useful way to have a nourishing protein/fat source on hand. You can add them to salads or enjoy them with toast or fruit.
Frozen shrimp (pre cooked or raw): Shrimp will thaw in 15-20 minutes in a bowl of water, then it's ready to go into any recipe. It often takes a very short cooking time to saute, making it a super fast way to get a protein source onto a meal. You can buy it pre-cooked or raw – the pre-cooked will save you even more time.
High protein pasta: I've been a big fan of bean-based pasta lately from brands like The Only Bean, that makes a variety of fast-cooking pasta from edamame, black and soy beans. It cooks in 4 minutes and boasts 25 grams of protein per serving! I've seen other brands at grocery stores that are similar, so take a look! This pantry item keeps well to be called on when you're short on time.
Protein powder: Protein powder is always a staple in my cupboard, since it's an easy, convenient way to get an extra serving of protein whether I'm adding it to a recipe or running out the door with my shaker bottle. You can add it to smoothies, bars, muffins, even oatmeal. I always recommend my own brand, Whole Betty for protein powder since I control what ingredients go in it, and the testing. Available in chocolate, vanilla, strawberry (with greens) and collagen!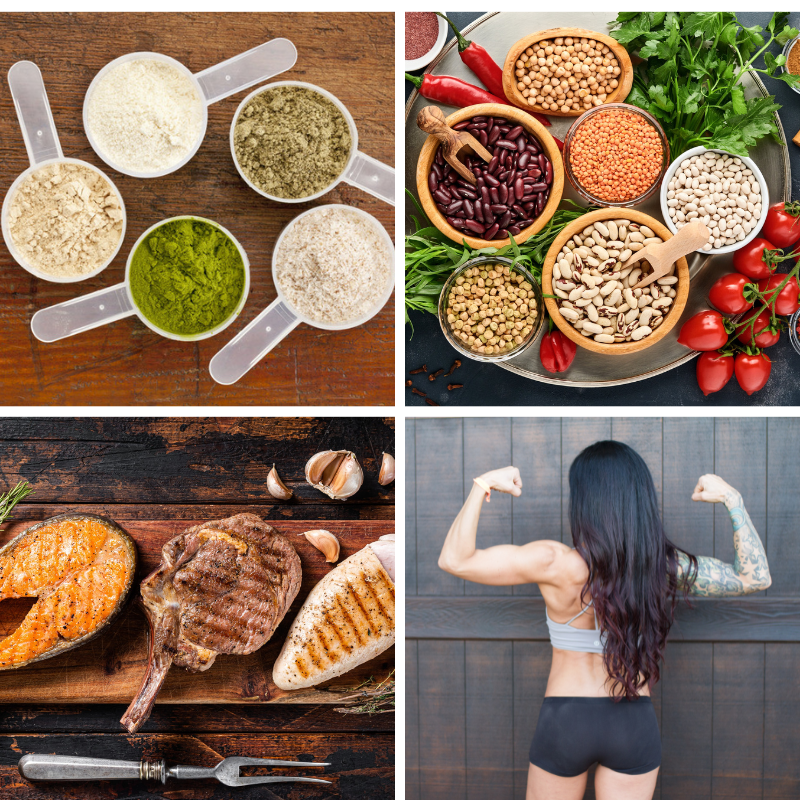 GREENS IDEAS
Frozen veggies: With a wide variety of frozen vegetables and a fast cooking time,  this is one of my favorite staples to have on hand. It saves me when I haven't had time to go grocery shopping as these veggies aren't going to go bad, and will keep in the freezer for quite a long time. You can throw a handful of frozen vegetables into a pot of soup or a stew to increase your fiber intake, or just boil or steam them quickly when you don't have time to make anything fancy.
Frozen greens: Along the same lines, frozen greens are also a great way to have what you need on hand for a smoothie. Perhaps you bought too many greens this week – put them in some freezer bags in portions that are just right for your next green smoothie and pull them out when you're ready.
Salad mix: You can save yourself the time it takes to prep your veggies and greens for a salad by buying them pre-cut or pre-packaged. I know this isn't as cost effective as making everything yourself, but sometimes the time you save is more valuable. It's easy to toss them together in a bowl or toss in a pan to sauté. Normally when I'm doing food prep for the week, I'll make a big salad or slaw with lots of fresh produce and herbs and have that ready to eat throughout the week, but you can shorten the time it takes to do this by buying thing pre cut. Bonus protein: You can add organic silken tofu to your salad dressing for a little extra punch of protein – plus it makes the dressing extra creamy.
Pre-cut veggie trays: This may not be super cost-effective but it saves time and provides a nice variety of veggies you might not have eaten without it being all arrayed attractively for you. You'll have things like carrots, celery, red peppers, snap peas, broccoli etc ready to grab and go. They can be eaten raw with hummus or nut butter or easily cooked as a side.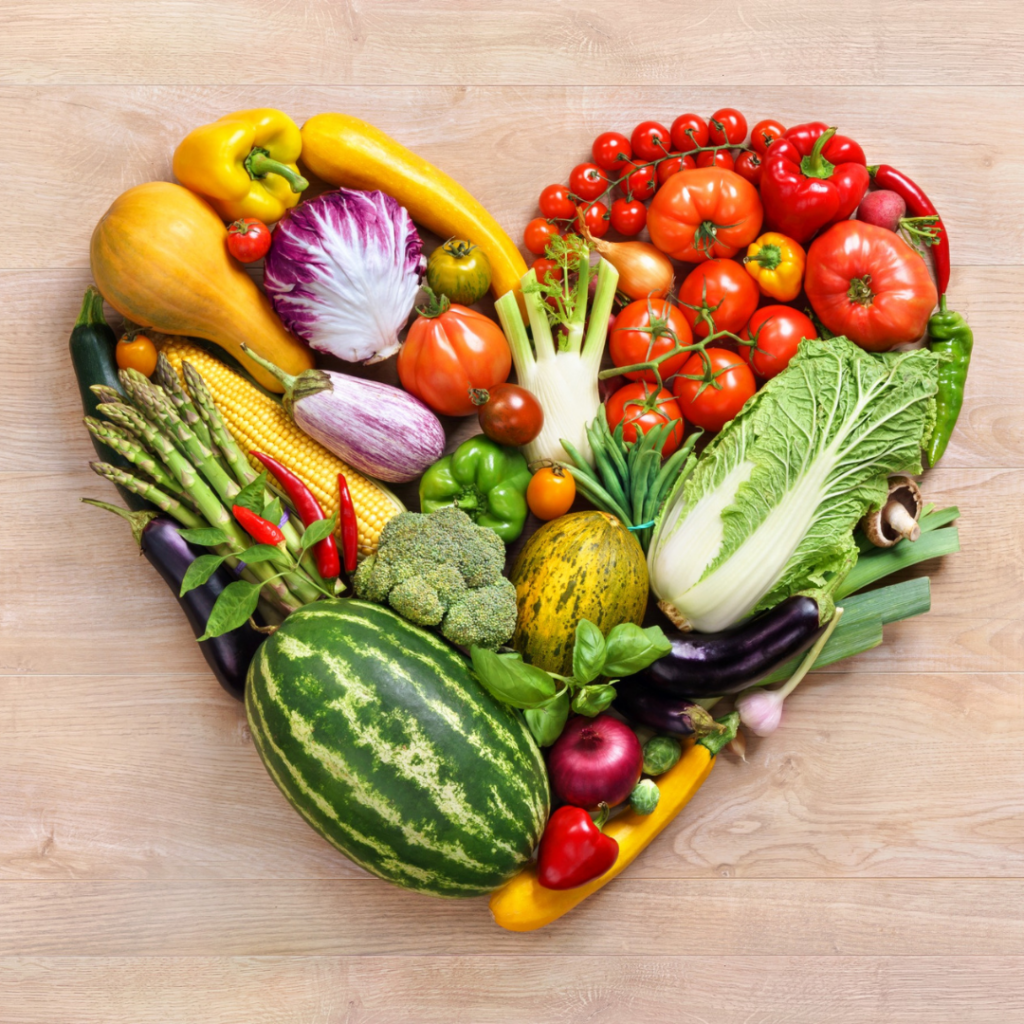 CARBS IDEAS
Frozen berries: When fresh berries aren't in season (and even when they are!), frozen berries are a great way to add fiber and extra nutrients to your smoothie. You can thaw them and have them with protein pancakes or French toast, or with a bowl of muesli or overnight oats.
Canned or boxed beans: I like to keep my pantry stocked with a small variety of canned or boxed beans –  whether kidney beans, black beans, white or black beans, chickpeas, etc. They're great to add to a salad, a soup or a stew or also blended with some olive oil, garlic and your choice of spices to make hummus. While not a canned item, red lentils cook up incredibly quickly and are a great addition to an Indian-style chicken stew or soup. Add some coconut milk, your favorite curry powder and some chopped vegetables. So good!
Prepackaged pouches or frozen bags of pre-cooked grains: I didn't know about this until I needed it! This can be a great way to pull a meal together quickly when you're short on time. Usually they just need to be reheated.
Tortillas or wraps: High in fiber and great for sandwiches, they also make an excellent fast pizza crust. Spread them with hummus or a layer of tomato sauce, add your favorite toppings, and bake!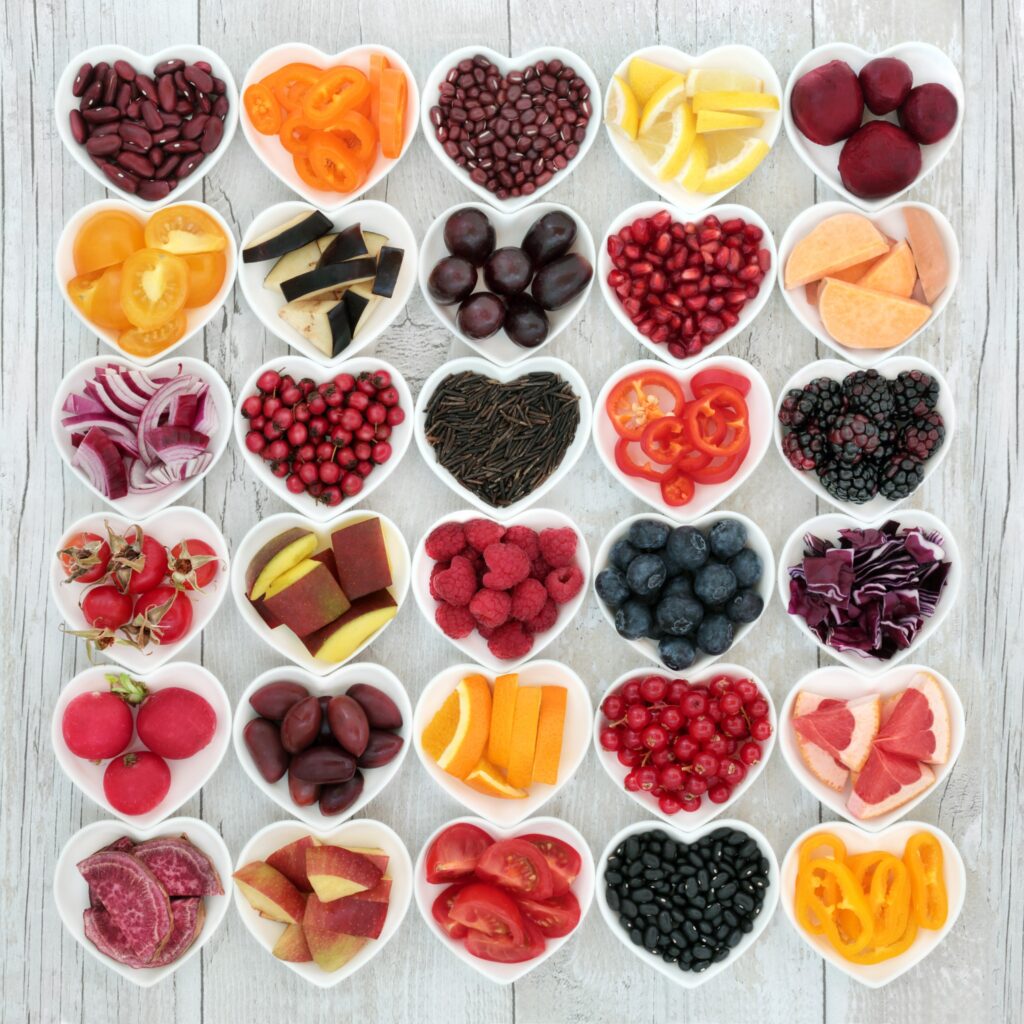 HEALTHY FATS IDEAS
Check your labels: Often when you're buying pre-packaged items, they have some fat in them already so you don't need to add anything. On that note, I recommend checking your pre-made items for sodium. Do your best to rotate items that are high in it with those that are more moderate to low.
Avocados: Did you know avocados can keep for a week or so if you store them in the fridge? For the ones you cut open, save their shell and use it to cover the unused portion up again. This will help preserve them. For unopened ones, their ripening will slow in a colder environment so store them in the fridge if you won't eat them within a couple of days.
Nuts and seeds: A great pantry staple for any kitchen, nuts and seeds contain healthy fats, fiber and other nutrients that are great for you. They're easy to add to a salad, oatmeal or simply have a portion of when you're hungry.
Dark chocolate: I always have dark chocolate in my pantry – 70% dark or higher. Take a look at the sugar content in your chocolate as well so you're not inadvertently eating an extra 10-20 grams of added sugar when you were actually trying to be mindful of your sugar intake. Typically 2-4 grams per serving would be ideal. This is dependent on what the manufacturer used for their sugar source, and what they're saying a serving is.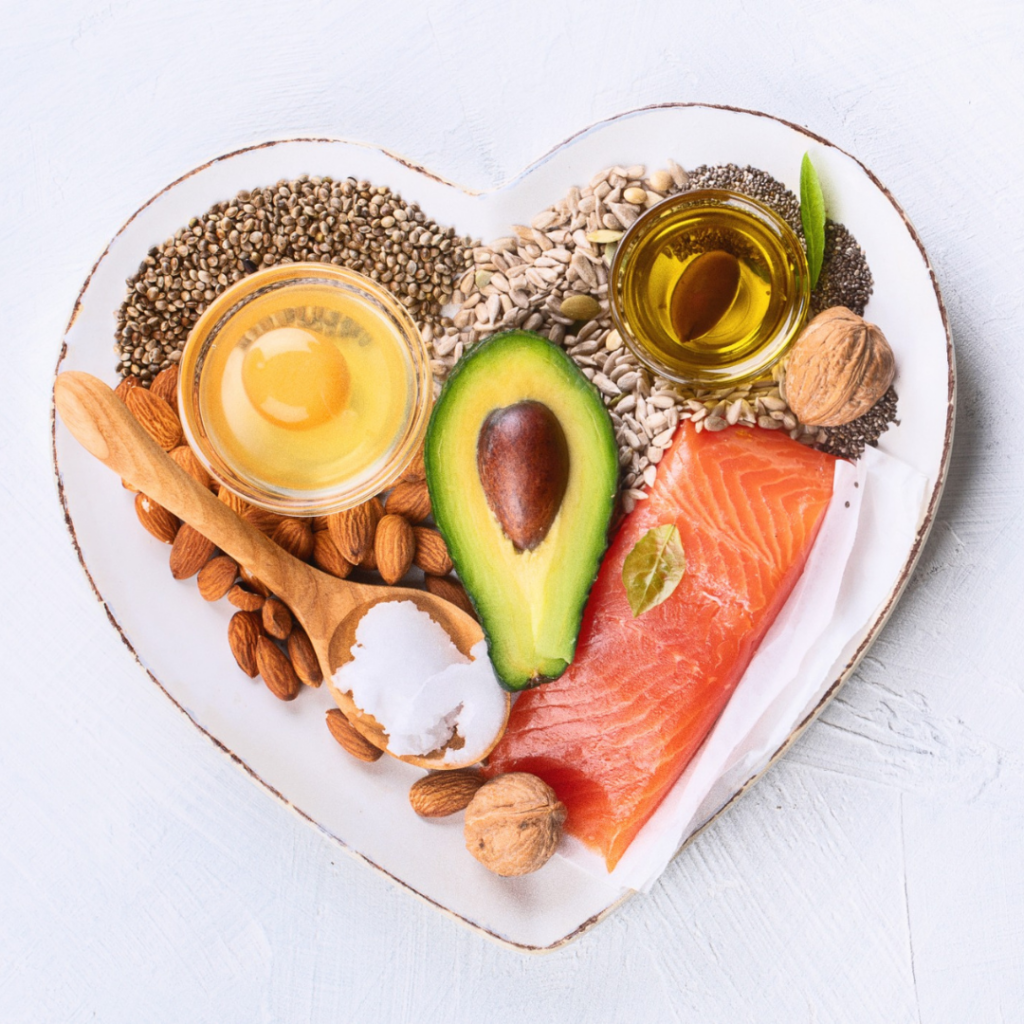 ---
Meal Prep fast track
Building healthy meals becomes easier when we start with the protein source. Since we want to ensure each meal we eat has a protein source, once we get that part decided we can build around it with our other important elements: carbs, fat and greens. So here are some meal ideas that don't take long!
Smoothies: A smoothie is a quick and easy way to get in a serving of greens and protein (and whatever else you want to throw in there!). Check out my green smoothie section for some recipe ideas! I recommend my own brand, Whole Betty for protein powder since I control what ingredients go in it, and the testing. Available in chocolate, vanilla, strawberry (with greens) and collagen!
Fast breakfasts: Having egg muffins or a frittata on hand is a nice breakfast or lunch option that's ready to eat – though you need to make these in advance! For breakfasts to make fast, I like my 5-minute protein pancakes. When I'm traveling, I make a few batches and take them with me in a cooler, as they taste great hot or cold and are super portable. Another fast easy breakfast is a smoothie, or a Unicorn bowl (in the blender: oatmeal with protein powder and a little milk of your choice).
Snacks (aka "nutrient-dense mini meals"): My requirement for a "snack" is that it's nutrient dense, contains protein and isn't just a bunch of sugar and sodium and fat in a pretty package. That's why I call it a "mini meal." It should have similar nutrients you'd get in a main meal, but it's mini. You can of course pre make protein rich muffins, breads, bars or energy bites in advance and have them to grab and go anytime. They usually freeze well, or can be kept in the fridge for the week. I have some great recipes for those kind of things that you can check out right here. In the "On the Go Shortcuts section below you can find some of my suggestions for pre-made snacks you can buy.
Easy fast salad: This avocado tuna salad is a quick and easy thing to have on hand for healthy lunches or a quick dinner. You can make it with canned beans instead of tuna for a higher carb version that leans on the protein in the beans as an alternative to the fish.
Salad in a mason jar: This idea is one you might see on social media a lot because it's both pretty and practical! You can layer ingredients into your jar in advance and have a quick meal ready to go (and easy to clean up). One way to do it is to start with the dressing on the bottom, layer in heavier ingredients like chick peas or noodles, chicken or other protein, then add veggies and greens to the top. But there are lots of layering ideas that work. You can cover the jars and store in the fridge for a quick easy meal anytime!
Pre chop your veggies for the week and if you've got more cut vegetables than you can use in a week, consider blanching and freezing them to use later.
Pile on the pilaf: Pilaf is simply diced vegetables mixed with a small grain, such as brown rice, quinoa or whole-grain couscous. It's a versatile and filling dish that works well with a variety of ingredients and flavors. That makes it a great dish to prepare in big batches and use throughout the week. Here's one of my favorites with quinoa from the blog.
Preserve your potatoes: If your menu plan includes potatoes a couple of nights during the week, you can cut them all at once and store them in containers of cold water in the refrigerator. When you need them, pat them dry, then season and cook them as you normally would.
Steam while you boil:  While cooking pasta, rice or potatoes you can multitask by steaming vegetables at the same time. Rest a wire mesh strainer on top of the pot and put cut vegetables in it. Place the pot's lid on top of the strainer and let the steam from the heated water do its job. You can also use this method when you're simmering soup.
Use canned soup as a starter kit: Low-sodium soup can be a great base for a healthy and hearty meal. Throw in your favorite ingredients, such as cooked brown rice or whole-grain pasta, diced vegetables, and pre cooked lean meat.
Double up on your recipes to have leftovers: You can do this for any dish, and it's such a time saver. For instance if you're making pasta for dinner, make extra for lunch tomorrow, or to use as a side in tomorrow's dinner. You can pre-cook larger batches of things like rice or grains, and freeze them in meal-size portions.
Buy a pre-cooked Rotisserie chicken: When it comes to ready-made foods, a rotisserie chicken is a protein source. Though it's usually pretty high in sodium and I wouldn't do it every week it can be great when you're really busy and just want that helpful short cut. And if you have the time or the inclination, add water to the chicken carcass and simmer for a few hours for a lovely chicken broth that you can freeze for later use.
One pot or one-pan meals: I love chopping up some onions and garlic and tossing them in my Dutch oven with some ground meat, canned tomatoes, spices and other veggies I have on hand to make a sort of stew or sauce. One pan meals are great for maximize your cooking time, and minimize your kitchen clean up. This One Pan Lemon Dijon Salmon and Veggies and this One Pan Mediterranean Chicken are so simple and can be served in a number of different ways – I've included vegetarian options too.
Plan recipes in advance to save time at the store and when you get home. This is ideal when you have time to do some cooking.My friend professional Chef Mark and I created My Dinner Plan, which has 24 weeks of done-for-you entree plans all mapped out, with a buildable grocery list that creates the exact list you need to shop, in the exact portions of who you're cooking for with the tap of a button.

Check it out RIGHT HERE!
---
Groceries delivered/for pick up
Sometimes finding the time to even go shopping can be a challenge. It definitely costs more to have food delivered, but sometimes that is the best option. Different regions may offer different services, but here are a few we have used (some offer pick up or delivery).
From a former waitress who had to count on tips to make a living, service people in this type of delivery service aren't paid much generally and also rely on our tips. You're saving gas money driving to and from the store, so pass that on to your delivery person!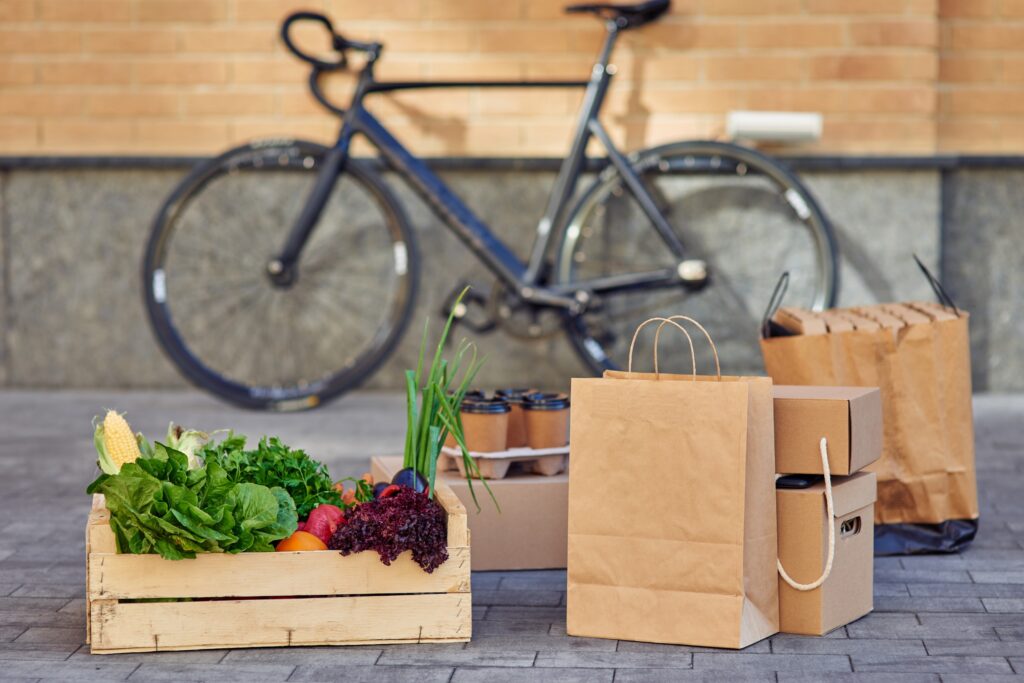 Meals delivered
I've tried several different meal delivery services over the years. I think they can be great short term, but I always end up stopping because of either a) packaging waste that's not recyclable, b) lack of variety of what I want to eat,  c) too much sodium or sugar in the meals, d) too expensive to do long-term.
That's just my opinion though! There are some great options to lean on during times when cooking just isn't an option with the done-for-you meals. There are some great meal kits available too, where they send you the ingredients and recipes and you just prep. These are current as of the writing of this post (2023):
Meals done for you:
Meal kits:
I've also found people who do local food prep and delivery on websites like Thumbtack, Facebook Marketplace and even just google searching local meal preparation and delivery. That's how I met Chef Mark who I ended up creating My Dinner Plan with. I stumbled across his website and loved his vibe and invited him to create a program with me!
---
On-the-go shortcut foods
There are a lot of common situations where you might need shortcuts. For instance when you're traveling long distances in the car or plane, or even when you're just running around all day and need something nourishing on the go.
Protein powder: I always try to have a piece of fruit and my shaker bottle and protein powder on hand for those types of situations. I always recommend my own brand, Whole Betty for protein powder since I control what ingredients go in it, and the testing. Available in chocolate, vanilla, strawberry (with greens) and collagen!
Pro Tip: Measure servings of your protein of choice into Ziploc bags, then store the bags in your shaker cup. Makes for a super-portable, super-convenient protein snack no matter where you go – just add water!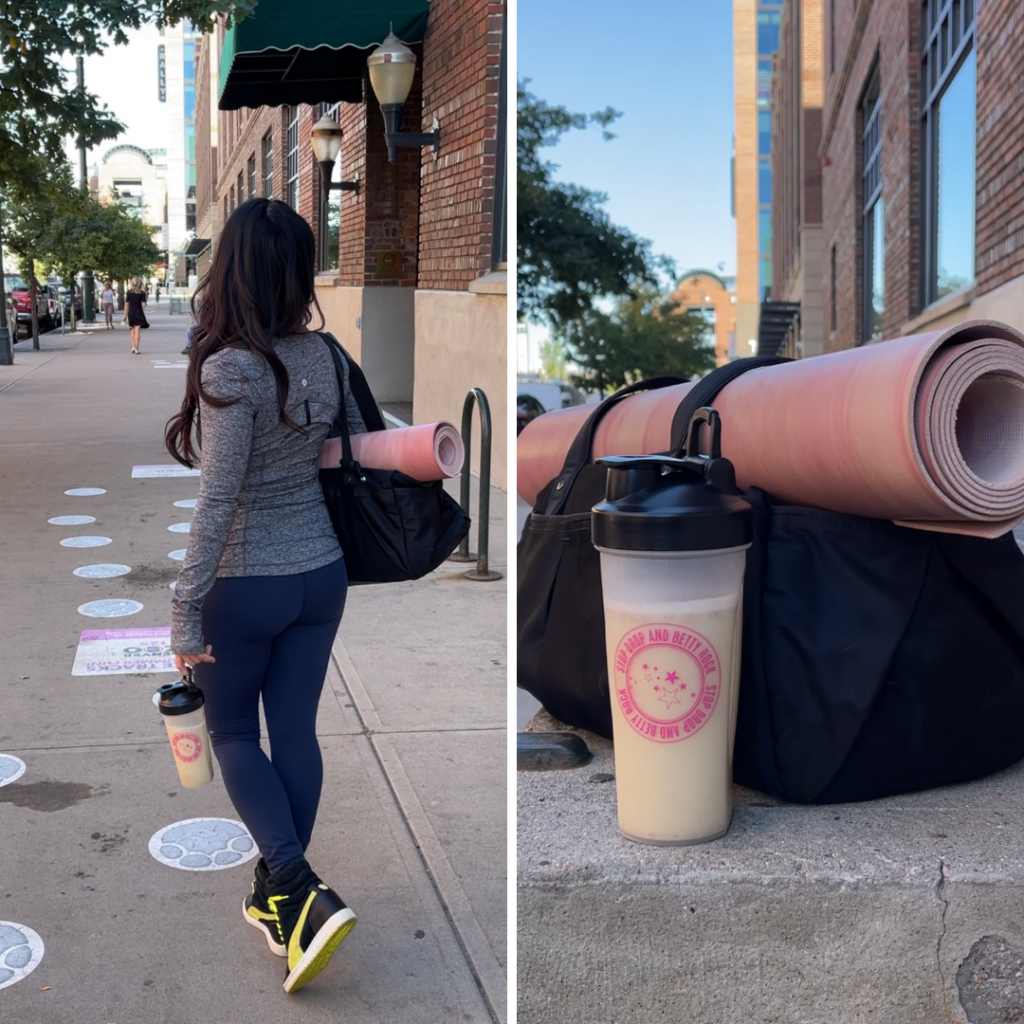 Protein bars: Time permitting, I love making my own healthy protein snacks like Gluten-free Pumpkin Muffins or Superfood Chocolate Protein Energy Bars. But when that's not an easy option, pre-packaged protein bars can be a good alternative. Depending on where you live different options may be available to buy at your local store, or you can order them online as most types store well.
Rise Bars – typically 3 ingredients; plant based
RX Bars – minimal ingredients, egg white protein
Epic Bars – all natural meat bars
Nuts or trail mix: Fill a small bag with some unsalted nuts or make your own trail mix as a satisfying crunchy on the go snack.
Stay hydrated: When you're busy and on the go, it can be easy to get dehydrated without realizing it which will make you really hungry. Be sure to always take your water bottle!
---
Make your life 
easier

with a plan for dinner every night of 

the week!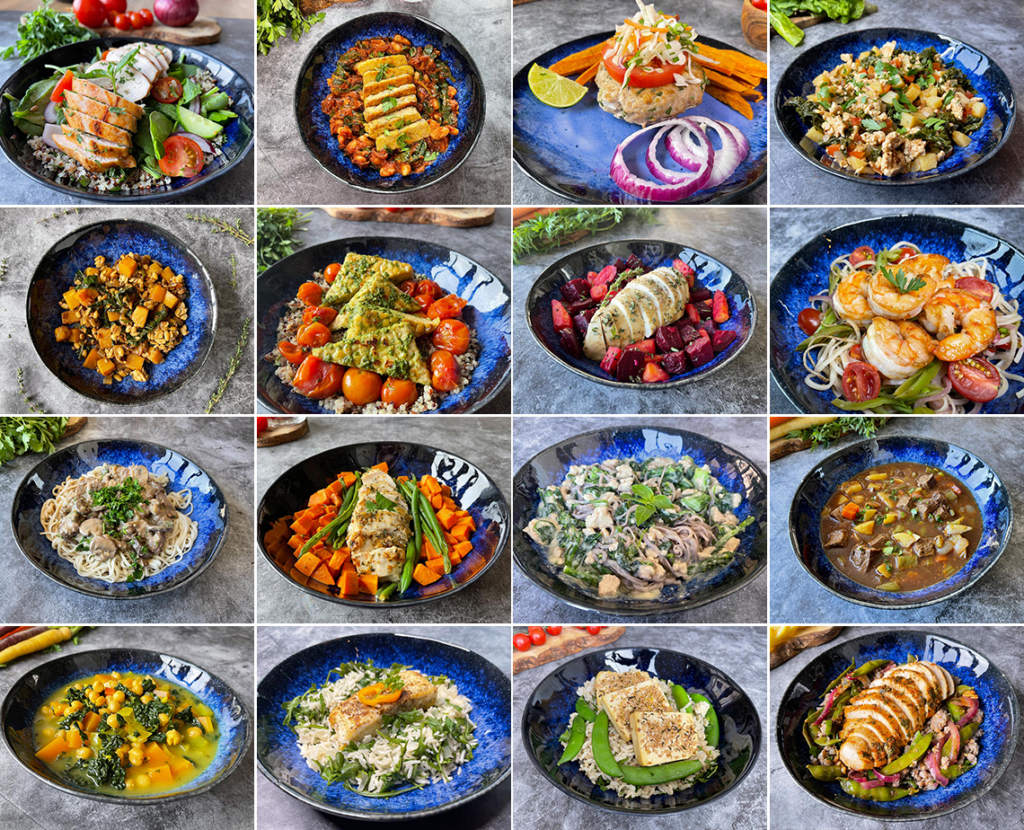 My Dinner Plan includes 6 months (that's 24 weeks worth) of menu plans, recipes and what I call "smart grocery lists" which you create with a click of a button from inside the recipes you want to make!
You'll save time on planning what to cook week after week, and save time spent at the store since you'll know exactly what you need.
You'll eat healthier with balanced and tasty meals (your choice of Omnivore or Vegetarian menu) that include all the nutrients you need to fuel your active lifestyle.
You'll save money on food costs with menus that have been strategically thought out in advance with complementary ingredients so you can avoid buying extra stuff you don't need – while still enjoying plenty of variety and flavorful dishes.

Check it out RIGHT HERE!
The post Healthy Eating Shortcuts Guide appeared first on The Betty Rocker.



Credit : Source Post