Baena was eager to share this new training wrinkle.
Joseph Baena understands the weight behind the fitness icon he's often compared to. As the son of the legendary Arnold Schwarzenegger, some might say strength and training run in the family. Some might even expect him to take up the old family "business." At the very least, Baena appears to try and honor his lineage any chance he gets. A recently shared new workout is but one example.
On the weekend of May 19-21, 2023, Baena posted an endurance workout with a full-body aim. In a now-deleted Instagram post, he presented it as a worthy challenge to his followers while continuing to polish up his own fitness.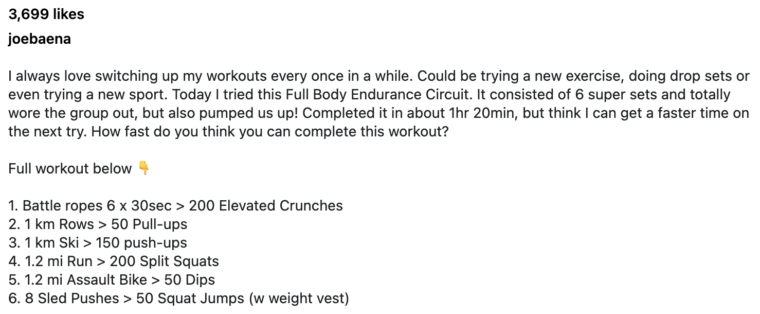 In the caption of his deleted post, Baena explains that this endurance-based routine is about "switching" up his workouts now and then. That could be in the form of a new individual movement, implementing drop sets, or even making forays into other sports outside of strength training. If it's a means of finding ways to challenge himself and keep him pushing himself through the best possible and versatile means, it seems Baena is interested in pulling out all the stops.
Here's an overview of the endurance Baena performed, featuring six supersets pairing an endurance-focused exercise with a more traditional muscle-building movement:
Joseph Baena | May 2023 Endurance Workout Overview
In a February 2022 interview with Men's Health, Baena expressed that he wanted to figure out his fitness path by himself. While he had the luxury of leaning on a Mr. Olympia legend like Schwarzenegger, Baena was interested in striking out on his own in the gym.
These days, if that interview is any indication, Baena usually works out six days a week, at two hours per session, occasionally working in cardio in the mornings when he can.
In time, he found success and a quality groove.
"I went straight to the book. I wanted to figure it out myself … I was able to acquire a bodybuilding mentality, that I could shape my body however I want."
Perhaps electing to do it on his own will drive Baena to further glory, in the gym and otherwise. It's apparent this kind of thought process was about breaking out of his father's shadow. By already holding significant fitness influence and by directing what seem like quality workouts on paper, it looks like Baena is succeeding in his individual ambition.

Featured image: @joebaena on Instagram



Credit : Source Post