This teacher highlight is with YouAligned's very own founder, Ashton August. In our YA Classes Teacher Highlights, we feature one of our amazing instructors and interview them so our members and readers can get to know them.
Ashton is a motivational author, speaker and distinguished yoga instructor with over a decade of teaching experience. She is the founder of YouAligned and creator of – and teacher! – on YA Classes.
Ashton August shares her yoga journey:
"While those first few months were really challenging for someone who never stretched, I quickly fell in love with the many benefits."
Ashton offers live and virtual yoga classes, events, workshops and retreats and has reached millions of students worldwide. She is known for her welcoming and creative yet accessible classes that are fun, challenging and up-lifting. In her writing and her teaching, she infuses inspirational and motivational messages of empowerment.
 
I believe that cultivating empowering self-talk and a healthy mindset opens the door to living an abundantly fulfilling life! – Ashton August
 
Want to learn more about this incredible teacher, leader, and founder? Read on.
 
Get to Know Your YA Classes Teacher: Ashton August
We sat down with our beloved visionary, leader, and passionate yoga teacher, Ashton for a Q+A session so YA Classes members and YouAligned readers can learn more about her.
 
YA: What's your favorite self-care practice you can't live without?
Ashton: My daily morning meditation! I have sat in meditation most mornings for the past decade and it immensely supports my mental health, clarity and confidence as I go into my day. When I miss a day, it shows!
 
YA: What's your go-to song or music genre when you teach (or practice)?
Ashton: I'm currently really into house music. I love finding DJs on YouTube and listening to their mixes during my personal practice. In my classes, I love offering a soulful blend of upbeat, feel-good music across genres. Creating a playlist for my classes is one of my favorite parts of teaching!
 
YA: What's your favorite motivational quote?
Ashton: Well, I'm so passionate about motivational quotes that I wrote an entire book, A Year of Self Motivation for Women: Daily Inspiration, Courage, and Confidence (A Year of Daily Reflections), featuring my 75 favorites! So it's hard to pick just one.
But one of my long-time favorite quotes is, "How you do anything in life is how you do everything." It embodies the integrity that I live by.
Want a peek of Ashton's favorite quotes? Check out: A Year of Self-Motivation for Women: YouAligned Founder Ashton August's New Book Is Here!
 
YA: What's your favorite yoga pose? Least favorite?
Ashton: Dancer Pose is my absolute favorite! My grandfather and I used to travel around the world, and we created a tradition of me doing Dancer Pose every place we visited. That was so fun!
My least favorite pose is Revolved Pyramid Pose because it is so challenging in my body (which also indicates that I should practice it more often!).
 
YA: Where's your favorite place in the world you've ever been to, and why?
Ashton: Hands down, Kauai!! I've been all over the world and have seen some really incredible places. Yet nothing can touch beautiful, magical, Kauai Hawaii. Did you know there's a place on that island through which it's believed all souls enter and leave this earth? That's why the Dalai Lama visits each year.
 
YA: What's your #1 piece of advice for maintaining an empowered mindset?
Ashton: Set an intention for what you want specifically. Let's say it's more self-confidence. Next, craft an affirmation based on that intention. Affirmations are powerful "I am" statements that help affirm a particular belief or state of being that you seek.
 
Repeat your affirmation every time you see it.
 
For example, "I am confident, powerful and fully capable of achieving anything I set my mind to." Then – and this is the key step – write it down on a sticky note (bonus: write it down on several sticky notes) and then place it where you'll see it often (bathroom mirror, laptop screen, steering wheel) and repeat your affirmation every time you see it.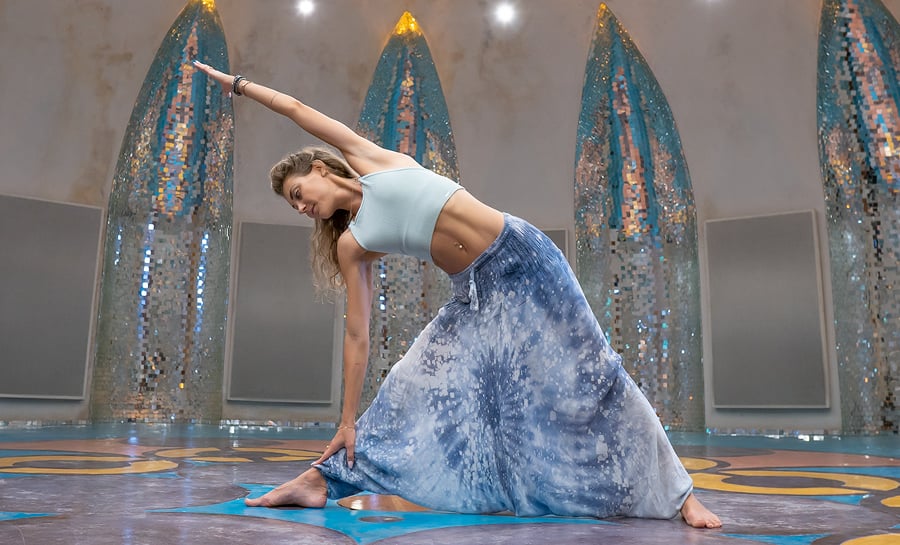 Practice this I Am Worthy class on YA Classes with Ashton where she works with affirmations that she weaves throughout a dynamic Hatha practice.
 
What's something people would be surprised to learn about you?
Ashton: Many, many things. Haha!! Here are a few fun ones: I used to have my head shaved, and during that time I got a head tattoo. Now that my hair's grown back, nobody can tell!
Before I created YouAligned, I was an English Professor. When I had to make the decision to leave teaching to pursue YouAligned full time, it was one of the most difficult decisions I ever made – and I am SO happy I did!!!
For many of you who practice yoga with me on YouAligned Classes, you may not know that I am also a motivational author! I have two published books: Learn Grow Shift. 30 Days of Personal Growth), and A Year of Self Motivation for Women: Daily Inspiration, Courage, and Confidence (A Year of Daily Reflections), and I just finished writing my third.
 
YA: Aside from your own, what's your favorite class or teacher on YA Classes?
Ashton: As the founder of the platform and the content producer, I love every single teacher and offering we have on YA Classes!! However, I do have a few go-to's for my personal practice, based on their style or formats.
If I want my butt kicked to a killer playlist: Katie Kasten. When I want a challenging, intelligently sequenced power flow: Alba Avella. When I need to get my mind right and a dose of inspiration: Youmie Jean Francois. When I'm craving a guided meditation: Yogi Bryan.
 
 
Want to Connect More With Ashton August?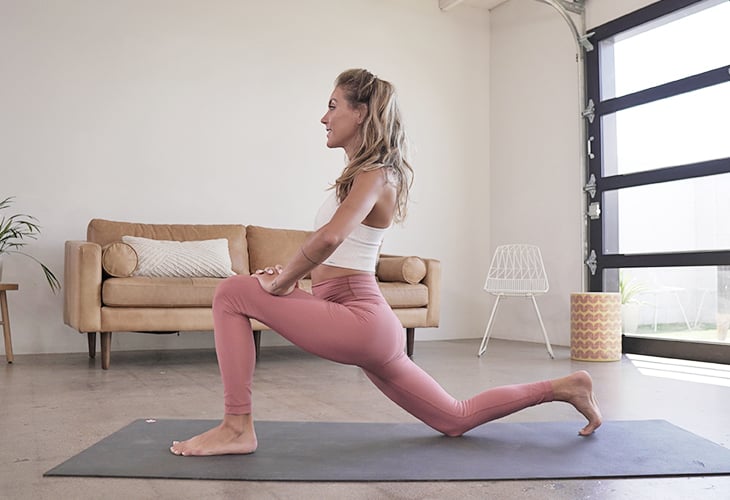 A Colorado native, Ashton now lives in sunny Arizona with her husband, their two rescue dogs, and their desert tortoise. When she's not writing or producing content for YA Classes, you can find Ashton reading a great book, practicing hot yoga, hiking or van-lifing with her husband and their pups.
Connect with her on social: @iamashtonaugust and visit her website to learn more: ashtonaugust.com.
 
 
Take an Online Yoga Class With Ashton August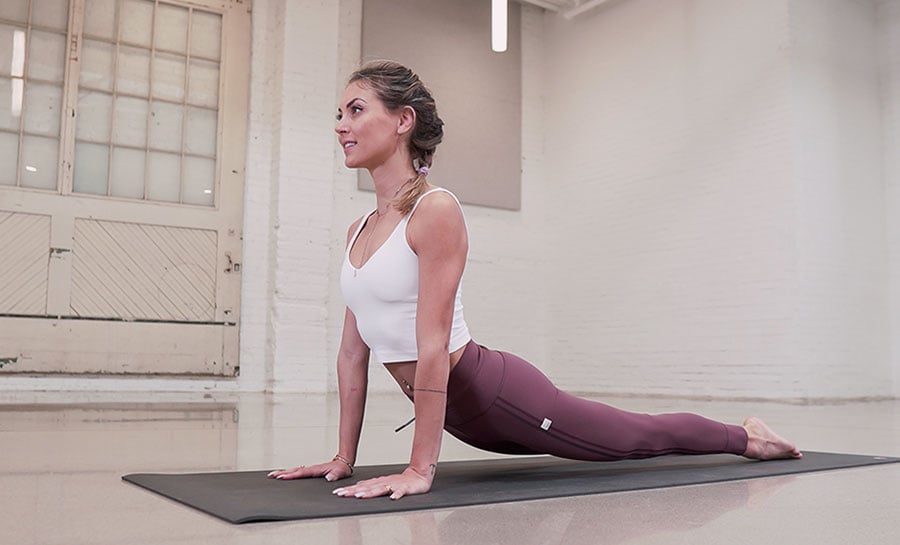 Get grounded, focused, and present with this slow vinyasa flow by Ashton on YA Classes. This slow flow is perfect for calming the rushed mind and works excellent as a mid-day break for a busy work day. So grab your mat and find your centered and mindful self.

Ashton offers dozens of online classes and full programs on YA Classes, ranging from gentle Hatha classes to challenging Vinyasa flows and everything in between.

Not yet a YA Classes member? You can try it free for 14 days.

This article has been read 299 times. Share it and spread the love!







Credit : Source Post