Brittany Barreto, Ph.D., is a podcaster, an entrepreneur and a molecular and human geneticist. (In other words, she's really smart.) Read her column here each month to learn about what's happening in the world of technology and innovation in women's health.
As if spontaneous hot flashes and unexpected weight gain aren't enough for women who are going through menopause, depression, anxiety and irritability often rear their ugly heads too! The last thing women need when they're at the peak of their feminine wisdom is to have to deal with all these distracting symptoms. But, this is how our bodies are wired — and if you're feeling overwhelmed, you're not alone. Luckily, these days, technology is stepping in to be your companion through the menopause journey.
Here are some menopause apps for women that focus on how you feel emotionally during perimenopause, the hormonal changes leading up to menopause, which is the one-year anniversary of your last period.
Watch our video to learn about the three stages of menopause >>
1. Perimenopause apps
There's an app for everything out there, and now there are perimenopause apps, too. Google "perimenopause apps" and you'll notice a few even have female names — Stella and Perry. The latest to join the party: Olivia.
Olivia is a menopause symptom management tool that uses cognitive behavioral therapy (CBT) techniques to improve the physical, mental and emotional symptoms of menopause.
The app offers expert-created, CBT-based programs to address stress, disrupted sleep, low self-confidence, relationship issues, and more. Olivia's symptoms tracking function allows users to identify triggers for mood changes. The app also offers a digital space for journaling and reflection. It's like your high school diary 2.0. (Just one of the many things puberty and menopause have in common. Who knew?)
2. Using data to support you
Unfortunately, no thermometer exists to measure how sad or anxious we are. So when women visit their HCPs expressing concerns about uncontrolled mood swings or unrelenting anxiety and the HCPsuggests a vacation or throws out a, "Well what did you expect? You're menopausal!" it can leave you second-guessing yourself. Sadly, medical gaslighting can happen to women seeking treatment for their very real symptoms. Sometimes having hard facts can be a great tool to get a doctor to take your symptoms more seriously.
Balance is an ORCHA-certified (meaning it has digital health accreditation and has been vetted by outside medical experts), Apple award-winning digital health tool that supports women through menopause. The app includes a period tracker (because of course you still menstruate during perimenopause), virtual community support forum, logging tool for moods and medications, and the ability to download a health report.
Seeing the data in the health report may reveal patterns and insights and help you feel confident when communicating with your HCP. There are both free and paid versions of the app.
(Photo/Courtesy of Balance)
3. Virtual support group
Often, we know when our emotions are not matching a situation. But when hormones are fluctuating, we may not have much control over emotions like anger, sadness or fear. If you occasionally experience these emotions, then a friendly support group may be the answer.
Baushe is an app that virtually connects women going through similar menopause experiences for support. This peer mentoring community allows women struggling with the negative mental health effects of perimenopause to discover a group of other women who have been there, done that or are living it right now, too. Sometimes all we need is a few reliable connections to help us feel less alone and lift our spirits.
4. Convenient psychiatry
If perimenopause-induced depths of emotion get too deep or last too long, it might be a good idea to seek help from a mental health professional. But how do you find a coach, therapist or psychiatrist that specializes in menopause? Or who has availability? LunaJoy can help.
LunaJoy is an online telehealth platform that offers professional mental health services specifically for women. The specialists include expertise in infertility, birth trauma, postpartum depression and, of course, menopause. You start by filling out a short form about the kind of support you're looking for and then you're matched with a healthcare provider (HCP) within 24 hours. Then telehealth sessions can be scheduled. Bonus: LunaJoy participates with several insurance companies and is available in 20 states, with more coming soon.
5. Every tool at your fingertips
Are you looking for a one-stop-shop for all things perimenopause, including mental health advice? Well the Swiss Army knife, or in this case, app, is here. Midday is a digital health tool powered by Mayo Clinic providing a wide variety of support and solutions to women experiencing menopause symptoms, from irritability to insomnia. The app includes a hormone therapy decision support tool to see if hormone therapy (HT) is right for you, expert-written educational content, mental health check-in forms, telehealth capabilities with medical professionals specializing in menopause, and symptom trackers that sync with your wearables for continuous biometric monitoring.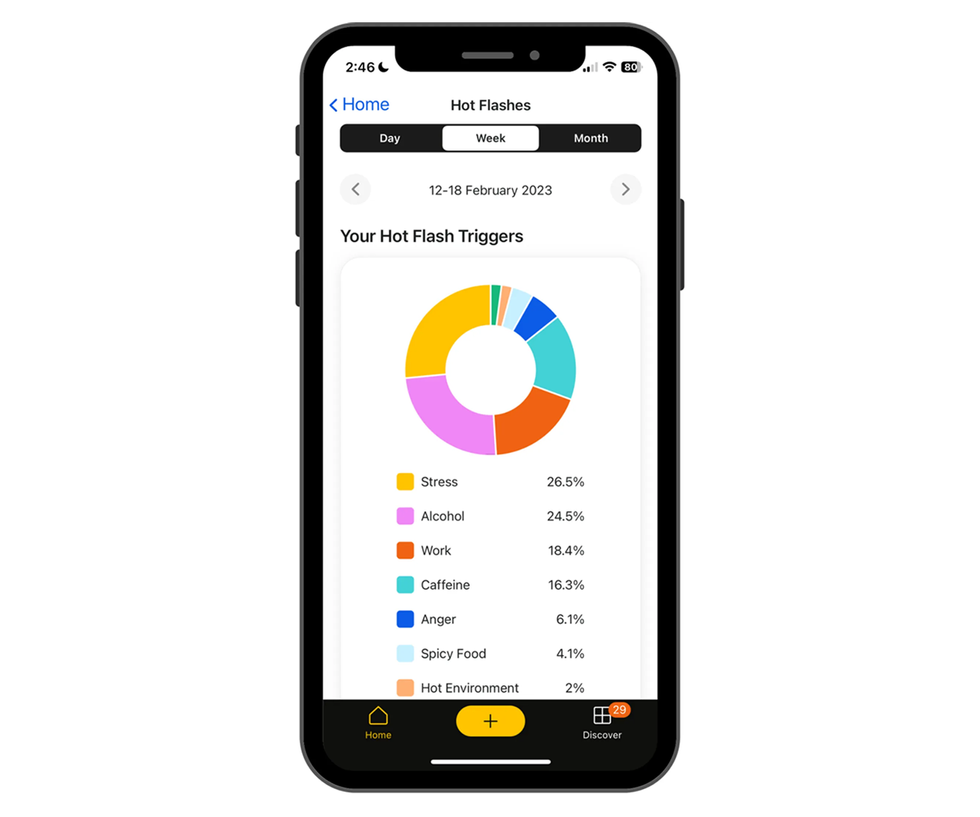 (Photo/Courtesy of Midday)
6. You deserve support

While a lot of progress has been made in reducing the stigma around menopause over the last decade — especially as many influential women have told their menopause stories openly — many women still struggle with the transition. Hopefully innovations like these, along with continued education and support, can keep the progress going. And who knows? Maybe the menopause experience will look completely different in 25 years than it does today.

The information about products and/or services contained in this column does not constitute any form of endorsement or recommendation by HealthyWomen. Links are being provided as a convenience and for informational purposes only. This column may occasionally cover companies in which Brittany Barreto is an investor.

From Your Site Articles

Related Articles Around the Web



Credit : Source Post