Sometimes you just want a quick, easy recipe to make that tastes good, pleases everyone and doesn't require tons of ingredients. This roasted carrot spread is the perfect dish to bring to a party or to have on hand as a quick snack for the kids.
It's also a tasty way to get more servings of veggies into your day! Carrots are rich in beta carotene and other vitamins (1), high in antioxidants (1) and high in soluble fiber which has been shown to slow down the absorption of sugars and starches and feed your friendly gut flora (2).
Try it with my simple seed crackers for when you're in the mood for something savory and crunchy that's also healthy and delicious.
Roasted Carrot Spread
Yield: 4 servings
You will need: measuring cups and spoons, food processor or blender, rubber spatula, cutting board and knife, baking sheet and parchment paper
Key: T = Tablespoon; tsp = teaspoon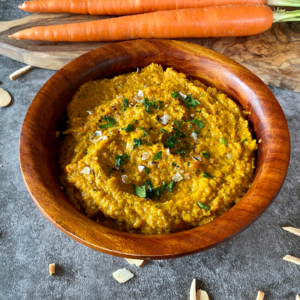 Ingredients:
1 lb carrots, peeled and sliced
1 tsp olive oil, plus 2 T
1/2 tsp sea salt
1/4 tsp black pepper
2 cloves garlic, minced
1/4 cup chickpeas
1/2 lemon, juice of
1/2 tsp paprika
2 T fresh parsley, chopped
1/4 cup toasted almonds
1/4 cup water
Directions:
1. Preheat the oven to 350 F. Line a baking sheet with parchment paper.
2. Spread carrots out on the baking sheet and drizzle with 1 tsp olive oil. Season with salt and pepper and roast for 35-45 minutes, until tender and slightly browned.
3. Add carrots, garlic, chickpeas, lemon juice, paprika, parsley, almonds and remaining 2 T olive oil to a food processor and pulse until well combined. Slowly add in the water, blending until smooth.
4. Top carrot dip with a drizzle of olive oil and a sprinkle of chopped parsley if desired.
Nutrition Facts
Calories per Serving:

121
This versatile recipe works as a pizza topping, a dip for veggies or crackers, a sandwich spread or you can just eat it with a spoon! Enjoy – and let me know in the comments below how you like it!
---
Having a plan makes planning easy!
If you like having your recipes thought out for you in advance (with the grocery list already made), check out my healthy eating meal plans (including Vegetarian options, and gluten and dairy free recipes that are easy to adapt)!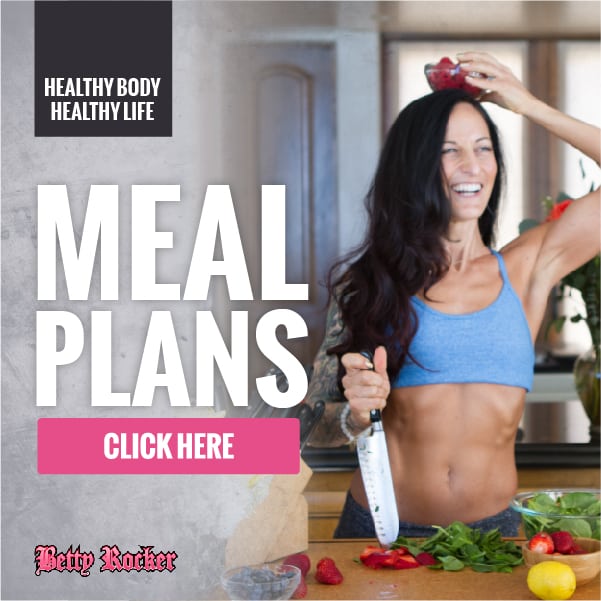 The post Roasted Carrot Spread appeared first on The Betty Rocker.



Credit : Source Post