We receive free products and receive commissions through our links. See disclosures page.
Whether you are just starting your fitness journey or are ready to upgrade your workouts, a functional trainer can elevate your home gym experience by adding hundreds of cable exercises to your arsenal.
Despite their versatility, they're also one of the most expensive pieces of home gym equipment you can buy. Choosing the wrong one means wasted money and hours of time (and energy) you'll never get back.
Luckily, I've been in the market for a functional trainer for the past year, so I spent hours researching the different options. This article is the result of all that research and my experience using dozens of functional trainers in commercial gyms over the years.
How We Chose the Best Functional Trainers
The Breaking Muscle team consists of certified personal trainers, strength and conditioning coaches, CrossFitters, and other experts who live and breathe fitness. We chose the best functional trainers after a thorough examination of several criteria and dozens of hours training on the machines at our testing facility in Springfield, MO. As we tested each machine, we also ranked them on a scale of 1 to 5 (one being the worst, five being the best) based on factors like the assembly process, construction quality, durability, versatility, and smoothness of the cables.
A key component of our analysis was the many spaces where home gym owners might set up their functional trainers — from basements and garages to multi-use rooms requiring them to stow away after use.
We also aimed to ensure that our selections catered to various budgets. While we've highlighted options offering the best value, we've also featured combo units for those prioritizing all-in-one equipment pieces.
Our Top Picks for the Best Functional Trainers
Best Functional Trainer Overall: REP Fitness FT-5000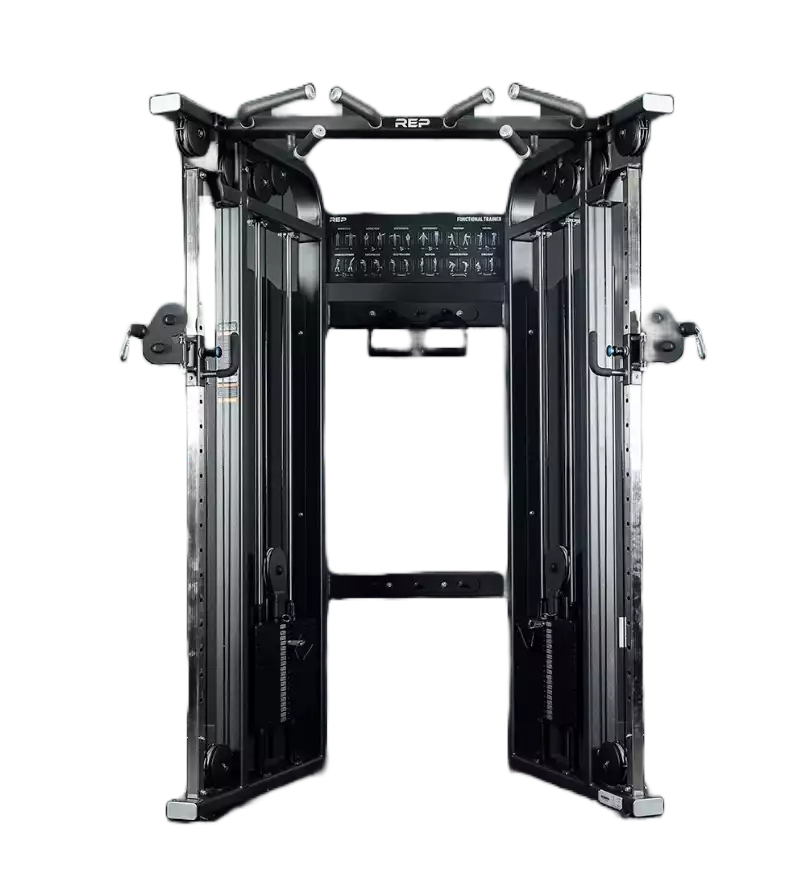 REP Fitness FT-5000

4.0
Dimensions: 85.5" H, 58" W (front), 33" W (rear), 36" D
Maximum resistance: 448 pounds
Type: Weight stacks
Warranty: One year on the pop-pins, pulleys, bearings, and cables; lifetime on the rack and frame
Check Price
Pros
Smooth aluminum pulleys
22 trolley height settings
Comfortable multi-grip pull-up bar
Aesthetically-pleasing design
Handy attachment storage
Cons
Weight stacks made in kilograms
12.5-pound starting weight
Instruction manual lacking
Compared to the competition, the REP Fitness FT-5000 is the best functional trainer overall. At a price of just under $2,500, you get thoughtful innovation and a high-end cable machine experience that rivals the feel of a commercial-grade unit — with some minor tradeoffs.
The FT-5000 is the second iteration of this functional trainer. In this model, REP included aluminum pulleys instead of nylon, making your reps ultra-smooth. In fact, our product testing team ranked the smoothness of the pulleys 5 out of 5 stars.
REP has also upgraded the number of trolley heights on each guide rail — the previous one had 16, whereas this newest version features 22 different heights. More height options means you can fine-tune your starting position to your body and preferences. However, the machine stands at 85.5 inches high, compared with other functional trainers that are at least 91 inches tall. Based on our testing experiences, if you're a taller individual, you may still have to bend your knees to do pull-ups or sit on the floor for lat pulldowns instead of sitting on your favorite weight bench.
REP optimized the height of the guide rail for the trolley system so that your overhead exercises, like tricep pushdowns and lat pulldowns, can feel as similar to a commercial functional trainer as possible. They even added rubber grips and aluminum end caps to the pull-up bar, which offer three different grip variations: pronated, neutral, and wide grip. When we tested this machine, we found the rubber grips comfortable, but our hands slipped a lot once they started getting sweaty.
Lastly, there are two horizontal beams across the center for storing your handle attachments. We find this to be quite handy instead of having them strewn on the floor.
The main downside is that the weight stacks are made in kilograms and jump by 2.5-kilogram increments. Considering REP Fitness is an American company, this is strange since the USA uses the imperial system. My best guess is that their functional trainers are probably made overseas in a metric-based country, and their weight stack molds don't have an imperial version yet. It sounds like this is a common criticism, with one reviewer on YouTube saying, "This machine would be an instant purchase if the plates were in 10lb increments…"
Similarly, the weight stack starts at 12.5 pounds of felt weight due to the 2:1 pulley ratio of the machine. This is due to the amount of pulleys present, which causes you to only feel half of the absolute weight from the weight stack. However, REP makes it easy — they list the felt weight increments, so there's never a question of how much weight you're actually lifting.
The thing is, 12.5 pounds is a little high and makes a fair amount of rehab work inaccessible. Many small muscle groups that suffer from overuse injuries, particularly rotator cuffs, can benefit from isolation work, but the weight has to be between five and 10 pounds. If this functional trainer's first weight plate in the stack was 2.5 kilograms (roughly five pounds), I think this would bridge the gap.
Despite the improved features in the FT-5000, this innovation has yet to reach the assembly process fully. This customer's review sums it up pretty well: "Running the cables was a pain and the instructions were severely lacking (basically no instructions for the cable part). The instructions for running the cables really needs to be provided with the installation guide."
Our product testing team agrees with this sentiment. We've assembled dozens of pieces of home gym machines, including everything from squat racks to top-rated cardio machines. Despite this, it took two of our staff members nearly four hours to assemble the FT-5000. We gave the assembly process 2.5 stars out of 5.
Best Functional Trainer With a Smith Machine: Force USA G20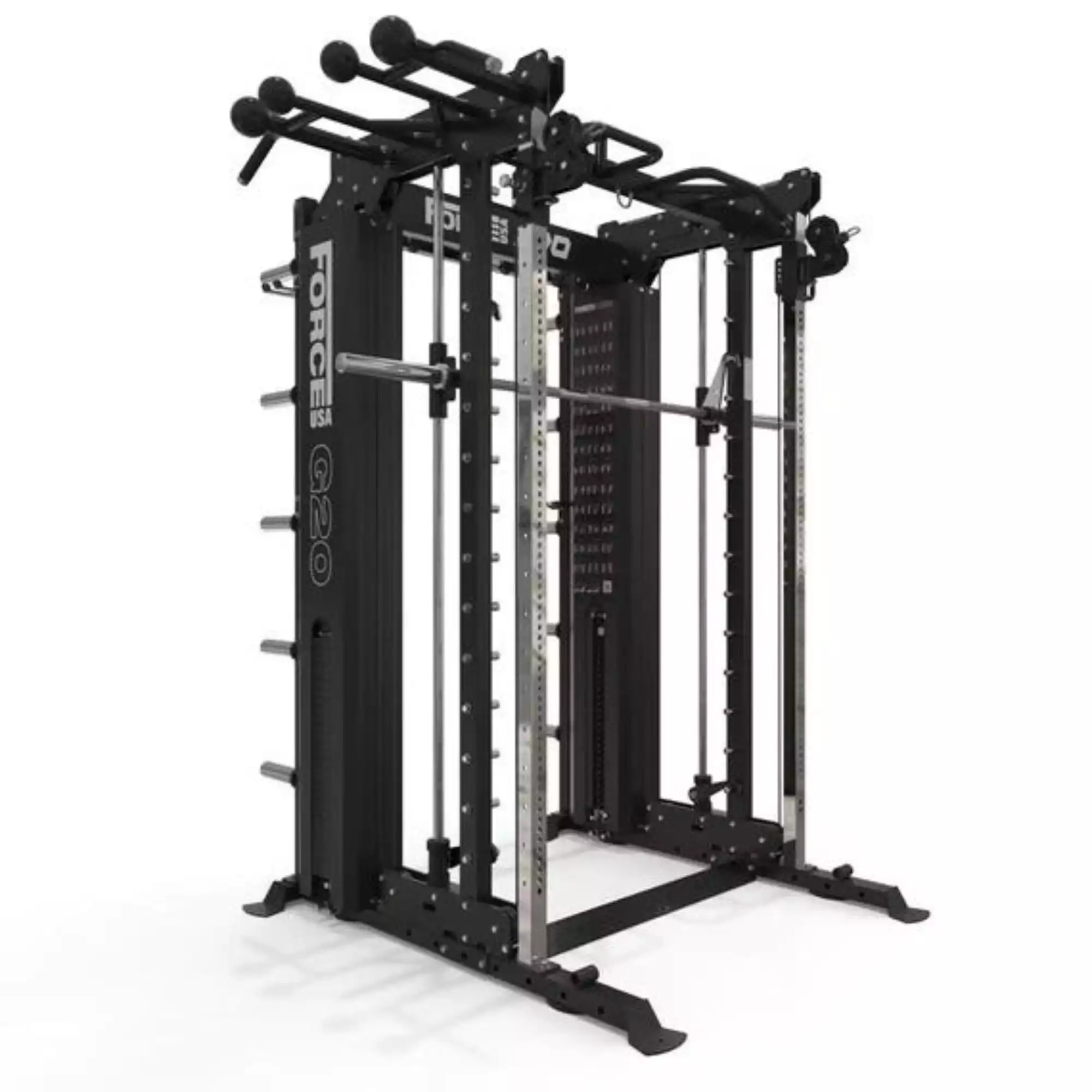 Force USA G20

4.0
Dimensions: 91" H x 79" W x 67" D
Maximum resistance: 289 pounds static, 131.3 pounds felt
Type: Selectorized
Warranty: Lifetime structural
Check Price
Pros
Smith machine-functional trainer combo
30 attachments included
65 trolley height positions
Industry-standard 3" x 3" tubing
Additional upgrade kit (optional)
2,000-pound cable capacity
Cons
Hefty $5,999 price
Extra-large footprint required
Rear-facing plate storage
If you've been wishing for a Smith machine capable of functional training, you'll find it in the Force USA G20. It packs a serious punch by combining two sought-after equipment pieces into a single footprint while offering the most value out of all the options in this article.
The G20 is the sibling of the Force USA X15. It is similarly designed but focuses on those who want a Smith machine instead of a power rack's typical Olympic barbell functionality. The Smith machine's barbell runs along a set of guide rods inside the half rack, while the functional trainer's trolley system slides up and down the outer uprights. That said, you can still mount traditional rack attachments on the outer uprights and perform Olympic barbell work.
The default package includes 30 attachments, the most out of any other functional trainer in this list. From the tried-and-true landmine and ankle strap to the globe-style pull-up bar and leg press attachment, it's clear that Force USA wants you to maximize this machine's potential straight from the get-go. There are optional upgrade kits for a lat-row station and additional attachments like jammer arms, dip bars, and a leg extension/curl station.
Note, however, that some attachments are subpar. For example, we find that the powdercoat on the J-hooks chips easily. The spotter arms are short, meaning we have to shorten our walkout when we do squats. While we give the G20 4.5 out of 5 stars based on the number of attachments available, we give it only 3.5 stars out of 5 for attachment quality.
With the included attachments and the available add-ons, the G20 offers a lifetime of training in a single footprint. We gave it 5 out of 5 stars for versatility due to the sheer number of exercises you can do with it.
If a custom fit is essential to you for cable exercises, then this functional trainer with Smith machine is the top choice. The guide rods for the functional trainer component are essentially two uprights and feature 65 different trolley positions — by far the most out of any other unit in this article. The high degree of custom heights makes the G20 an ideal choice if you simply want precise adjustments to fine-tune your starting positions. But where it will truly shine is when using it with multiple users: with holes spaced every inch along the uprights, it can accommodate users of varying sizes.
With a hefty price tag of $5,999.99, this is a serious investment and one I wouldn't suggest making until you've compared it to other options. I'd highly recommend you test this unit in person to ensure it works as you envisioned. If you're local to one of the company's showrooms, that would be the best option since you'd ensure you're using the most recent model. However, even getting a chance to test one at a commercial gym would be helpful because there aren't usually huge upgrades between versions of the same machine.
At 79 inches wide and 67 inches deep, this unit is a beast. You'll also need at least one to two feet on each side of the barbell to add and remove weight plates. This adds anywhere from 24 to 48 inches of extra width. And while the feet of this combo unit extend forward, I suggest you have an additional foot of space to use the uprights for barbell back squats. Want to bench press with a traditional barbell off the uprights? You'll need up to four feet of extra room.
While I appreciate the attempt to save space by having the plate pegs extend out from the back, this orientation is less than ideal. In my opinion, the best placement for weight pegs is parallel with the sleeve of the barbell you'll be using. Similar to the extra width required for putting plates on your barbell, you'll also need a minimum of one foot between the end of the peg and the wall (assuming it's not going in the middle of a room) to allow your body enough space for accessing your weight plates.
Since it has a potential space requirement of up to 127 inches wide by 115 inches deep, it's important to measure twice before investing in this piece. The assembly process is also quite long — it took our staff almost 35 hours to put together. We recommend paying for the professional assembly service, which starts at around $800, if you can swing it.
Best Functional Trainer Cable Machine: Force USA X15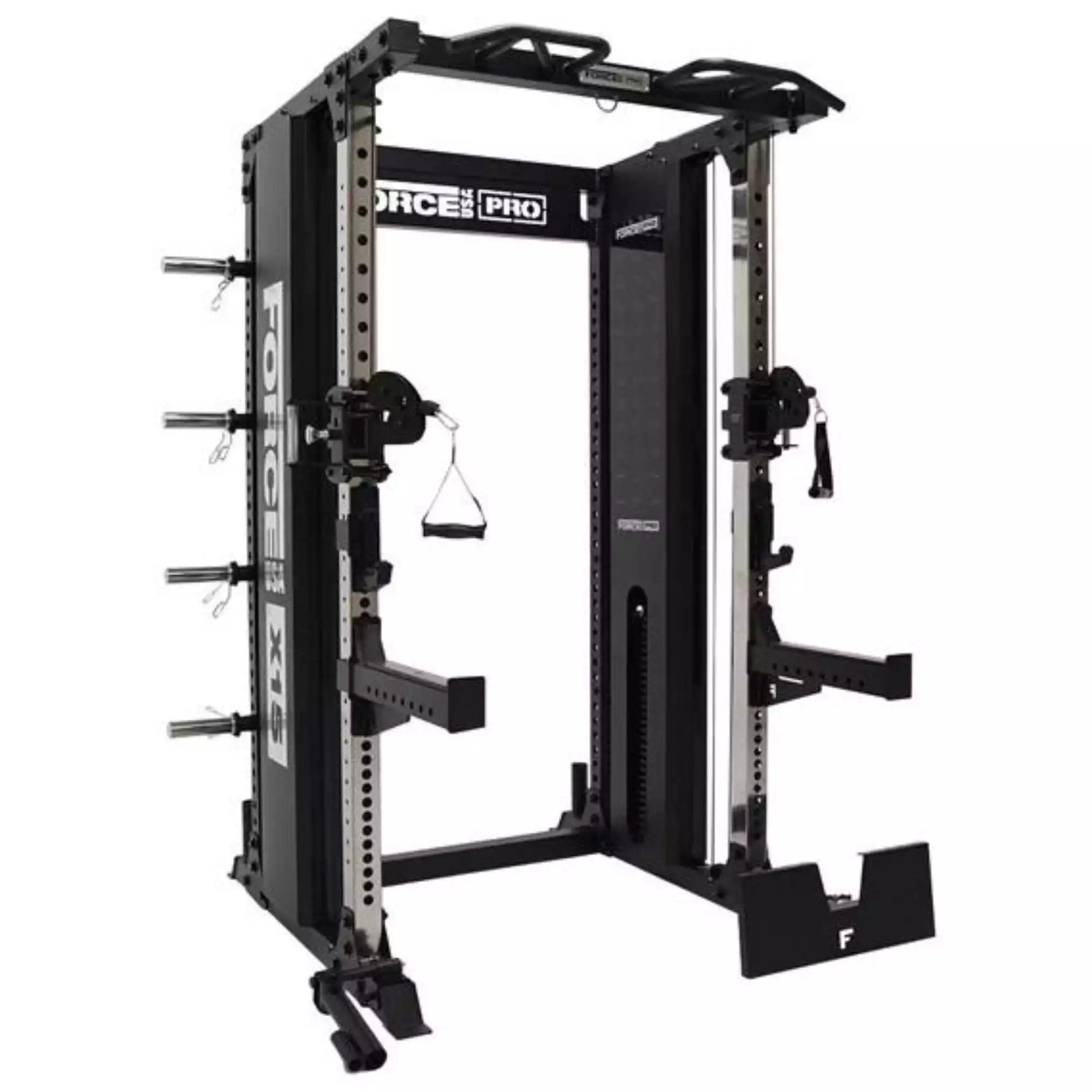 Force USA X15

3.8
Dimensions: 92" H x 70" W x 57" D
Maximum resistance: 289 pounds static, 131.3 pounds felt
Type: Selectorized 
Warranty: Lifetime structural
Check Price
Pros
Power rack meets cable machine
15 attachments included
Industry-standard 3" x 3" tubing
42 trolley height positions
Upgrade kit for even more versatility
Cons
Expensive $3,999 price
Large footprint required
Smaller width
If you're looking for the best functional trainer cable machine, this could be it. The Force USA X15 combines a half rack's versatility with a functional trainer's functionality.
The most significant benefit of the Force USA X15 is that it is essentially a half rack combined with a functional trainer. This means you can do barbell lifts and cable exercises using a single unit by removing the attachments from the uprights (the trolley system's guide rails) and adjusting the trolley to your desired height. The product page claims there are over 400 possible exercises, and I believe it.
The number of included attachments is seriously impressive. Fifteen rack attachments come with it, from J-hooks and spotter arms to plate pegs and a landmine attachment. You can maximize your barbell exercises as soon as it's assembled. Force USA also includes a variety of attachments to ensure you get the best out of your cable system, including a pair of d-handles to a checkered textured foot plate for your low rows.
Since the trolleys of the cable machine slide up and down on the uprights of the half rack, these guide rails have one of the highest number of adjustment heights out of any other functional trainer in this article. So, if you value getting your cable exercises as close to a perfect starting point as you can, this unit can be a solid choice.
The main drawback to the X15 is the price tag. For most lifters, a price tag of nearly $4,000 isn't exactly within reach. However, I think more people will warm up to its cost when they realize that this is essentially an industry-standard power rack with a ton of accessories plus a beefed-up functional trainer.
The other elephant in the room is the large footprint requirement. Like the Force USA G20, the X15 has a significantly larger depth than your typical functional trainer. Additionally, since this is also a half rack for barbell exercises, you'll need a minimum of nine feet of width to have at least one foot on either side of the barbell to load your weight plates (an Olympic barbell is around seven feet long). As a result, those with a small space might be unable to fit this unit. 
Finally, it's worth mentioning that the useable width of the pulley cables will result in specific cable exercises feeling cramped. The uprights the pulleys are mounted onto are 48 inches apart. However, the pulleys can swing inwards by approximately six inches on each side. Because of this, the distance between the handles on exercises like chest flies or cable crossovers will only be about 36 inches, not giving you much of a stretch in your chest.
Best Plate-Loaded Functional Trainer: Titan Fitness Plate-Loaded Functional Trainer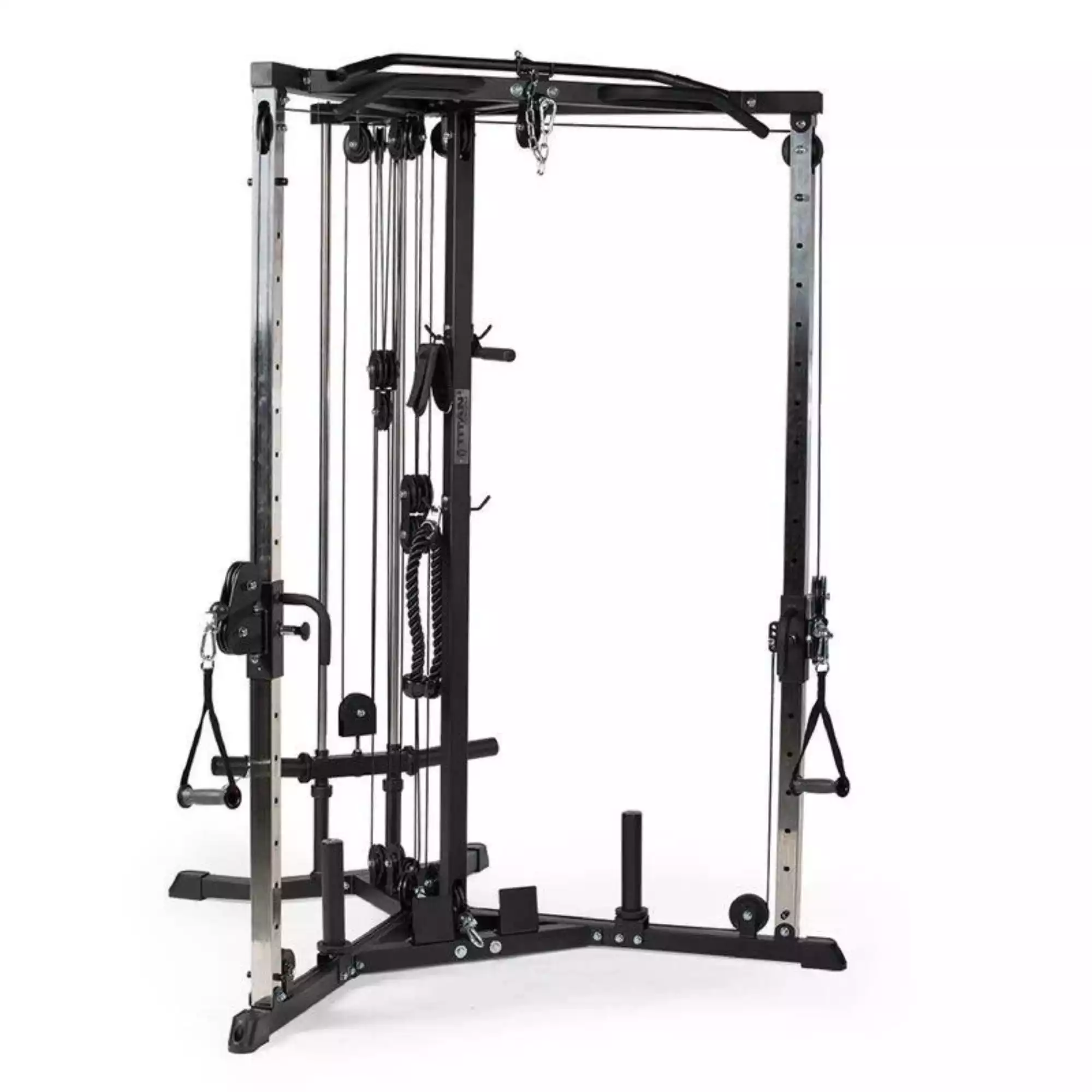 Pros
Dedicated lat pulldown/low row
Five attachments included
1,540-pound cable capacity
Cons
Significant depth
No-frills design
Basic one-year warranty
Even though the quality of Titan Fitness's equipment can sometimes be questionable, I've never had any issues with anything I've bought from them — including my favorite squat rack, the X-3 Power Rack. I'm also impressed with Titan's plate-loaded functional trainer because it packs in a serious number of features. Its dedicated pulldown-row station, five included attachments, and reasonable price make it the best plate-loaded functional trainer on the market.
The standout feature I noticed immediately on this unit was the center pulldown-row station. This isn't included in most functional trainers, so it will appeal to you if you like performing the best back exercises frequently. The separate lat pulldown area means you can keep your lat pulldown bar hooked up and out of the way. Meanwhile, the low-row station uses a separate cable to spare you the time of constantly swapping your attachments and also has a footplate for you to brace your feet and push your cable rows to the max.
Titan includes five different attachments: a tricep rope, an ankle cuff, a lat pulldown bar, a low row bar, and dual stirrup handles. On the other hand, most companies only provide a pair of basic handles. In my opinion, this is a great addition because it allows you to perform a wide range of exercises, including tricep pushdowns, glute kickbacks, and more.
The 1,540-pound cable capacity is a prime example of a company correctly positioning its plate-loaded functional trainer. Although the lat-row station has a 660-pound capacity for weight plates, you can technically add much more than that based on the cable capacity. So, if you have calibrated plates, you can load 'em up and know that this unit can keep up with even the strongest powerlifters. Compared to the other functional trainers on the market, Titan's has one of the highest absolute weight capacities.
One drawback is that this plate-loaded functional trainer is quite deep. Since it has a center lat-row station, it ends up with a depth of 53 inches, which usually requires you to put it in the corner of your gym. Depending on your home gym layout, this might not be feasible, and if all of the corners in your workout space are already occupied, you'll be stuck with putting it along a wall. This means it will stick out by almost six feet. With the widest part at the front, you might find its 61-inch width annoying (and a tripping hazard).
Some minor call-outs on the quality: the hanging hooks are basic, and the low-row footplate is smooth, offering little grip. It's also welded directly to the bottom crosspiece, which results in no adjustability. While five attachments are included, the long bar and the short bar don't feature rotating centerpieces, so your reps won't feel as smooth compared to a higher-quality attachment. Lastly, the pulleys are nylon instead of ultra-smooth aluminum.
Like most Titan Fitness products, their functional trainer only has a one-year warranty. This is typical with almost all their products and reflects the more budget-focused quality you'll experience with Titan. However, they offer two and three-year warranty extensions for $120.99 and $157.99, respectively, if you want additional coverage.
Best Compact Functional Trainer: Torque F9 Fold-Away Functional Trainer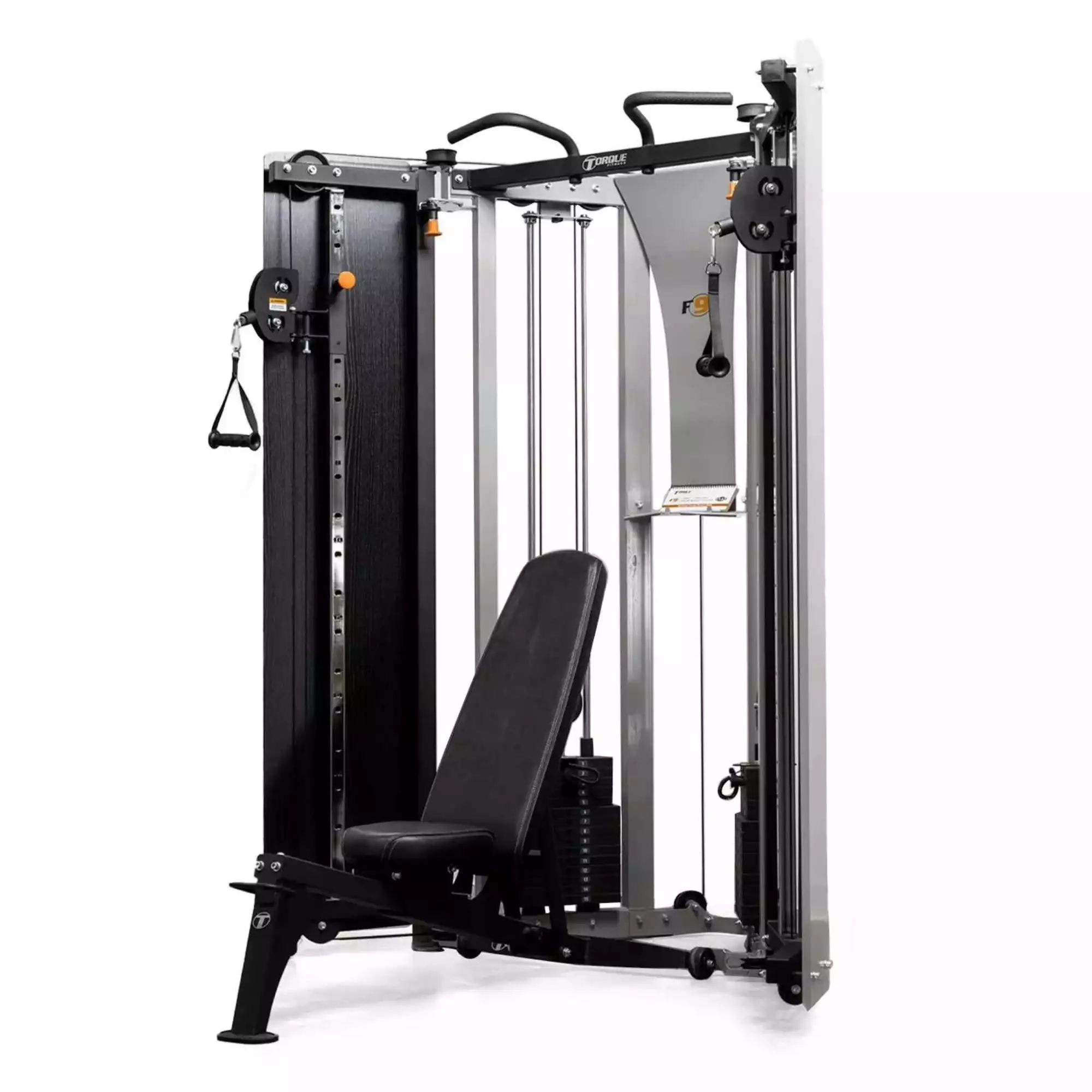 Torque Fitness F9 Fold-Away Functional Trainer

3.4
Dimensions*: 83.8" H x 69.7" W x 61.2" D
Maximum resistance: 225 pounds static, 112.5 pounds felt
Type: Selectorized
Warranty: Lifetime frame, welds, and parts
*Height includes pull-up bar handles; widest width is shown, and depth is with doors open.
Check Price
Pros
Folds away to save space
150, 200, or 225-pound stacks
Narrow or wide fold-out options
Helpful add-on accessories
Cons
Expensive
Less smooth nylon pulleys
Lacks storage area
The Torque F9 is our pick for the best compact functional trainer due to its space-saving capability and high-end touches.
The Torque F9 folds away to just 44.6 inches wide and 34.9 inches deep. This makes it ideal for home gym owners who want to invest in a quality functional trainer but don't have a huge amount of space. It's also ideal for those who don't want their functional trainer on display at all times and have limited floor space and want to maximize it.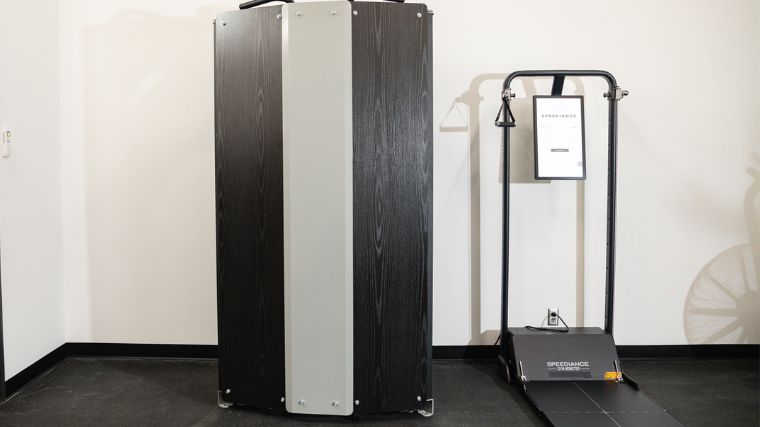 We've had a chance to test the Torque F9, and in our experience, the best way to make use of the folding feature is to place the machine in a corner. The doors are easy to fold in and out because of the heavy-duty casters (wheels) at the bottom of each door.
Another key feature of the Torque F9 is the different weight stack options. You can choose between 150-pound, 200-pound, or 225-pound dual-weight stacks. Few companies offer more than one option, and the fact that you can choose between three increments is a big plus, especially since this is where a significant amount of the weight will come from for the machine — the heavier the machine, the more shipping fees, too.
If you know the machine will only be used for light rehab work, you can opt for the 150-pound version to save quite a bit of coin. On the other hand, if you're looking to build strength, it's best to select the heaviest 225-pound option because you can grow into it. If trying to decide between two weight increments, I recommend choosing the heaviest because it doesn't look like Torque currently offers expansion kits.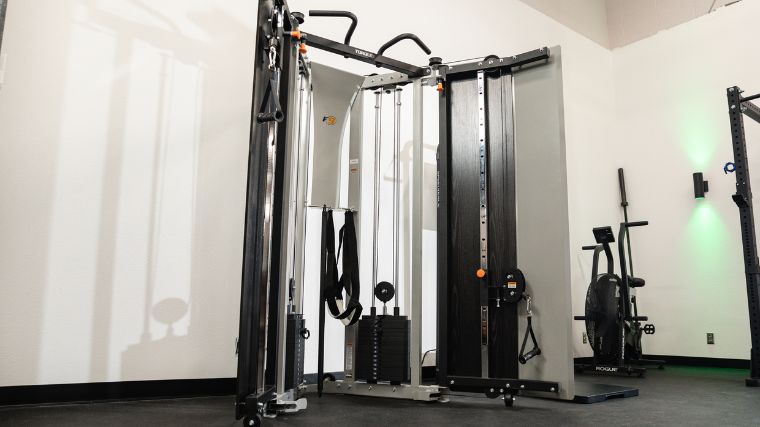 However, one thing to note about the weight stacks is that they aren't labeled by the amount of weight you'd be lifting when you adjust the pin. Instead, they're labeled as 1, 2, 3, and so on. Torque doesn't disclose how much each individual weight stack plate weighs, but based on our testing, we believe each weighs 10 pounds.
Torque includes six attachments by default, and I appreciate that they do this because we've been able to use this functional trainer to its maximum potential. Once assembled, we didn't have to go out and buy basic attachments like we've had to for other functional trainers we tried.
A couple of the attachments are quite unique, such as the squat harness, which allows you to perform squats more easily, and the universal strap that you can use to assist you on pull-ups or chin-ups. We like this because it allows for even more exercise variety than most functional trainers on the market.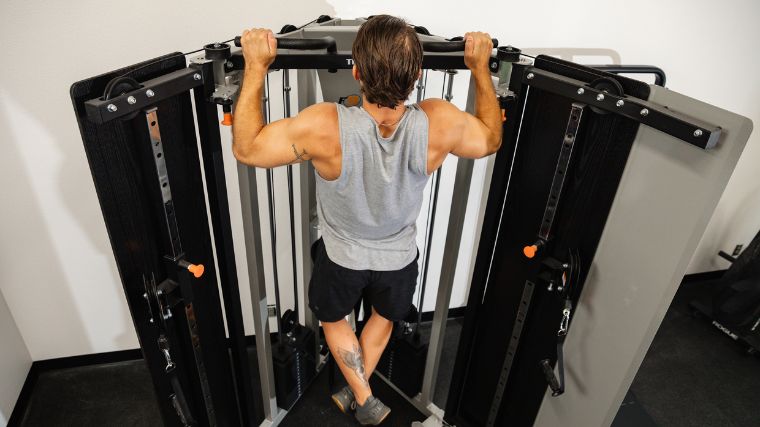 There's also a foldaway bench that you can buy as an add-on, which fits inside the unit after folding it away. If this machine is the centerpiece of your home gym, I would highly recommend going with the bench because it will also save valuable floor space. Lastly, they even have weight stack pins to add 2.5 pounds, which are excellent for microloading those smaller muscle groups.
RELATED: The 9 Best Weight Benches for Your Home Gym (2023)
The biggest downside to the Torque F9 is the price. Torque doesn't list the price outright, but I did some digging and found out the prices can range from around $2,300 to around $2,699 — the price range depends on which weight stack option you choose. For another $400, you can also get the foldaway bench. Compared to other options in this article, though, this total price tag is fairly expensive and doesn't even include shipping costs.
An area for improvement that I see is the pulleys. This foldaway functional trainer uses nylon pulleys, which are known to be less smooth than aluminum ones. Nylon pulleys make sense for a commercial machine because the machine will be abused in a commercial facility by dozens or even hundreds of people daily. But in my opinion, aluminum pulleys are better for home gym units because they will be used by just a single person or maybe a couple of users. For this reason, I wish Torque included aluminum pulleys by default or as an optional upgrade since they're more durable and offer a smoother pull.
Lastly, I'm a little disappointed by the lack of storage on the F9. I understand that most of the center area of the functional trainer needs to be open for the doors to close inwards, but it looks as if a big nameplate is just occupying the upper half of the middle. This could be a prime place for storing attachments, or perhaps offering some storage hooks on the inside panels of the folding doors.
As an aside, Torque offers a wall-mounted version of their F9 foldaway functional trainer, which has an upgradeable storage rack in the unit's center area for dumbbells or kettlebells. I think this is an excellent upgrade and a great use of space — I just wish they considered a similar storage system for their standalone functional trainer.
Best Budget Functional Trainer: Bells of Steel Functional Trainer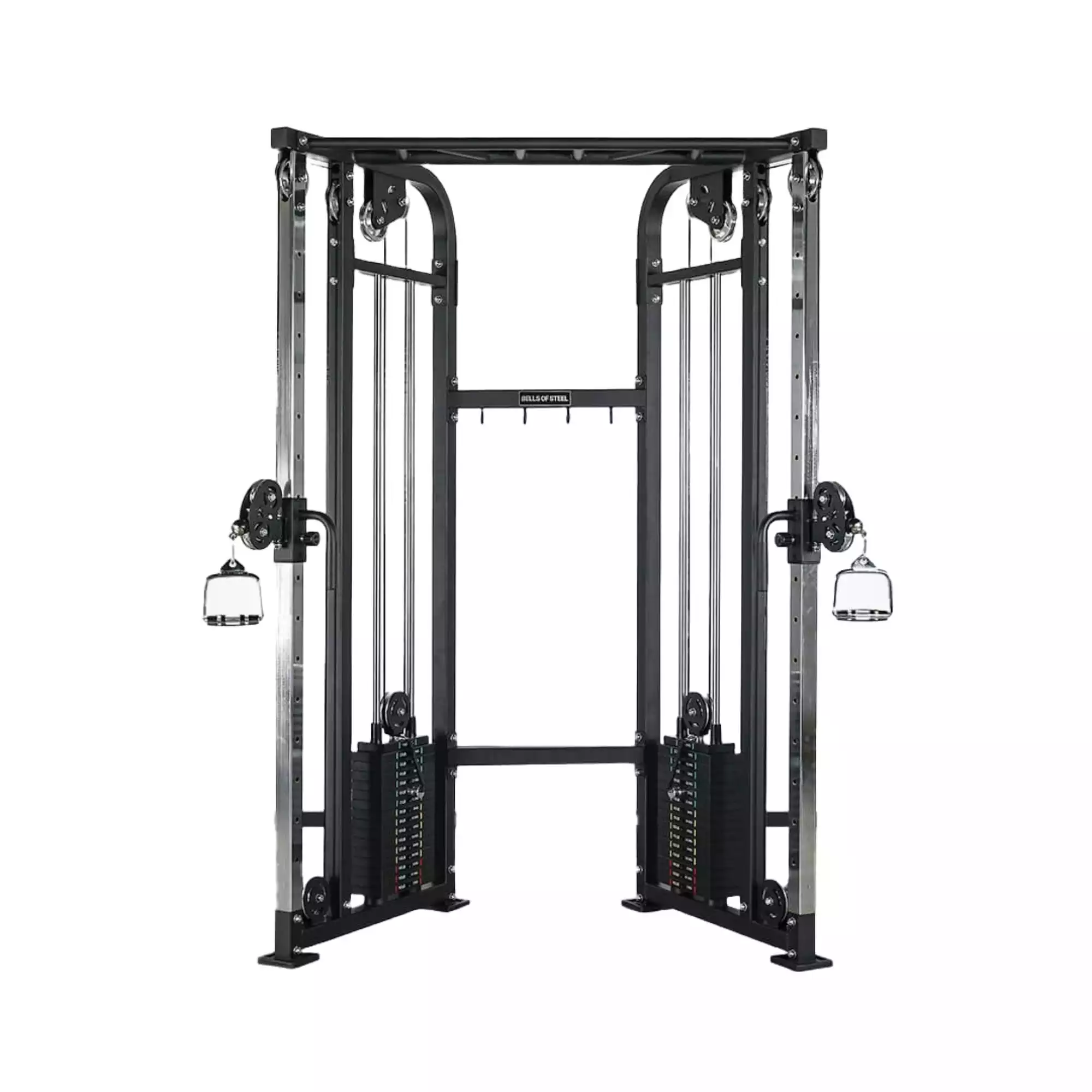 Pros
Best budget option at $1,899.99
Multiple premium components included
Has a fairly compact depth
Cons
Only 80 pounds felt weight
Built overseas
Challenging assembly
Based on our analysis, the Bells of Steel functional trainer is the best budget option. It's priced competitively at just under $1,900 while offering many finer touches that only high-quality functional trainers tend to have.
Despite its budget-friendly price, this unit features ultra-smooth aluminum pulleys. What seems like a small upgrade makes for a noticeably higher-end experience with your cable exercises. But that's not the only standout feature. Storage hooks in the center help keep your handle attachments off the floor and within reach. Even the stickers that go on the weight stack plates are of impressive quality, made by the world-renowned company 3M.
Although it doesn't fold, this unit is one of the more compact ones on our list. The 81-inch height means it will fit almost all basement or garage gyms. With a 53-inch width, you'll get a better stretch when doing cable crossovers compared to the power rack-mounted functional trainers like Force USA X15. But the 30-inch depth is the most impressive. A cable machine of this versatility being under three feet deep is seriously impressive, and when wedged in the corner of your home gym, will take a surprisingly small footprint.
Its 160-pound weight stacks have a 2:1 ratio, which means the maximum felt weight caps out at 80 pounds. For a functional trainer, this is quite low and limits your progress on traditionally heavier exercises like tricep push-downs, cable crossovers, lat pulldowns, and low rows.
According to their website, Bells of Steel manufactures almost all their fitness equipment overseas — mostly in China. The functional trainer is likely made overseas as well, seeing as though it's priced at $1,899.99. Because of this, you'll miss out on the typically higher manufacturing standards in North America and the chance to support local workers.
Lastly, it appears that the assembly is far from a walk in the park. The hardware comes in a kit, but the bolts aren't labeled clearly enough to show you which size is which. Thankfully, they have a detailed step-by-step instruction video on their YouTube channel. Many customers explained that following the video guide instead of the instruction manual was better.
What Is a Functional Trainer?
A functional trainer is a highly versatile and adjustable piece of fitness equipment that allows you to perform cable-based exercises in a relatively compact footprint. They're offered as weight stack or plate-loaded versions and feature adjustable pulley systems that slide up and down along guide rails, so you can perform full-body workouts for strength training, muscle building, or rehab.
Benefits of a Functional Trainer
The benefits of a functional trainer are extensive. They're highly versatile, so you can perform hundreds of exercises, from strength-focused to muscle-building to rehab work. The weights slide along guide rails and rest on rubber stoppers, which increases your safety. They're also compact, and their half-moon design allows them to easily tuck into a corner to minimize the floor space they occupy.
What To Consider When Buying a Functional Trainer
Price
Let's not dance around this. As a cable machine, functional trainers are expensive — and yes, this even goes for budget models like the Bells of Steel Functional Trainer.
Despite the hefty price tag of certain models like the Force USA G20 (around $6,000), I still believe in the buy-once, cry-once mindset, where you should simply invest in the best unit from the start instead of buying a cheap version you may need to upgrade later.
Spending up to another $500 to $1,000 can give you a much better experience over time. Assuming it gets used frequently, I definitely think the extra money is worth it in most cases. That said, financial situations can vary, so we've made sure to feature functional trainers of different price ranges here to ensure you find something financially accessible to you.
Dimensions
When it comes to functional trainers, taller is usually better. You won't have to bend your knees when doing pull-ups, and you won't have your range of motion limited on popular exercises like tricep pushdowns or lat pulldowns to the point where you'd have to do them kneeling.
Unfortunately, the taller functional trainers tend to be nine feet tall, which is beyond the height of most basements and even some garages. Because of this, most companies make their functional trainers to be under 7 feet tall. That said, I would encourage you to go with the tallest functional trainer that you can if you have the ceiling height for it.
As far as the depth, home gym functional trainers are made to be less deep than their commercial counterparts. This is great because home gym warriors tend to have small workout spaces compared to commercial facilities, and a smaller unit means more room for exercises and activities.
On a similar note, the width of functional trainers for home gyms is also made to be more compact. Again, this is great because it's easier for you to fit it in your home gym. The downside is that on what's arguably the most popular functional trainer exercise, chest flies, you won't get nearly as good of a stretch compared to a commercial-grade functional trainer. If this is an absolute dealbreaker, opt for the widest option in this list: the Torque F9, which is about 70 inches wide.
Attachments and Accessories
In the beginning, you can make do with the pair of d-handles that tend to come with every functional trainer. But it's common to expand your attachment arsenal over time to add more variation. 
While it's great to have a lat pulldown bar, a low row bar, dual stirrup handles, an ankle strap, and a tricep rope included by default, like with the Titan Fitness Plate-Loaded Functional Trainer, I don't think this should be a make-or-break area.
Pulley Ratio
The pulley ratio is not to be overlooked. When factored in with the maximum weight, it will determine how much weight you actually feel in your hands when using the machine.
Most machines nowadays come in a 2:1 ratio, meaning if you set the weight stack to 100 pounds, it will feel like you're lifting 50 pounds. It gives a smoother pull due to the higher number of pulleys and a longer range of motion due to the longer cable needed. However, you can still find functional trainers with a 1:1, 3:1 or even 4:1 pulley ratio on the market.
Maximum Weight 
This tends to be the spec people care about the most, but remember that it's only one piece of the puzzle. 
While the machine's maximum static weight definitely matters, the maximum felt weight depends on the maximum static weight and pulley ratio. For weight stack functional trainers, I'd suggest you not settle for a machine with a maximum felt weight of less than 75 pounds (for a 2:1 pull ratio machine, this would be a 150-pound static weight) unless it comes with an expansion kit that you can upgrade to later on.
This 75-pound minimum ensures you can perform most exercises without being limited by the maximum weight. For example, you might be fine with a machine that caps out at 75 pounds for tricep pushdowns but may exceed this amount for lat pulldowns and cable crossovers after some dedicated training.
When it comes to the plate-loaded machines, the pulley ratio should be factored into the maximum weight capacity of the machine. With no weight stacks included, companies will sometimes put a stronger cable on this variation (special shoutout to the Titan Fitness Plate-Loaded Functional Trainer) but this is definitely the exception more than the standard.
Minimum Weight
Thought maximum weight was the only poundage factor that mattered? Think again.
The minimum weight that you're able to do is an underrated aspect. Whether you have a weight stack or plate-loaded machine, this still holds true. When rehabbing an injury or targeting an isolation muscle, being able to start at 2.5 or five pounds of felt weight makes a huge difference in the versatility of a weight stack functional trainer.
For the plate-loaded unit, this is less of a concern since the unloaded cable normally weighs less than five pounds, and you can just microload it with fractional plates. However, I have seen the occasional carriage that's made to be so bomb-proof that even when unloaded, it weighs 15+ pounds and becomes unusable for many rehab exercises.
Total Cable Capacity
You may find yourself using the entire stack of your functional trainer. Select machines will use a cable 50 to 150 pounds above the maximum static weight of the machine. This means that you can mount a weight plate pin to the weight stack and add on Olympic weight plates, exceeding the limitations of the weight stack.
But you're technically exceeding the weight limit of the machine when doing this, and the closer you get to the total cable capacity, the more likely you risk overloading it and causing it to break. And the chances that the company will replace your cable free of charge are slim to none. 
Weight Increments
Similar to the above, the actual weight increments the machine uses shouldn't be overlooked. Ten-pound increments are the standard because they make counting easier for anyone who uses imperial units. I would raise my eyebrows at any machine that jumps by anything more than 10 pounds or has its weight stack plates made in kilogram sizes, like the REP FT-5000.
Weight Stacks vs. Plate-Loaded
This is a critical distinction that you have to make when choosing the functional trainer that's right for you.
Weight stacks are the peak of convenience in a home gym, especially if you'd like to do drop sets of any kind. Changing weights in seconds with the switch of a pin is seriously hard to beat.
Plate-loaded functional trainers are definitely more time-consuming to change. But if you already have a couple hundred pounds of Olympic weight plates and don't mind the extra minute or so it takes to do some plate math and physically swap the plates, this style of machine can save you up to $1,000.
Number of Trolley Heights
Like a power rack with one-inch hole spacing in the bench zone, it's nice to have lots of trolley height settings along the uprights. I would personally recommend that you settle for no less than 15 heights, and in general, more is better. Having more positions where you can fine-tune the trolley is helpful to get the cable in the best position for any exercise you do based on your body proportions.
Pulley Type
Having used both types of pulleys, I'd recommend aluminum over nylon every time. The main reasons are that aluminum pulleys are more durable and are noticeably smoother, especially when returning the cable to the machine — they don't seize like nylon ones sometimes do. Plus, buttery-smooth reps in a home gym can make your workout much more enjoyable.
It's important to note, though, that nylon pulleys aren't an irreversible choice. There are a number of places online where you can buy them as singles or entire packages. Similar to the number of handle attachments included, this shouldn't be a make-or-break aspect.
Warranty
A solid warranty is critical for a functional trainer. There are lots of moving parts on a cable machine like this, and in case anything goes wrong, it pays to have a reputable warranty to back you up.
Unless you're mechanically inclined and/or love to tinker around with gym equipment, I'd recommend settling for no less than a one-year warranty. But if peace of mind is the most important factor for you, opt for a functional trainer that includes a lifetime warranty — especially on parts like the cables and pulleys, which will tend to wear out the fastest.
Assembly
Regardless of the functional trainer you choose, chances are that your assembly will be a multi-hour process.
That said, a detailed instruction manual and labeled hardware go a long way to making your assembly more enjoyable. I've found that more brands are also providing step-by-step instructional videos. Trust me, there's nothing worse than excitedly opening up your boxes just to find out that the manual is just a single diagram and all the hardware is loosely scattered in a single plastic bag.
Packaging
This might come as a surprise, but the packaging your functional trainer comes in can make or break your first moments with it.
The functional trainers we've mentioned in this article are home gym variations, which means that they shouldn't arrive in a single crate on a pallet that requires you to use a forklift to unload it. As far as I'm concerned, home gym equipment should be able to be moved into a homeowner's gym by hand because most of us don't have an extra forklift lying around.
This is a double-edged sword, though. Functional trainers have a lot of parts, which means a lot of packaging. With heavy steel components, that packaging needs to be durable and thick enough to withstand the abuse it can be put through by shipping carriers. If you're a basement dweller or your home gym isn't as accessible as a garage on a street level, consider asking the company how the functional trainer is packaged before you pull the trigger.
Durability
When it comes to functional trainers, the durability of their parts shouldn't be glossed over and the most important parts you should be looking at are the pulleys and cables.
When it comes to pulleys, aluminum is more durable — they're also smoother, which is a big plus in my book. As far as cables, the total capacity is the most important factor. Make sure the cable capacity is higher than the absolute weight of the functional trainer's weight stack by at least 50 pounds. You don't want it snapping on you when you're maxing out the stack.
It's true that aluminum pulleys will cause more wear and tear on the cables, but I don't think this is a huge concern if your functional trainer will be in a home gym. 
Final Thoughts
Functional trainers have revolutionized home gym workouts, offering incredible exercise versatility and adjustability in a small footprint.
The best functional trainers combine intelligent design like that seen on the FT-5000, but can also include all-in-one units like the Force USA G20 — offering a lifetime of training in a single footprint.
At the end of the day, the best functional trainer for you depends on your budget, the size of your workout space, and the functional trainer features you value most.
Best Functional Trainers: Side-by-Side Comparison
Best Functional Trainer Overall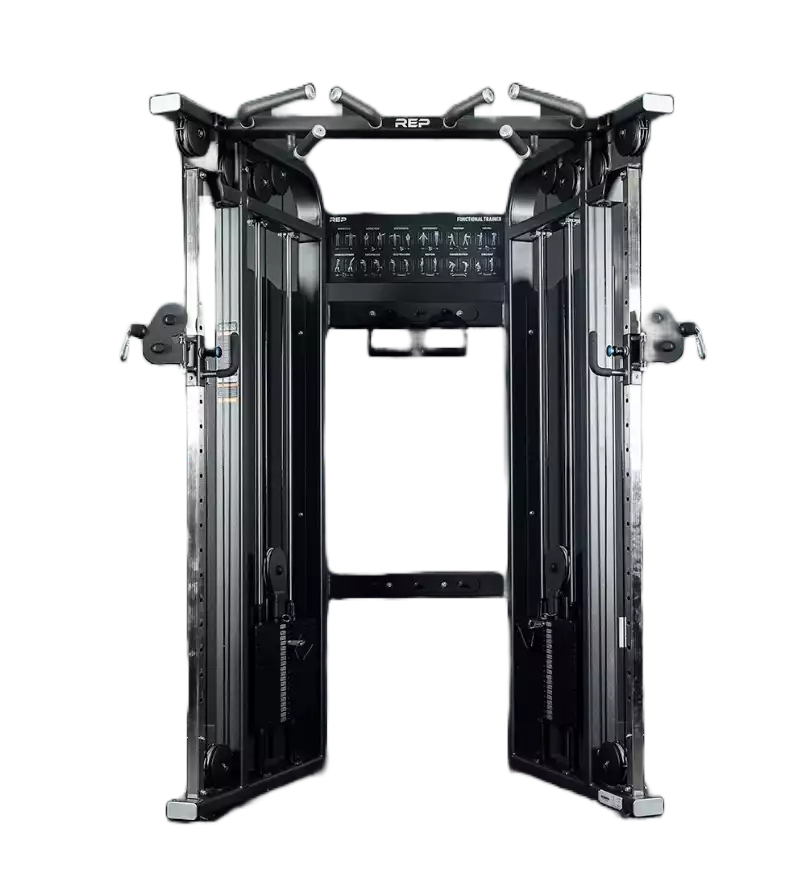 Description:
Dimensions: 85.5" H, 58" W (front), 33" W (rear), 36" D
Maximum resistance: 448 pounds
Type: Weight stacks
Warranty: One year on the pop-pins, pulleys, bearings, and cables; lifetime on the rack and frame
Best Functional Trainer With a Smith Machine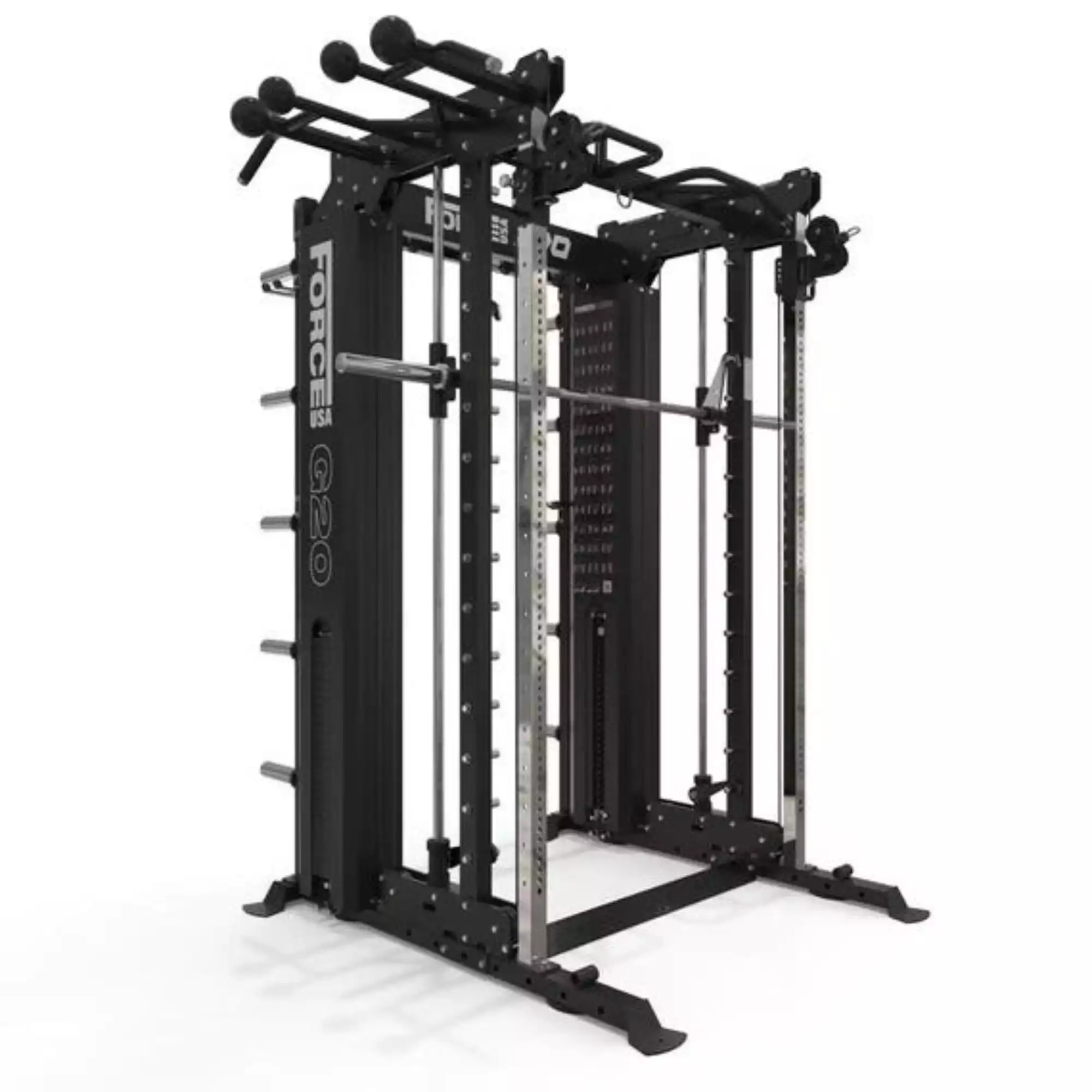 Description:
Dimensions: 91" H x 79" W x 67" D
Maximum resistance: 289 pounds static, 131.3 pounds felt
Type: Selectorized
Warranty: Lifetime structural
Best Functional Trainer Cable Machine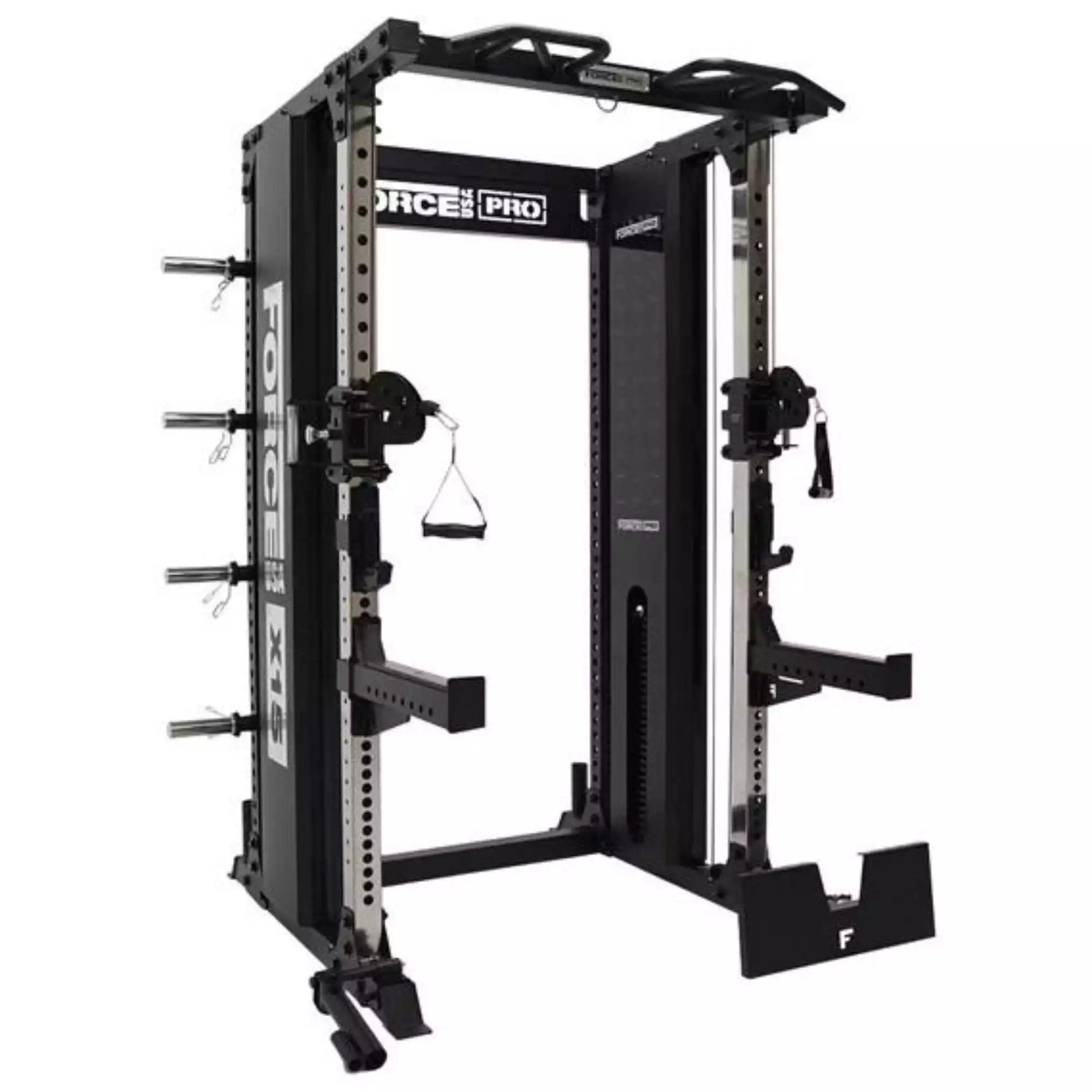 Description:
Dimensions: 92" H x 70" W x 57" D
Maximum resistance: 289 pounds static, 131.3 pounds felt
Type: Selectorized 
Warranty: Lifetime structural
Best Plate-Loaded Functional Trainer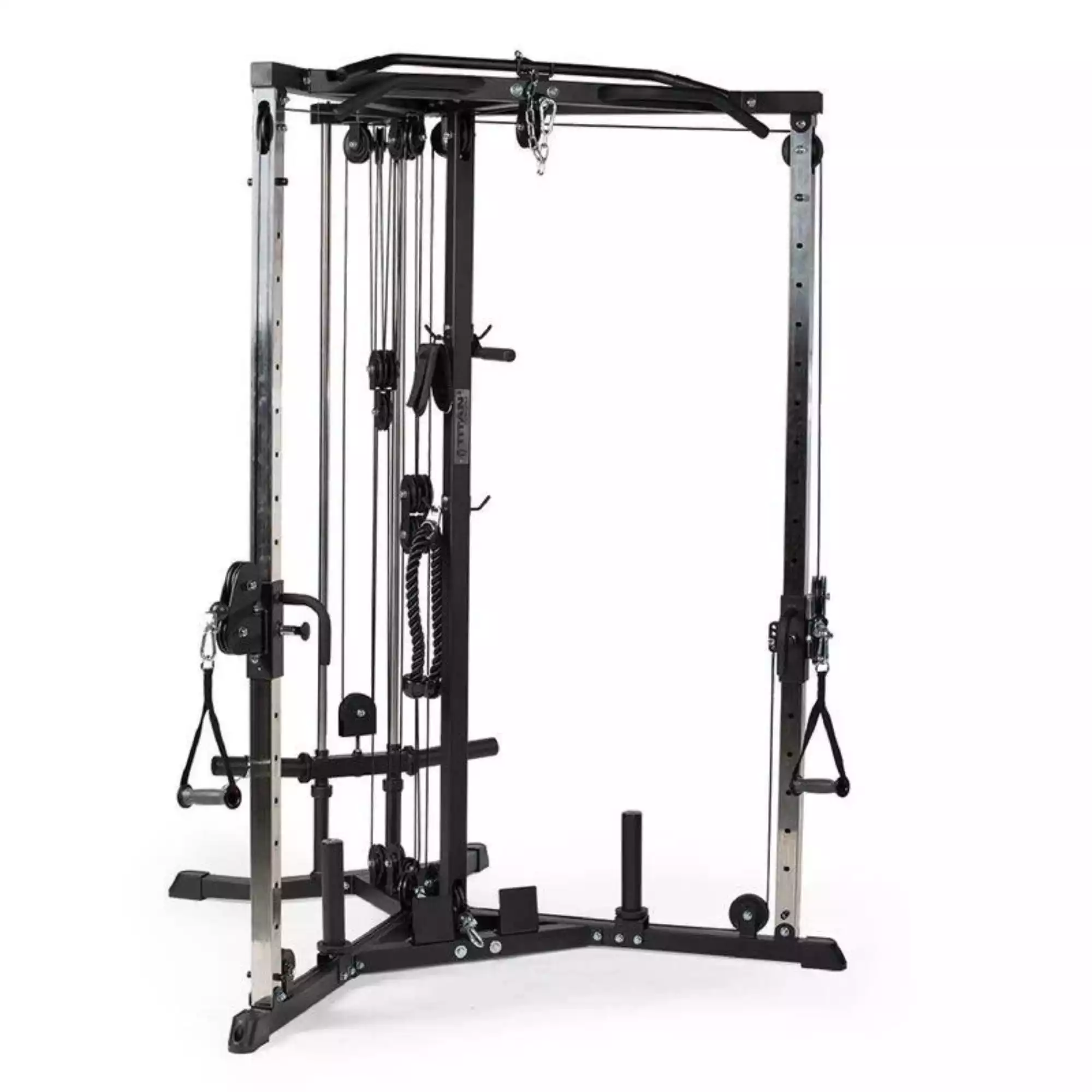 Description:
Dimensions: 81" H x 61" W x 53" D
Maximum resistance: 660-pound weight plate capacity; 1,540-pound cable capacity
Type: Plate-loaded
Warranty: One year
Best Compact Functional Trainer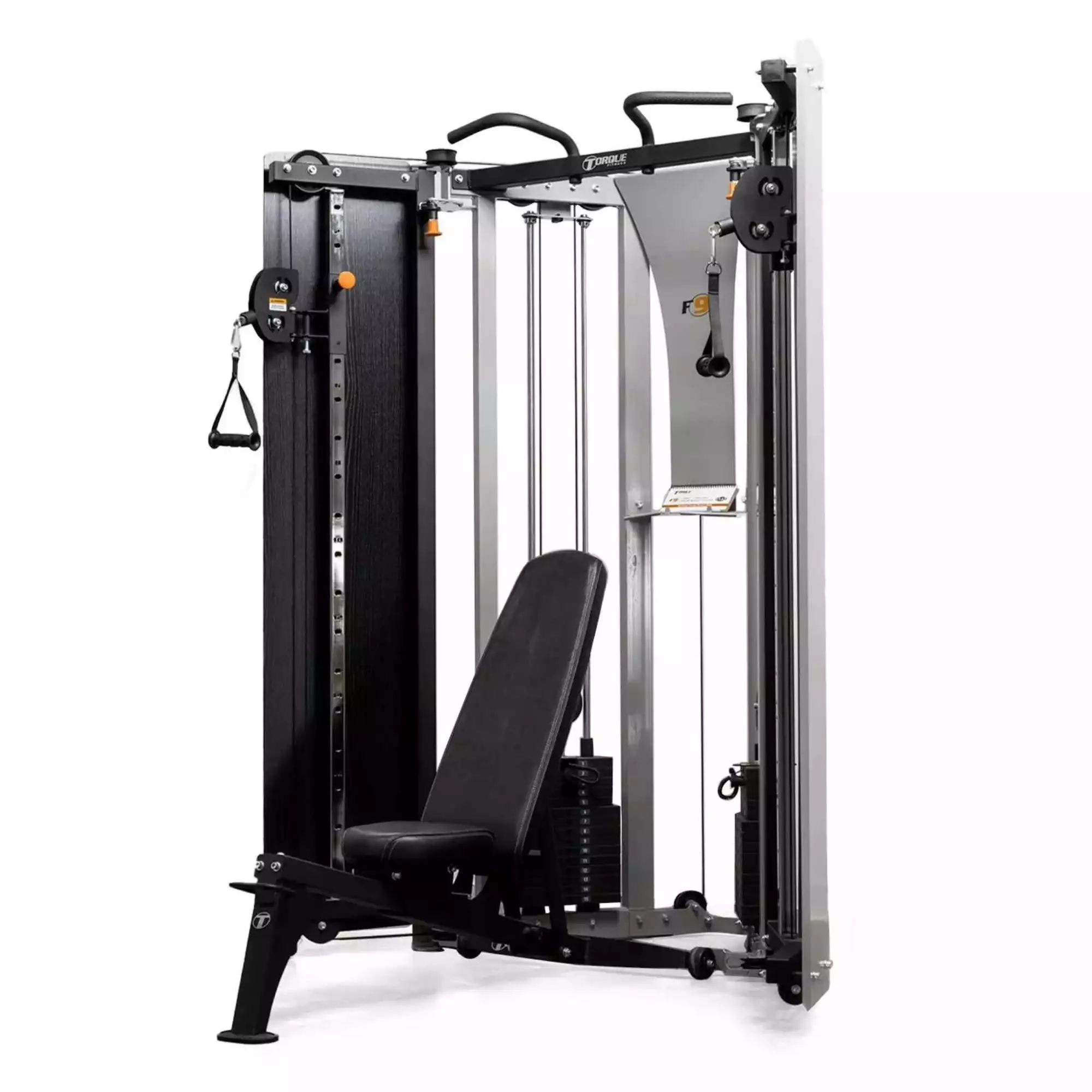 Description:
Dimensions*: 83.8" H x 69.7" W x 61.2" D
Maximum resistance: 225 pounds static, 112.5 pounds felt
Type: Selectorized
Warranty: Lifetime frame, welds, and parts
*Height includes pull-up bar handles; widest width is shown, and depth is with doors open.
Best Budget Functional Trainer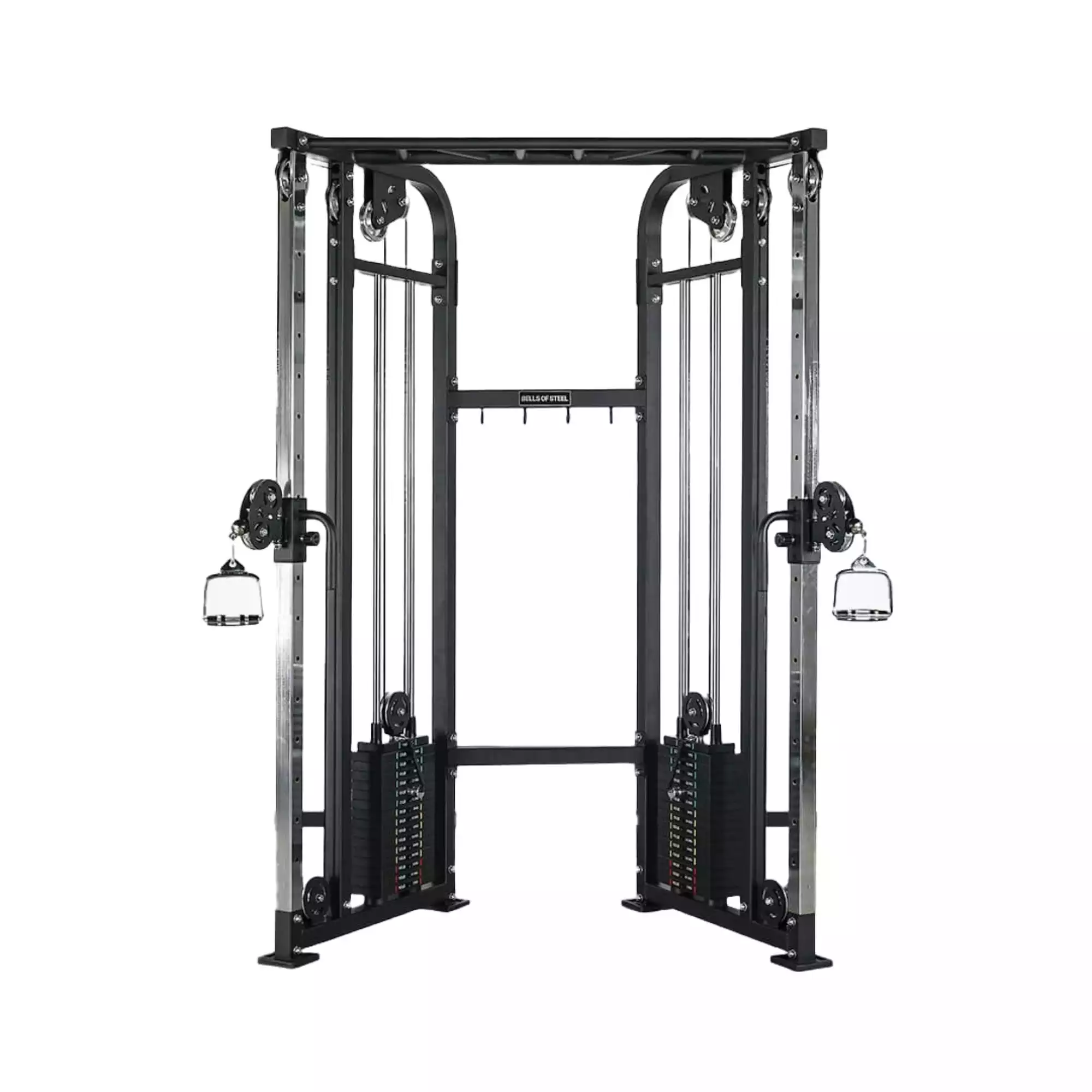 Description:
Dimensions: 30" L x 53" W x 81" H
Maximum resistance: 320 pounds
Type: Weight stacks
Warranty: Lifetime
FAQs
What are some qualities of a good functional trainer?

The qualities of a good functional trainer include aluminum pulleys, a pair of d-handles, at least 15 trolley height settings, and a minimum of 75 pounds of felt weight.

What is the best functional trainer?

The best functional trainer overall is the REP Fitness FT 5000. Relative to its competitors, it stands out as the top choice in its price range because it offers innovative features with a premium cable machine experience similar to what you'd find in a commercial gym.

Is a home functional trainer worth it?

Yes, a home functional trainer is almost always worth it. It unlocks cable machine exercises like tricep pushdowns and lat pulldowns, which are sorely missed in most home gym exercise routines, and does so with a reasonable footprint. 

How much weight should a functional trainer have?

A functional trainer should have a minimum of 75 pounds so that you can target your isolation muscles effectively. However, having up to 200 pounds is ideal for working your back muscles with lat pulldowns and low rows.

What are the differences between the FT 5000 and Titan?

The FT 5000 is 3.5 inches taller, six inches narrower, and eight inches shallower than Titan's weight stack functional trainer. The FT 5000 weight stack goes from 12.5 to 112 pounds of felt weight, while Titan's goes from 10 to 100 pounds. The FT 5000 has metric increments of five kilograms, while Titan features imperial increments of 10 pounds. The FT 5000 only includes one pair of d-handles, but Titan includes five different handle attachments. 



Credit : Source Post