We receive free products and receive commissions through our links. See disclosures page.
Did you know that approximately 50 percent of Americans consume less than the Estimated Average Requirement for magnesium? (1) Occasionally called the invisible deficiency, this mineral is definitely one we don't want to ignore. Magnesium is involved in hundreds of bodily functions, including keeping your heartbeat steady and supporting your immune system. So, if you want to make sure you're getting enough, consider magnesium supplements. 
Magnesium supplements are a convenient way to get this essential element, especially if you find following a magnesium-rich diet challenging. Unfortunately, though, even the best supplements for bodybuilding and other fitness and health goals aren't regulated like drugs are. In fact, practically anyone could decide they want to sell magnesium supplements. Therefore, we decided to make it easier for you to bypass the not-so-great choices and present to you the best magnesium supplements on the market today. 
Medical disclaimer: This article is intended for educational and informational purposes only. It is not intended as a substitute for medical advice. For health advice, contact a licensed healthcare provider.
How We Chose the Best Magnesium Supplement
Identifying the best magnesium supplements was no simple task, as tons are on the market. We recognize how easy it is to pick popular ones like Nature Made Magnesium and assume it'll automatically meet your needs. However, in our journey of speaking with others, conducting heavy research, and even trying nearly a dozen magnesium supplements ourselves, it became apparent that there's no one-size-fits-all solution. 
At Breaking Muscle, we have several registered dietitian nutritionists on our staff, and they helped us narrow down our choices to ensure our list included something for everyone. We looked at factors like price, type of magnesium, whether it was a pill or powdery mix, which supplement would be best for whom, and more. We then used our proprietary scoring system to rank each supplement on a scale of 1 to 5 (one being the worst, five being the best) based on how easy the pills were to swallow, any side effects we experienced, and the number of pills per dose.
Our team of registered dietitians also helps us create the buying guide at the end of this article, so you can understand how to find the right magnesium supplement for you.
Our Top Picks for the Best Magnesium Supplements
Best Magnesium Supplement Overall: Transparent Labs Magnesium Bisglycinate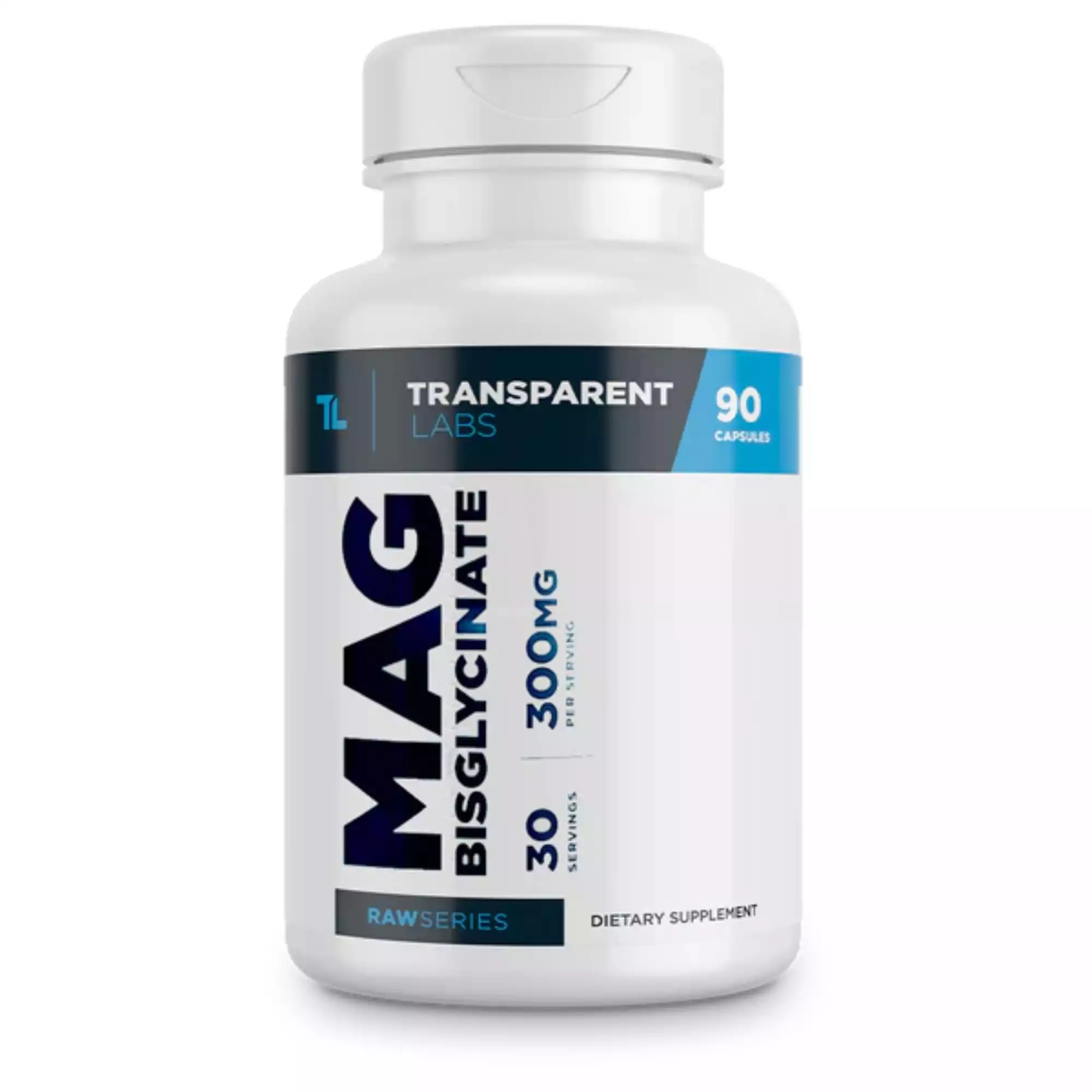 Pros
Third-party tested
Simple formulation
High source of magnesium
Cons
Has silicon dioxide 
Three capsules may be a lot to some
If you're in the market for a clean, good-quality mineral magnesium product, Transparent Labs offers one of the best dietary supplements you'll find. 
There's a reason Transparent Labs tops many of our supplement lists, like our roundup of the best pea protein powders. Unlike other items that include a bunch of unnecessary ingredients, the brand's magnesium product is straight to the point. It's got practically all of the magnesium you'd need in a day and is free of artificial sweeteners, artificial coloring, gluten, GMOs, and artificial preservatives. One consumer even said, "I enjoy how this supplement helps with my DOMS after heavy lifts or big WODs."
The Breaking Muscle product testing team tried Transparent Labs Magnesium Bisglycinate for several weeks and agrees with the positive reviews on the brand's website. She gave it 4.25 stars out of 5, noting that she didn't experience any unwanted side effects. 
When your diet alone isn't providing you with enough magnesium to meet your nutritional needs, this supplement could prove helpful. One serving supplies 300 milligrams of magnesium bisglycinate, which would meet 70 percent of the daily value. According to the Food and Drug Administration (FDA), 20 percent or more on the Nutrition Facts label is considered high, so you're getting plenty here. 
Many people aren't aware of this, but there are different types of magnesium. Magnesium bis-glycinate chelate (also known as magnesium glycinate) happens to be one of the better quality ones. It has high bioavailability, which means it absorbs better in the intestines and thus may be more effective than some of the others. (2) In fact, one study showed that another form of the mineral, magnesium oxide, had an absorption rate of less than four percent. (3) This is certainly less than ideal and could still result in a magnesium deficiency. 
One Transparent Lab Magnesium Bisglycinate container costs $16.99, which is reasonable considering it is a higher-quality magnesium. There are 90 capsules in total, which seems like a lot at first glance. However, it's only a one-month supply since three capsules equal one serving. This could easily be a deal-breaker for those who don't like taking pills, especially that many. 
Some consumers may be wary since it includes silicon dioxide, a natural chemical of oxygen and silicon. Although the FDA sees it as a safe food additive, other agencies fear that it absorbs poorly and needs further research. (4) Nonetheless, this product has the Informed Choice label, meaning it's regularly tested for banned substances and may be safer to consume. 
Best Magnesium Supplement for Men: Lifeforce Magnesium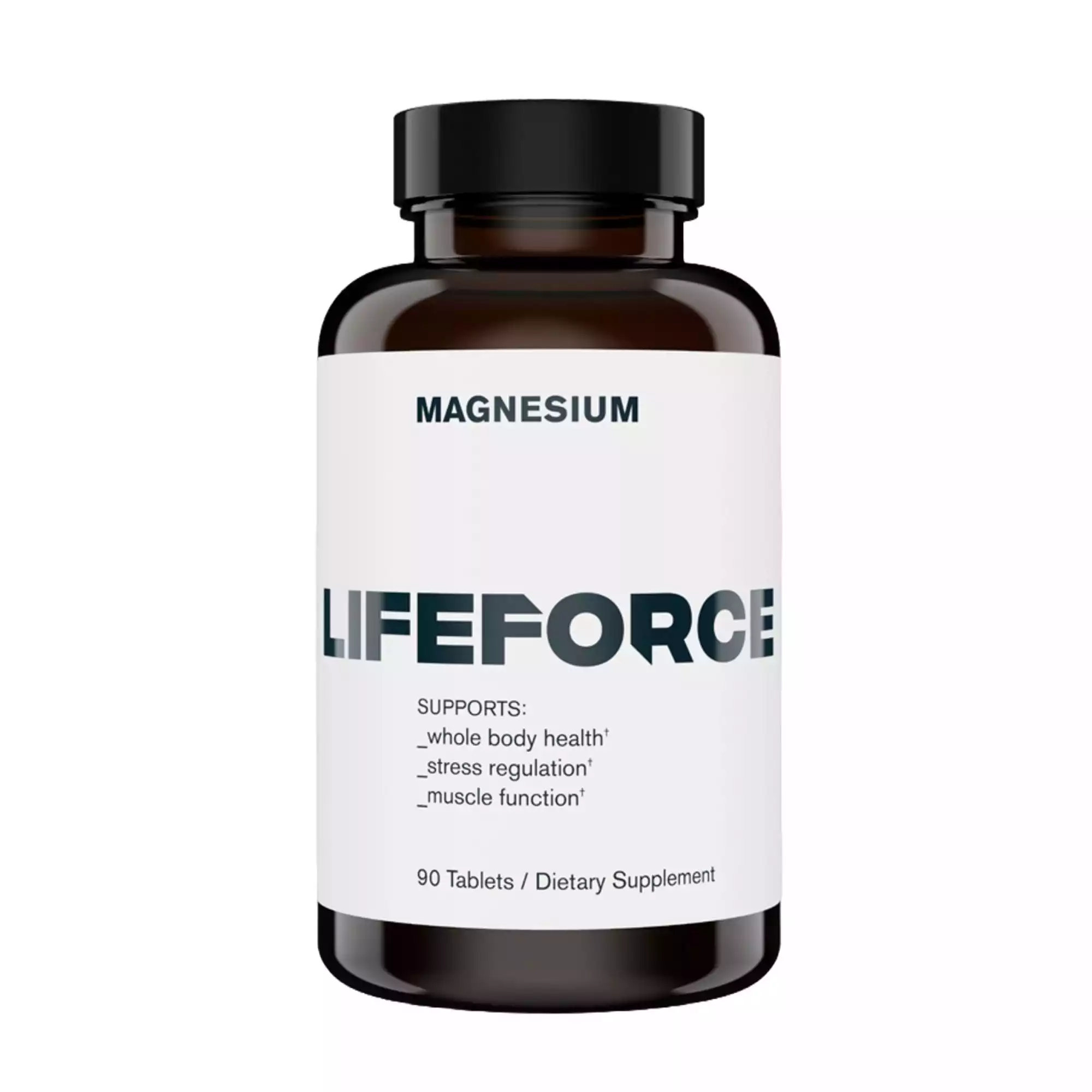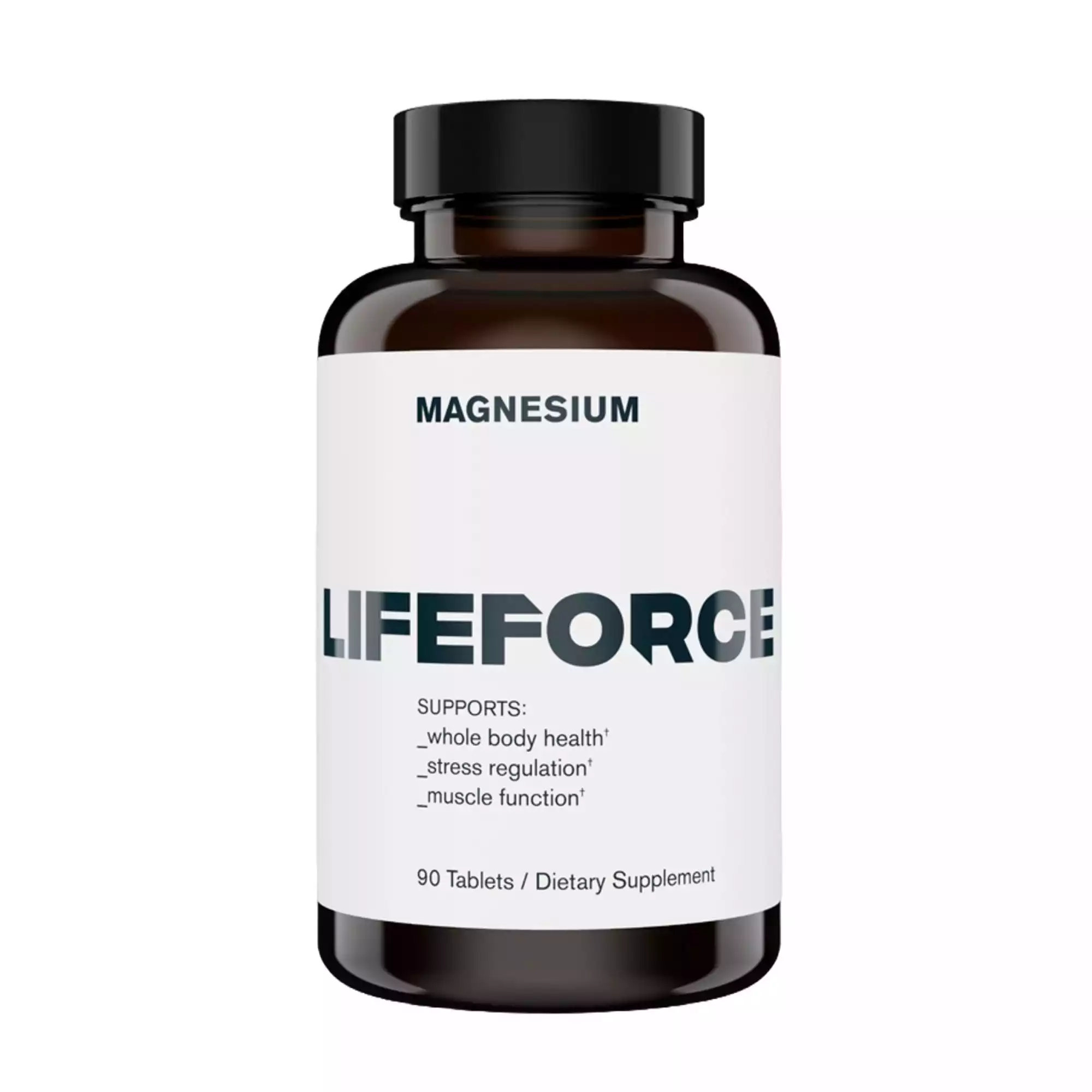 Lifeforce Magnesium

4.0
Number of servings: 30 servings
Cost per serving: $2.00
Magnesium per serving: 315 milligrams
Daily value: 75 percent
Form: Tablets
Check Price
Pros
Variety of magnesium sources
High dose of magnesium 
Vegan-friendy
Cons
Expensive 
May be difficult to swallow
Chalky taste
Men looking for a solid magnesium supplement might find that Lifeforce Magnesium is their best bet. With four different types of magnesium that make up 75 percent of the Daily Value, it's hard to pass up. This magnesium dietary supplement might be exactly what you need to improve exercise performance and energy metabolism. (5) Plus, there are a few other health benefits that may come with it, and there's research to back it up. 
Now, you might be wondering, what's so significant about a supplement containing four sources of magnesium? One should be enough, right? Well, yes, but each has its own pros. 
For example, this product contains magnesium bisglycinate, a source of magnesium that's less likely to create a laxative effect. Then there's magnesium l-threonate, a source researchers say may improve cognitive abilities by enhancing learning and memory function. (6) In addition, a 2020 study on magnesium n-acetyltaurinate revealed that this source may prevent tissue damage. (7) Research also suggests that this magnesium source may help with heart health. (8)
Even dimagnesium malate may boost RBC (red blood cell) magnesium and alleviate magnesium deficiency symptoms with minimal gastrointestinal symptoms. (9) 
One serving, equal to three tablets, provides 315 milligrams of magnesium. Men between 19 and 50+ years old require 400 to 420 milligrams of this mineral. Women in the same age group need 100 grams less than that.
The reason men need a greater amount of magnesium is mainly due to testosterone. Testosterone levels fall as men age. This could negatively impact bone health and is linked to high blood pressure and type 2 diabetes. (10)(11)  Research shows that increased magnesium intake may increase testosterone production, which could reduce the risk of type 2 diabetes and other age-related complications. (12)(13) 
One 30-serving container of Lifeforce Magnesium costs $60, but signing up for a monthly membership brings it down to $40. Admittedly, you can get a multivitamin gummy that includes vitamin D and more for less than that, which may be helpful if you know you have a vitamin D deficiency.
However, keep in mind that you're receiving a higher dose of this essential mineral and also getting 100 milligrams of Magnolia officinalis bark. A 2017 study shows that the latter may help minimize anxiety, depressive moods, and sleep disturbances. (14)
There are no product reviews on their website to see how purchasers feel about it, but our product testing staff members tried it for several weeks. They noted that the capsules are chalky and leave a white residue on their hands and also commented on how large the pills were — they couldn't take all three at the same time. We only rated Lifeforce Magnesium 4 out of 5 stars for these reasons.
RELATED: Best Multivitamin for Men
Best Magnesium Glycinate Supplement: Performance Lab Sleep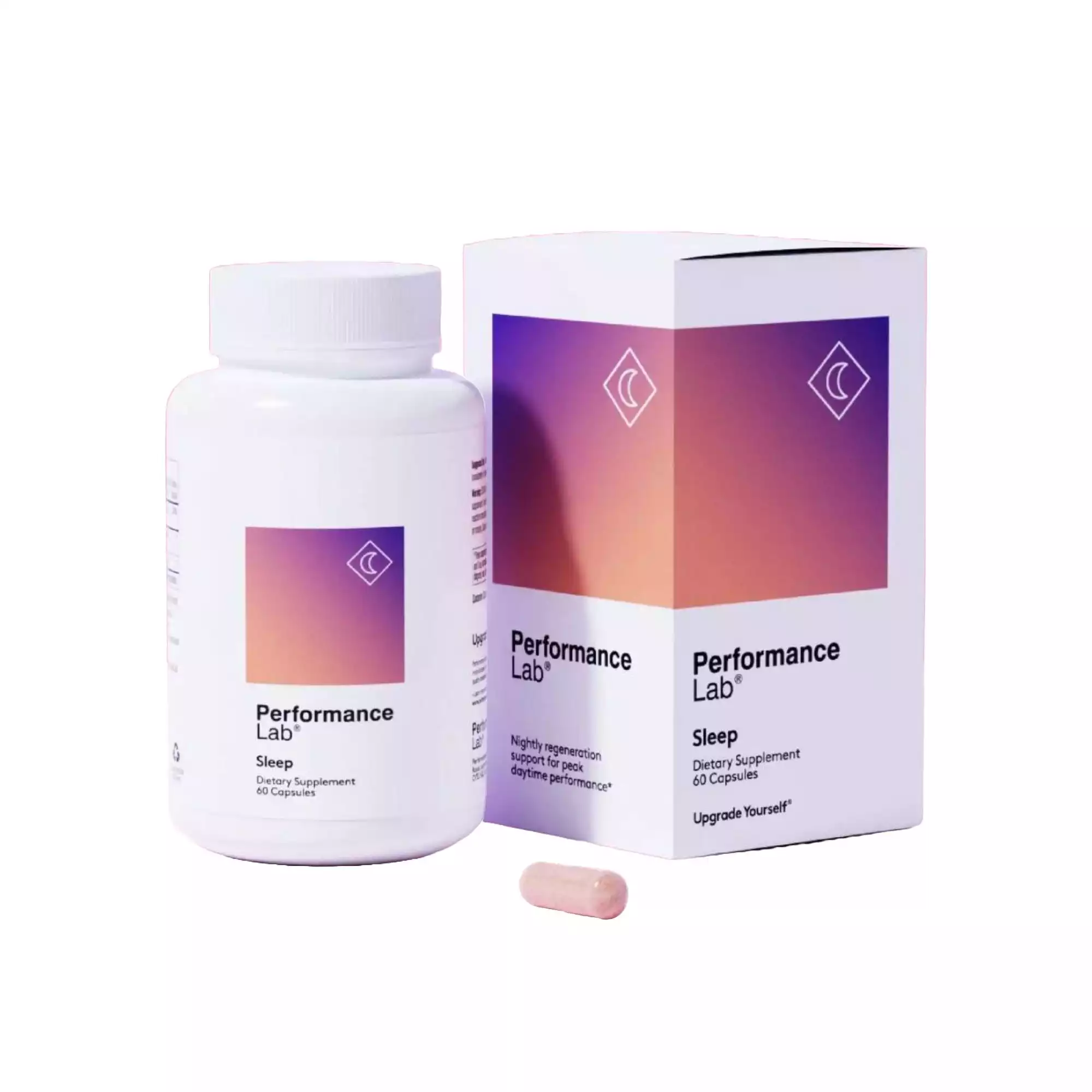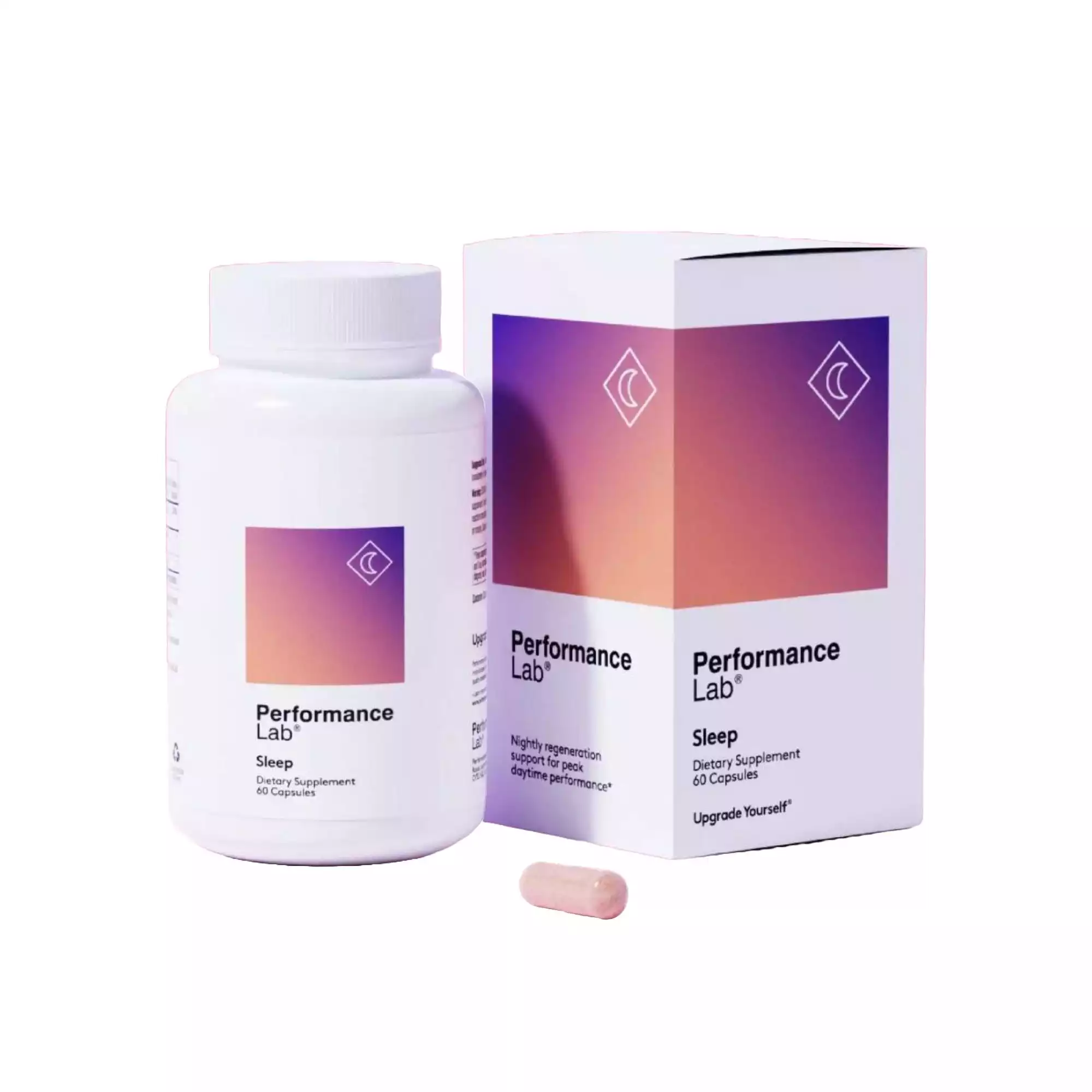 Performance Lab Sleep

3.8
Number of servings: 30 servings
Cost per serving: $1.46
Magnesium per serving: 100 milligrams
Daily value: 24 percent
Form: Capsules
Check Price
Pros
Vegan-friendly 
Not addictive
Free of allergens, soy, and GMOs
Cons
Size of capsules
Some report grogginess in the morning
All magnesium is created the same, right? Not exactly. The Performance Lab Sleep supplement uses high-quality magnesium biglycinate and taurate, as well as Performance Lab's proprietary NutriGenesis® magnesium.
The latter is unique, as it doesn't require pesticides or herbicides to produce and is grown in a sterile laboratory. Performance Lab believes this approach is much better for the environment than mining for minerals, which destroy the landscape and emit greenhouse gases. They also think their nutrients absorb better since their lab-grown ingredients match the structure of natural nutrients in whole foods. 
This product is formulated with ingredients aimed at improving one's sleep hygiene. In addition, it's soy-free, non-GMO, and a good choice for those following a plant-based diet. 
Unlike some of the other options on the best magnesium supplements list, this one doesn't contain as much magnesium. One serving issues 100 milligrams, which makes up 24 percent of the Daily Value. While that's still considered "high," based on the FDA, relying solely on this is not ideal if you're trying to boost your magnesium intake significantly. You'd also want to ensure you're consuming enough magnesium-rich foods, like leafy greens and black beans, so you don't wind up deficient.
Nonetheless, this essential mineral has been shown to improve insomnia due to its relaxant effect. (15) If you suffer from this issue, Performance Lab Sleep combined with a proper diet may help you sleep better.
There's also the inclusion of tart cherry (Prunus cerasus), l-tryptophan, and organic sea buckthorn. The data surrounding tart cherry implies that it increases exogenous melatonin, which may enhance sleep duration and quality. (16) L-tryptophan, an amino acid found in plant foods and animals, is converted into melatonin, serotonin, and vitamin B6 by the body. An older study found that one gram of this amino acid taken 45 minutes before bed could decrease the time it takes for those with mild insomnia to fall asleep. (17)
Then, sea buckthorn, a plant, contains a high content of bioactive compounds, like coumarins and triterpenes. (18) Those phytochemicals are said to promote sleep, memory, and learning. One consumer who left a review on Performance Lab's website said, "I get a deep sleep pattern from this product…This combination really works. The quality is awesome." 
It's recommended that individuals take two capsules, equal to one serving, 30 minutes before bedtime and on an empty stomach. The capsules are prebiotic-infused to help with digestion and absorption.
There are 30 servings in the $44 container. At $1.46 per serving, this may seem like a lot. But if you buy three bottles for $132, you'd get the fourth one free, bringing the cost per serving down to around $0.91. This is $1.09 less per serving than Lifeforce Magnesium and $1.25 cheaper than NooCube Sleep Upgrade, which we review below.
Best Magnesium Supplement for Women: Thorne Magnesium Bisglycinate
Pros
NSF-Certified for Sport
Powder mix dissolves easily 
Great quality
One of the best magnesium supplements for women, especially pregnant women, is Thorne Magnesium Bisglycinate. This dietary supplement only includes two other ingredients outside of magnesium: citric acid and monk fruit concentrate. In addition, they collaborate with big names, like the Mayo Clinic, and have partnered with over 10 U.S. Olympic Teams. So, if you're looking for a well-regarded supplement you can purchase via Amazon, this is a good choice. 
Citric acid is naturally found in all citrus fruits and is often used as a food preservative. The FDA states that it's safe to consume as long as producers follow good manufacturing practices. In addition, citrus fruit has been associated with increased mineral bioavailability, specifically for magnesium, calcium, and phosphorus. (19) 
Monk fruit concentrate is commonly used as a food sweetener and is also considered safe by the FDA. One 2019 study even assessed how 1000 milligrams of monk fruit daily impacts maternal and prenatal development and found no issues. (20)
There are 200 milligrams of magnesium bisglcyinate in one serving, which makes up 48% daily value. It's especially important to consume enough magnesium during pregnancy, as one study showed that magnesium supplementation may decrease pregnancy complications. (21)
This mineral plays a significant role in muscle function and how our nervous system works, and even helps regulate blood sugar. (22) Therefore, experiencing a magnesium deficiency during pregnancy could lead to restricted fetal growth, gestational diabetes, pre-eclampsia, and more. (23) As one female reviewer on Thorne's website commented, "I have muscle spasms and tension and I can tell this makes a huge difference," so it could be very beneficial for you as well.
But that's not all. One study assessed how magnesium paired with vitamin B6 may be an effective and affordable way to treat PMS symptoms. (24) Even during menopause, magnesium may be helpful. During this stage, women produce less estrogen and could develop osteoporosis or experience bone loss. Low magnesium may worsen it. A 2010 study of 20 women found that 1,830 milligrams of magnesium citrate (equivalent to 290 milligrams of elemental magnesium, which is what magnesium bis-glycinate is made from) could decrease bone loss. (25) 
If you're not a fan of pills, you're in luck. To consume Thorne Magnesium Bisglycinate, add one scoop of the lightly sweetened powder to an eight-ounce glass of water. When a member of our testing team tried it, they noted that it literally tasted like nothing. They also felt more relaxed after taking it, though it wasn't a significant change. For that we reason, we gave it 4 out of 5 stars.
The almost $44 container will provide 60 servings, which equals about $0.73 per serving and is a very reasonable price.
For comparison, other magnesium supplements like NooCube Sleep Upgrade also provide 60 servings per bottle but cost more than $2.00 per serving. However, Thorne Magnesium Bisglycinate is gluten-free, while NooCube is not. Thorne's magnesium supplement is also dairy-free, soy-free, free of artificial flavors, and NSF Certified for Sport.
RELATED: Best Collagen Supplements for Men, Women, Weight Loss, and More
Best Magnesium Supplement for Sleep: NooCube Sleep Upgrade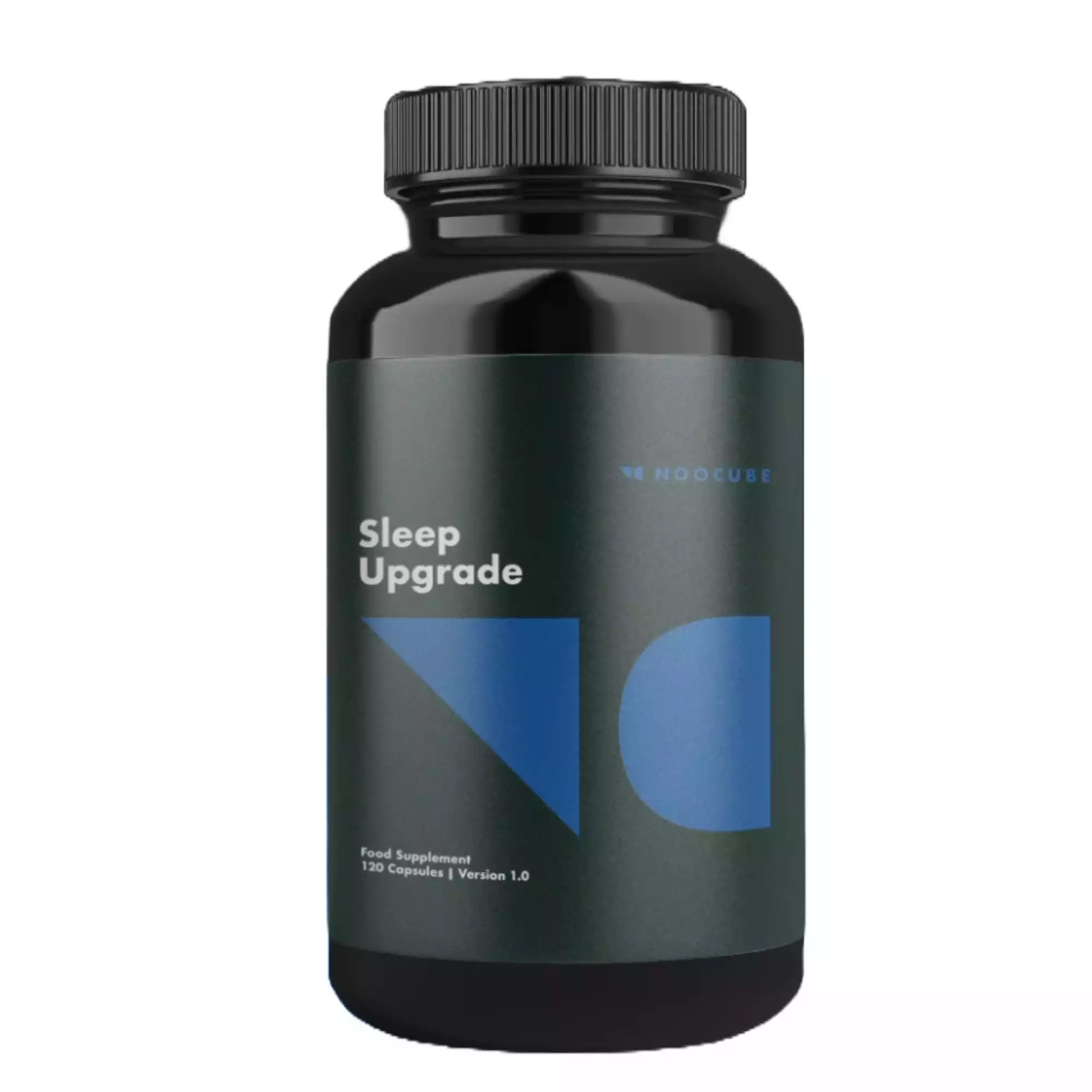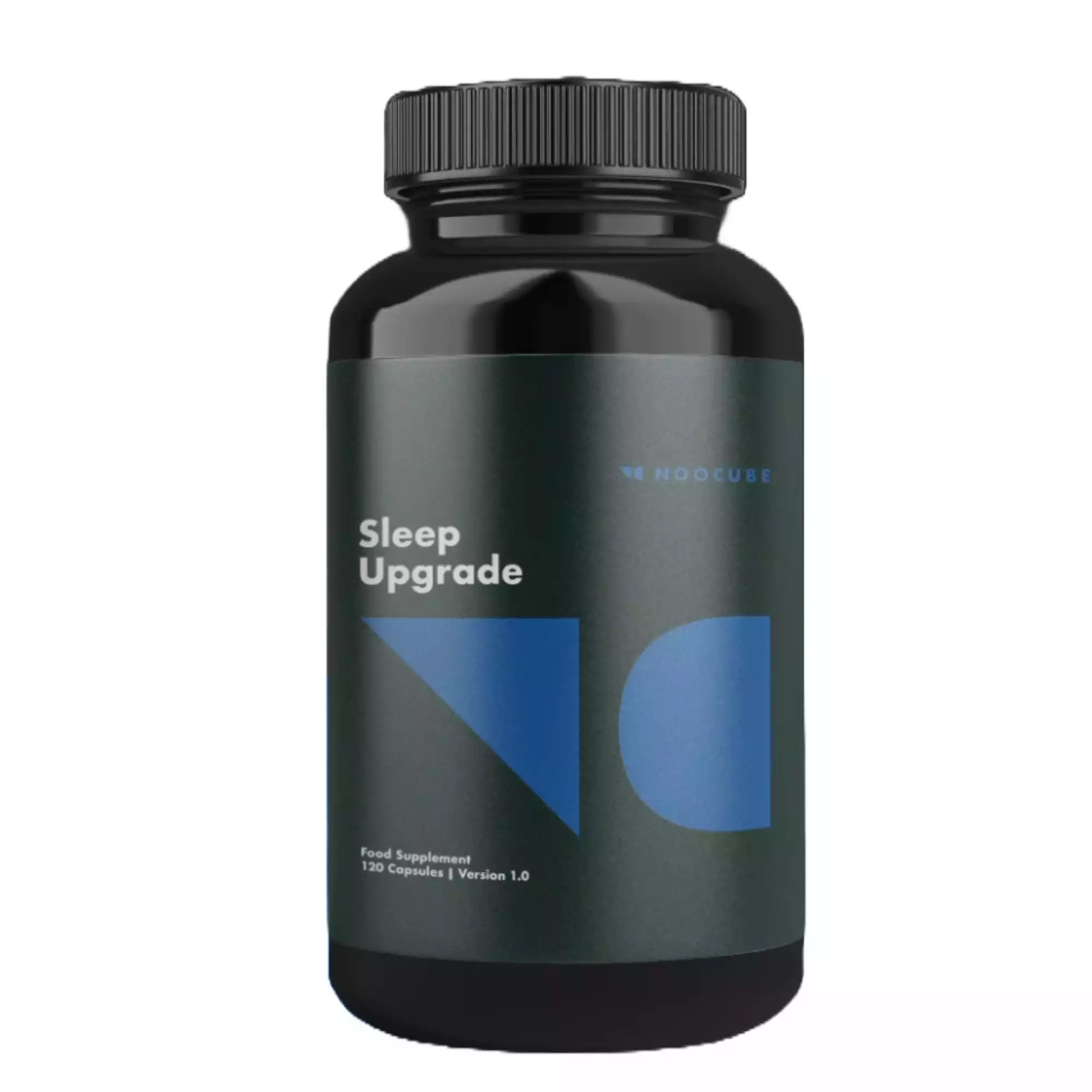 Pros
60-day money-back guarantee 
Made in GMP-Certified Facility 
Does not contain melatonin
Cons
Pricey 
Nutrient label based on E.U. guidance levels
Are you looking to achieve better sleep quality? In addition to creating a sleep schedule and avoiding caffeine before bed, consider adding a supplement like the NooCube Sleep Upgrade. It is formulated to help you catch some much-needed zzz's, made in the USA, and produced in a GMP (good manufacturing practices)-certified facility. Plus, if you don't like their product, they'll provide you a full refund when you return any unused bottles within 67 days of purchase. 
NooCube Sleep Upgrade has a botanical blend that doesn't include melatonin, a hormone your brain produces in response to darkness. Many sleep aid products contain melatonin, but some individuals experience undesirable side effects, such as headaches, stomachaches, and itchy skin. In addition, it's a natural compound you should avoid if you're breastfeeding, pregnant, or have an autoimmune condition. Therefore, NooCube Sleep Upgrade may be attractive for those looking for other natural ingredients that promote sleep. 
NooCube's formulation has lemon balm (600 milligrams), lavender (125 milligrams), vitamin D3 (10 micrograms), magnesium citrate (300 milligrams), and calcium (300 milligrams). A pilot study published by the National Institutes of Health found that lemon balm improved insomnia for individuals with mild-to-moderate anxiety. (26) In 2012, a single-blind randomized study assessed the effectiveness of lavender and found that it improved sleep quality. (27)
Research has also revealed that vitamin D3 plays a role in sleep regulation, as those deficient in this nutrient often have sleep disorders. (28) Calcium intake, too, is linked to fewer sleep difficulties and decreased nonrestorative sleep (NRS), which occurs when you get the recommended amount of sleep but still feel unrefreshed when you wake up. (29)(30) 
One 30-serving container costs $64.99, which is on the more expensive side. In addition, one serving equals four capsules, whereas many other magnesium supplements require you to take three pills at the most. If you don't like taking pills, you probably won't like NooCube Sleep Upgrade. But if that's not a big deal to you, aim to take them 30 minutes before bed.
Lastly, the nutrition label is based on the nutrient reference value, a European guidance level. It's different from the U.S. version known as the Daily Value and thus has different criteria. For example, the NRV suggests 375 milligrams of magnesium, while the Daily Value is 420 milligrams. 
Best Magnesium Supplement for Weight Loss: Momentous Magnesium Threonate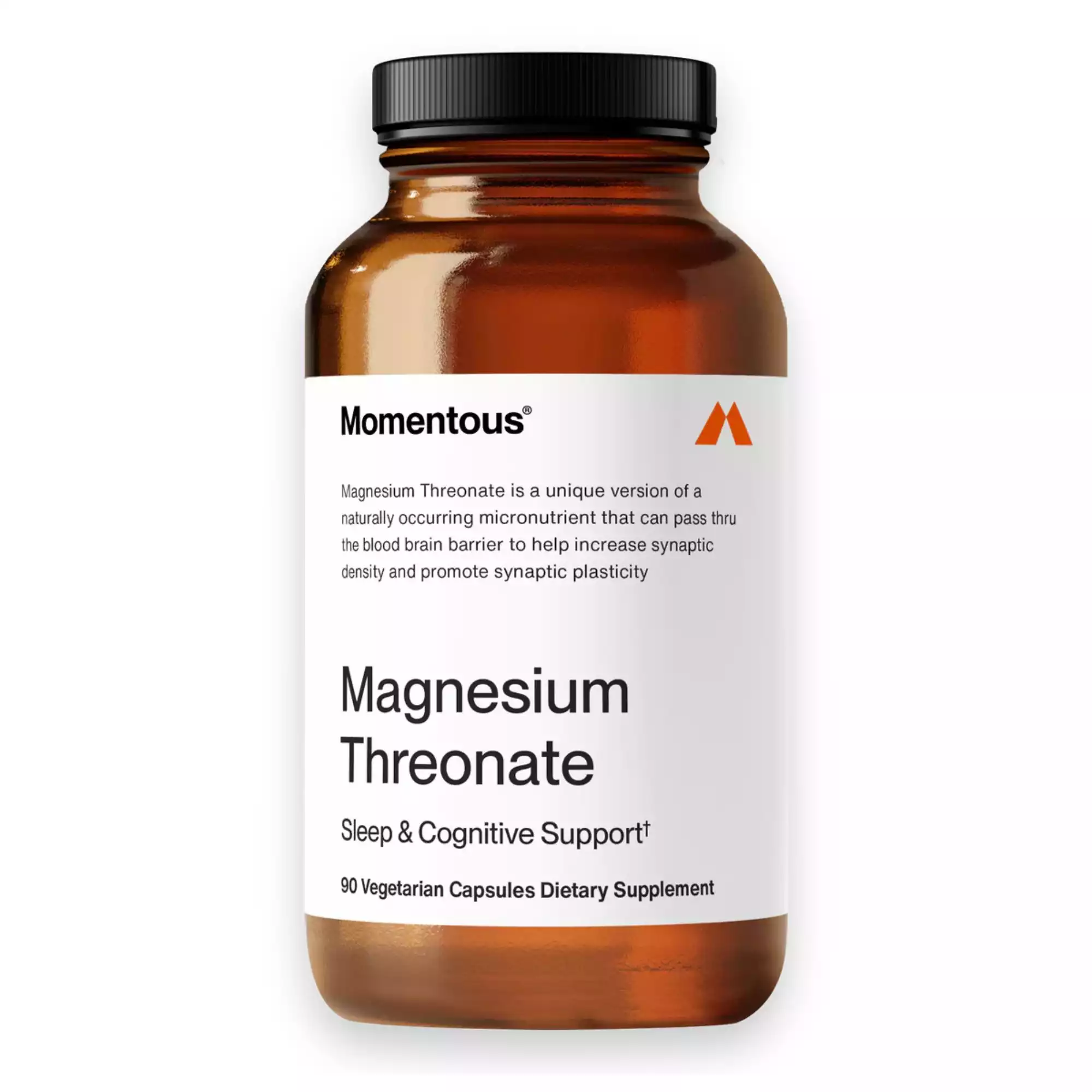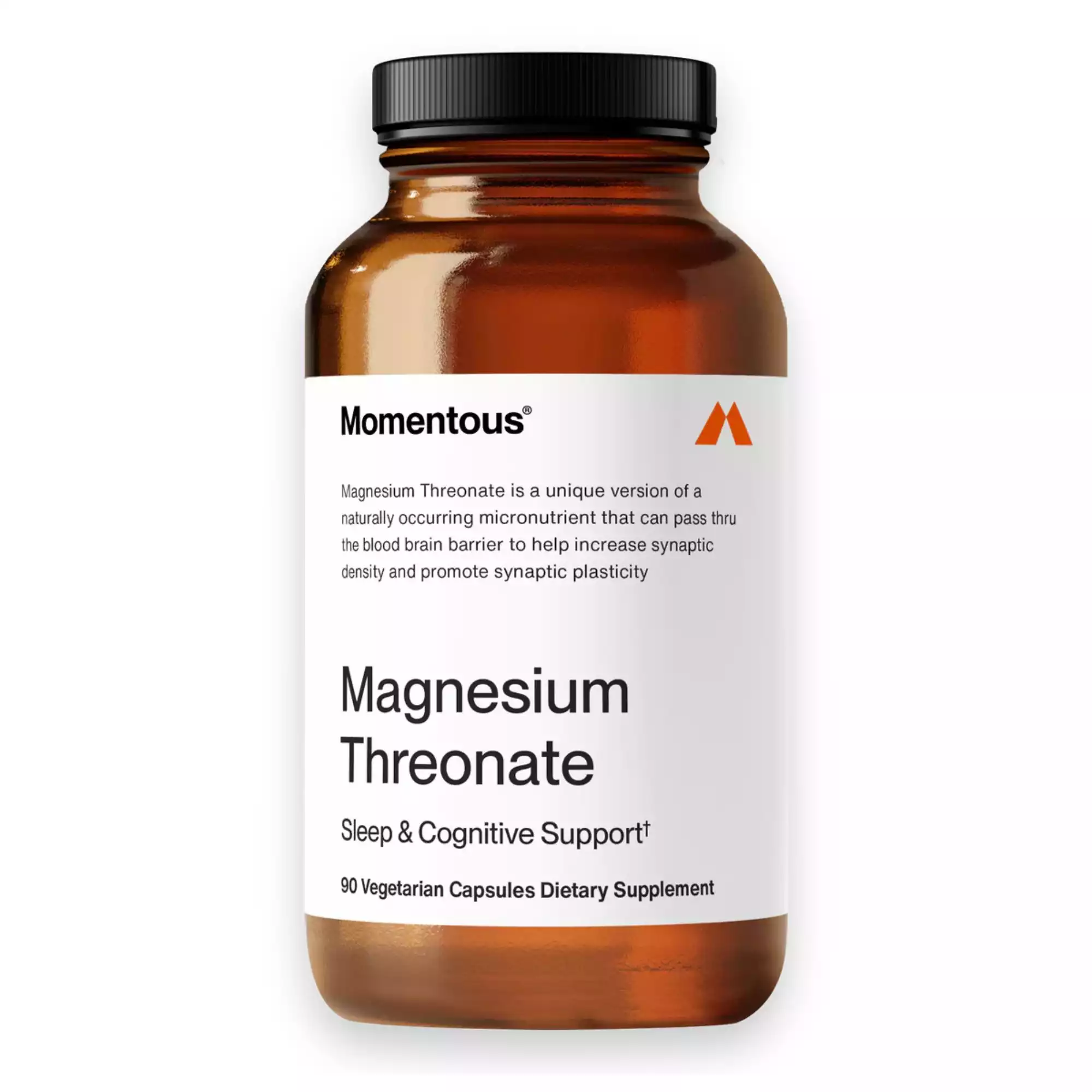 Pros
Very few ingredients 
Third-party tested
Easy to swallow
Cons
Expensive
Some capsules may arrive opened
Magnesium plays a part in more than 300 biochemical reactions in the body. Could it be used as a high-quality weight loss supplement, too? Truthfully, more research is needed in this area, but if it can, you'll want to opt for a premium form of it to ensure optimal safety and efficacy.
That's where Momentous Magnesium Threonate comes in. It's great for vegans and free of soy and gluten. It's been third-party tested and NSF Certified for Sport, meaning it's free of prohibited substances and masking agents and doesn't have unsafe levels of contaminants. 
If you're looking for a product with very few ingredients, you'll find it here. Besides magnesium, it has cellulose (the capsules), vegetable stearate, and microcrystalline cellulose. Vegetable stearate is used in many supplements to prevent the capsules from sticking to the machines during production. Microcrystalline cellulose is a binding and filling agent that helps solidify capsules that can dissolve quickly later. All are considered safe. 
Magnesium threonate, also called Magtein, is a synthesized form of the mineral that's created by combining magnesium with threonic acid. In 2010, researchers discovered that this form of magnesium could be delivered to brain cells. (31) It's the only one that can cross the blood-brain barrier and has higher absorption and retention than other forms. (32) 
Data from a 2022 study found that Magtein can improve learning, memory, recall, and cognitive abilities. (33) That same study noted that magnesium threonate didn't influence body weight, but another study observed BMI reductions in participants following magnesium supplementation. (34) However, the change in body weight was mainly observed in individuals with a magnesium deficiency, hypertension, an insulin resistance disorder, and/or those who are females. 
One bottle of Momentous Magnesium Threonate is $49.95 and has 30 servings. One serving provides 144 milligrams of magnesium, satisfying 34 percent of the Daily Value. This is less than what you'll find in other products like Lifeforce's magnesium, but it may still be a sufficient amount if you already consume a lot of magnesium-rich foods. It's meant to be taken 30 to 60 minutes before bed since it has a calming effect. One purchaser even attested to this by commenting, "Calms my body and mind for great sleep!" 
Best Magnesium Citrate Supplement: Thorne Magnesium CitraMate
Pros
Affordable 
Third-party tested
Higher quality ingredients 
Most report no digestive issues
Cons
Some customers experienced insomnia 
Non-returnable
Without a doubt, one of the best magnesium citrate supplements you'll find is provided by Thorne. From selecting the best ingredients and using clean manufacturing to undergoing four rounds of testing, you're getting a premium product that customers are raving about on Amazon.  
Thorne's formula is a combination of magnesium citrate and magnesium malate. Magnesium citrate is commonly used to relieve constipation, as it relaxes the muscles and boosts the amount of water absorbed in your intestines. When these actions occur, it softens stool and thus makes it easier to have a bowel movement. 
There are benefits of magnesium citrate from a workout perspective, too. For example, some people experience exercise hypertension due to their endothelial cells being unable to relax. Experiencing this is a sign that one's blood pressure would be increased while at rest, too. However, one study found that magnesium citrate could reduce blood pressure while at rest and during exercise. (35) 
Further, a 2021 study found that one dose of magnesium citrate weakens the transmission and perception of pain. (36) Given that many people report experiencing pain, stiffness, and swelling following a workout, it's very possible that this could help. A customer even commented that this product "helped my weightlifting cramps and improved blood pressure."
Magnesium malate is a combination of magnesium and malic acid. The latter is a compound that may help with exercise recovery and generating mitochondria ATP (energy production) during aerobic and hypoxic scenarios. (37) 
Thorne Magnesium CitraMate contains 135 millgrams of magnesium per serving, which makes up 32 percent of the daily value. Of that 135 milligrams, 80 is magnesium malate, and 55 is magnesium citrate. 
One container includes 90 servings and is only $18. Compared to other products where one serving equals multiple pills, it's nice to see one where you can be one-and-done. Plus, it being free of gluten, dairy, and soy is the cherry on top. 
Best Magnesium Supplement for Muscles: Legion Sucrosomial Magnesium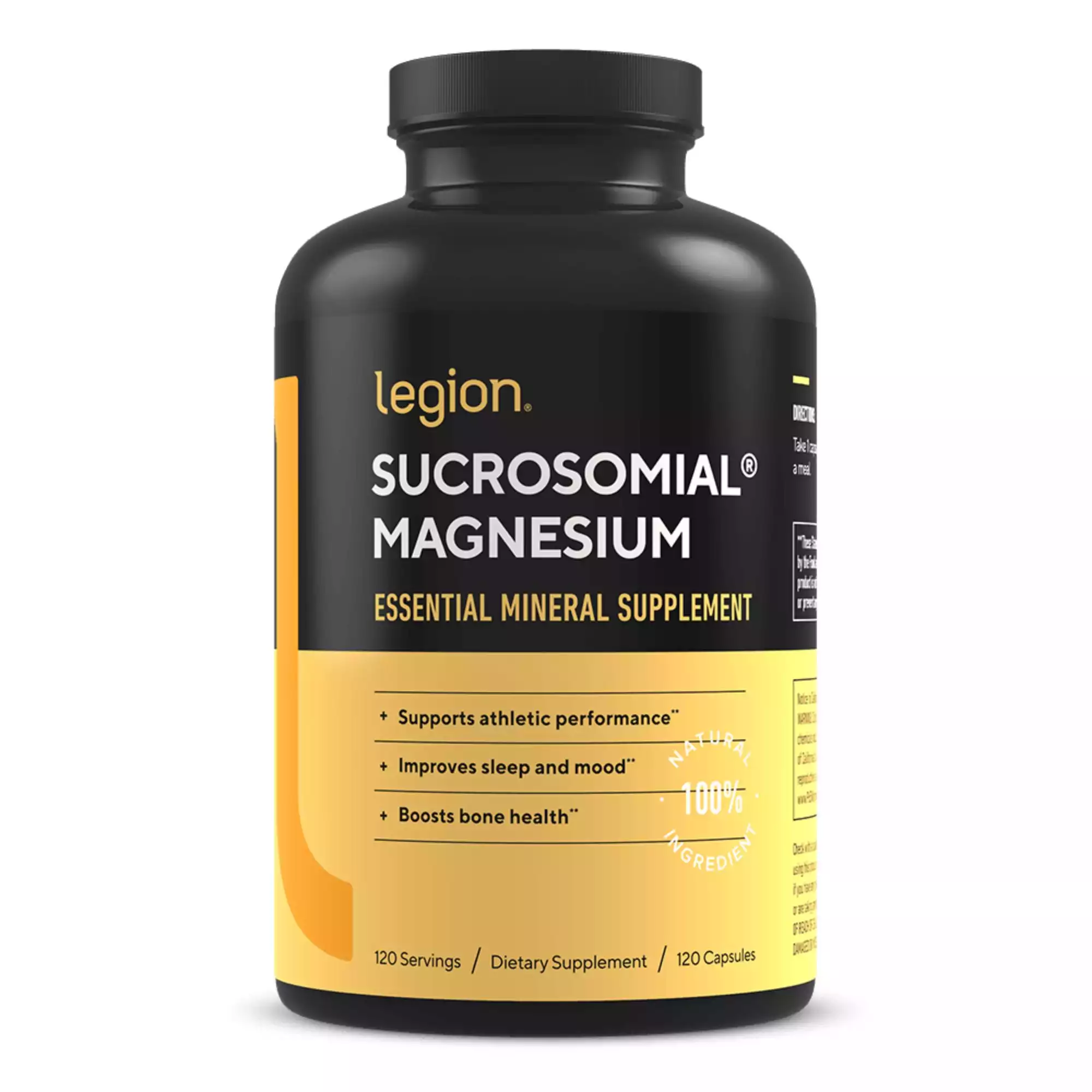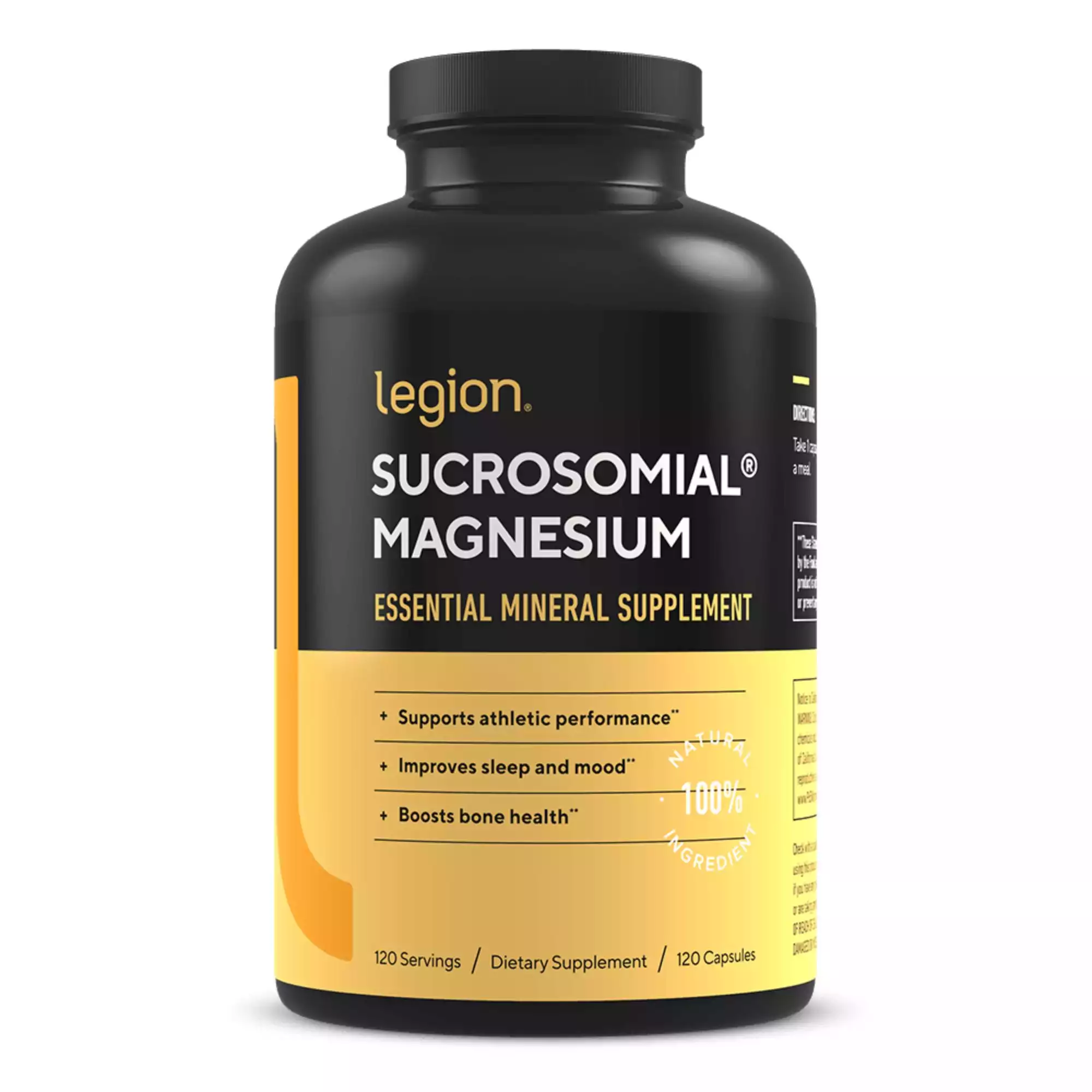 Pros
Third-party tested
No return necessary money-back guarantee 
One capsule = one serving 
Formulation transparency 
Very affordable
Whether you want to bulk up or achieve lean muscle, it's nice to have something that can help you along the way. Seriously, wouldn't it be nice if there was a supplement out there that could help improve athletic performance and alleviate muscle cramps? Well, Legion offers a Sucrosomial Magnesium supplement that may do just that, and there are 197 pages of scientific research to back it up. There are customer reviews like this one that help back up their claims, too: "I feel like my sleep has improved and performance in the gym is improved."
Sucrosomial magnesium is an oral preparation of magnesium oxide that's covered by phospholipids plus a sucrester matrix. (38) Phospholipids are a type of lipid that protects cellular structures. They may also play a role in reducing oxidative stress and aging-related diseases. (39) A sucrester is a surface-active agent that acts as an absorption enhancer due to its ability to decrease intestinal barrier resistance. (40) 
Together, phospholipids and sucrose esters create this sucrosomial membrane that allows magnesium ions to cross the intestinal and gastric environment and reach the bloodstream. Interestingly, it can do all of this without interacting with intestinal mucosa, so it can more effectively absorb in the intestines and increase the bioavailability of magnesium. (41)  
One study found that using Sucrosomial magnesium could improve bone and muscle metabolism in the elderly population. (42)  A 2022 study evaluated how minerals in Sucrosomial forms may impact COVID-19 patients and found that individuals had improved muscle strength and physical performance. (43) Another 2022 study that looked at magnesium supplements in general identified that this mineral may significantly reduce muscle soreness following bench presses and enhance performance. (44) A customer even commented, "I get less sore after workouts compared to the past." 
Legion's Sucrosomial Magnesium is third-party tested and produced in NSF-certified and FDA-inspected facilities. In addition, their product is free of artificial and synthetic substances. Customers really like that Legion provides formulation transparency, so you know exactly what you're consuming. Some companies use a proprietary blend and don't explain what that may include. 
One container has 120 capsules, and is only $29.99. Even better, one serving is equal to one capsule, so you don't have to take a bunch of pills. Each serving provides 150 mg of magnesium, which makes up 36% of the daily value. Lastly, if for some reason you don't like the product, Legion offers a "no return necessary" money-back guarantee. In short, you can keep the bottle and still get a full refund. 
One of our product testers, who's also a competitive weightlifter, tried Legion Sucrosomial Magnesium for several weeks and appreciated that she only had to take one pill a day, unlike others she's tested that required three pills per day. She found the pills easy to swallow even though they are bigger than other vitamins she takes. However, she only gave it 4.2 out of 5 stars because she didn't notice any significant changes (though she's been taking magnesium every day for quite some time).
RELATED: Best Protein Powders for Muscle Gain
Best Magnesium Supplement for Leg Cramps: Kaged Hydra-Charge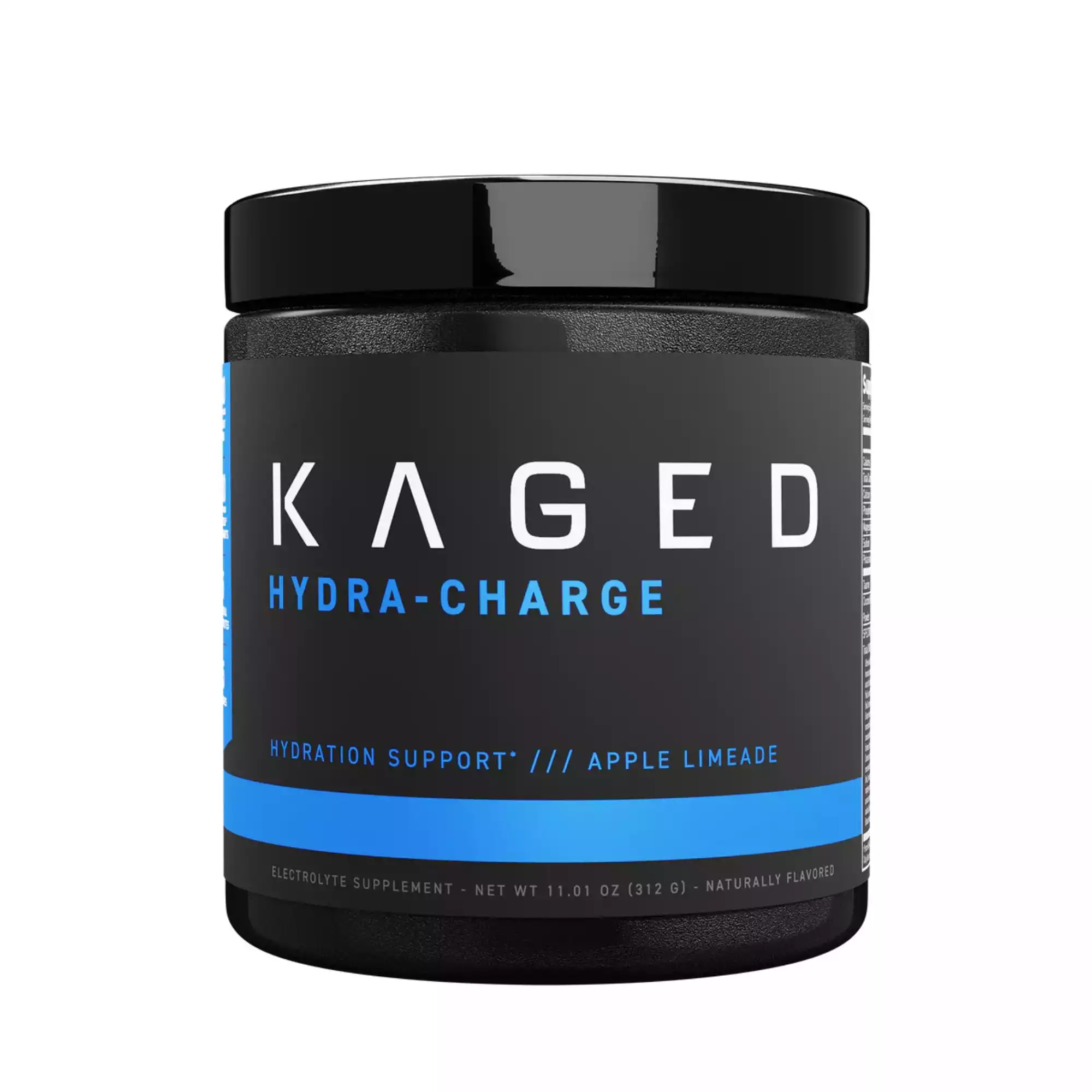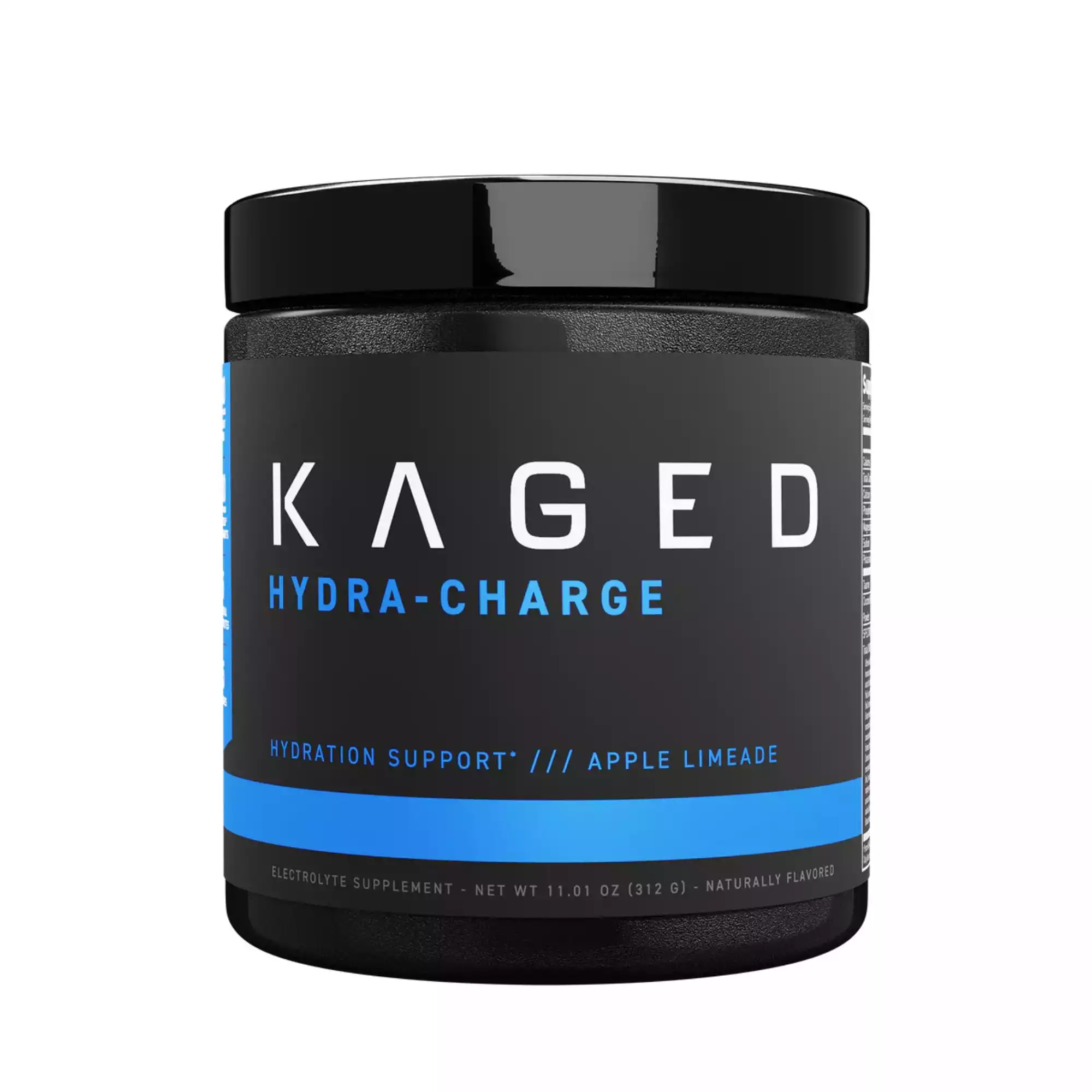 Kaged Hydra-Charge

4.5
Number of servings: 60 servings
Cost per serving: $0.49
Magnesium per serving: 15 milligrams
Daily value: Four percent
Form: Drink mix
Check Price
Pros
Third-party tested 
Provides five essential electrolytes 
Available in eight flavors
Cons
Occasionally out of stock  
Too sweet to some 
Includes sucralose
If you enjoy having leg cramps, raise your hand. While you most likely kept your hand down for that prompt, I'm sure you'd raise your hand high if I were to ask if you want to experience fewer cramps. After all, leg cramps suck and can seriously cramp your style, but a supplement like Kaged Hydra-Charge just might help.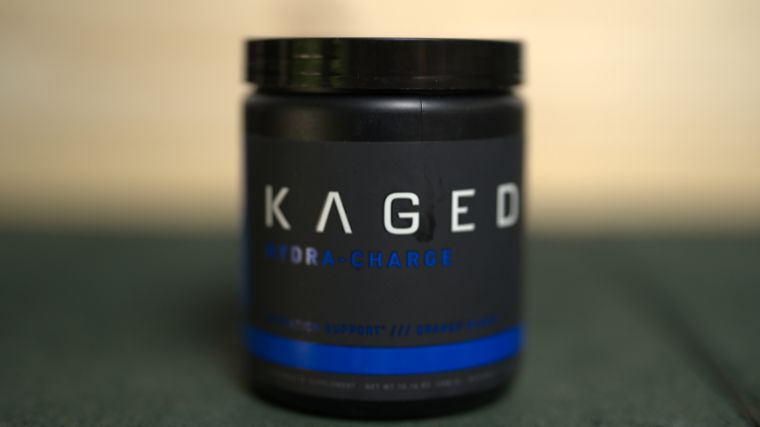 When most people try to prevent leg cramps, they think to stretch their calf muscles and drink more water. While those activities are helpful, they might not be enough, especially if the cramps are a result of a nutrient deficiency. 
Cramps are much more likely if you're not getting enough electrolytes. A 2019 study found that water intake following dehydration makes one's muscles more susceptible to muscle cramps as it dilutes the electrolytes. (45) Further review revealed that the participant's susceptibility to muscle cramps decreased once potassium, chloride, magnesium, phosphorus, and sodium were consumed. 
Interestingly, the Kaged Hydra-Charge supplement contains practically all of those elements. One serving provides 107 milligrams of potassium, 115 milligrams of sodium, 15 milligrams of magnesium, and 37 milligrams of calcium and phosphorus. There's coconut fruit water powder (500 milligrams) and SPECTRA Total ORAC blend (100 milligrams) as well. The former is also a source of electrolytes, and the latter is a blend of fruits, vegetables, and herbs. SPECTRA has been shown to protect the body against oxidative stress. (46) Even one gram of taurine is included, an amino acid frequently added to infant formula because of its role in digestion and metabolism. (47) 
Unlike the others on this list, this dietary supplement comes in a flavored drink mix with eight different flavors to choose from. Some examples include Fruit Punch, Glacier Grape, Hibiscus Pear, and Orange Mango.
Breaking Muscle Editor Amanda Dvorak hasn't personally tested Hydra-Charge, but she frequently comments on how much she enjoys the Fruit Punch flavor in Kaged's other supplements, including her favorite pre-workout. And we do have a Breaking Muscle staff member who's tried Hydra-Charge in the Orange Mango flavor and called it "delightful." He gave it 4.5 out of 5 stars for taste and dissolvability.
Several other customers appear to agree with our evaluations on taste, but a few individuals felt it was sweet, like Kool-Aid. This may partially be due to the sucralose. Although the FDA considers this artificial sweetener safe, it may be a deal-breaker for some. Besides those caveats, the mix is free of artificial flavors, dyes, and colors. 
A 60-serving container of this magnesium supplement costs $29.99 and is considered very affordable. At only $0.49 per scoop, you're getting a good product that you can easily add to 10 to 14 ounces of water and take on the go. 
Why Is Magnesium Important?
Magnesium is an electrolyte involved in many body processes, and we need it to survive. Unfortunately, many people are deficient in it, which is why dieticians and other health professionals suggest dietary supplements. You need adequate levels of magnesium for your body to function properly. This nutrient is required for wellness, as having low levels could cause seizures, muscle spasms, and even personality changes. 
How Much Magnesium Should You Take Per Day?
The Recommended Dietary Allowance differs for men and women. Men ages 19-51+ should have 400 to 420 milligrams of magnesium daily. Women in that same age bracket need 310 to 320 milligrams daily unless they're pregnant. Pregnant women need 350 to 360 milligrams daily. 
What To Look For in a Magnesium Supplement
Picking a magnesium supplement should be done very intentionally. You don't want to just walk into the store or go on Amazon and pick the first thing you see. Before you even start searching, you should have a budget in mind, be realistic about how you prefer to take supplements (e.g., capsules, powders, gummies, and so on), and so much more. 
Form
Dietary supplements come in many forms, like tablets, capsules, powders, and gummies. A tablet is a compressed powder that's formed into a pill, while capsules contain ingredients inside an outer shell. Capsules tend to absorb better and faster, while tablets may dissolve slowly and unevenly. However, if you don't like taking pills, neither option would appeal to you. So, you may have to consider gummies or powders. 
Gummies are easier to eat but may have extra additives. Powders can be conveniently added to your drink of choice, like your favorite protein shake, and are easy to consume if the texture isn't gritty, but the measurements might be inconsistent. 
Overall, there are pros and cons to each of the different forms of magnesium. So, when you're looking for a magnesium supplement, pick a form you can stay consistent with. 
Type of Magnesium
Honestly, it's easy to assume that there's just one type of magnesium. I personally don't recall my high school chemistry teacher telling me that there was more than one. Nonetheless, there are many types, and knowing what they are can help you pick the one that best suits your needs.
Magnesium Oxide 
Created with ions of oxygen and magnesium, this form has laxative, antacid, and smooth muscle relaxant activities. (48) It's also claimed to be one of the most affordable. On its own, magnesium oxide doesn't absorb the best. However, adding sucrosomial encapsulation, like what's found on Legion's Sucrosomial Magnesium, may help with absorption and prevent gastrointestinal side effects. (49) A study found that Sucrosomial Magnesium has a statistically significant advantage over magnesium bisglycinate in terms of absorption. (41)
Magnesium Biglycinate
As a combination of elemental magnesium and the amino acid glycine, this type has high bioavailability. It's used in many of the magnesium supplements on this list, including Transparent Labs Magnesium Bisglycinate and Thorne Magnesium Bisglycinate. It's often used to help with relaxation. 
Magnesium L-threonate 
This type of magnesium can cross the blood-brain so that the magnesium can be delivered directly to brain cells. It may help boost cognitive functions, as one study observed that rats with this type of magnesium had improved memory and learning. (33) Magnesium L-threonate can be found in the Momentous Magnesium Threonate and Lifeforce Magnesium products. 
Magnesium Malate
While more studies are needed on this mix of malic acid and magnesium, it's believed to help make magnesium easier to absorb and improve post-workout recovery. (50) This type can be found in Thorne's Magnesium CitraMate. 
Magnesium Citrate 
Often used to relieve constipation, magnesium citrate is a combination of magnesium and citrate ions. However, it might help prevent bonelessness, improve blood pressure, and reduce pain. This, too, is found in Thorne's Magnesium CitraMate. 
Other Magnesium Types
You may also come across magnesium aspartate, magnesium hydroxide, magnesium N-acetyltaurinate, magnesium gluconate, or magnesium sulfate. Be sure to look at the ingredients list and do your research before buying any of them. In addition, check in with your healthcare provider to identify which ones would be the safest for you. Not all medications pair well with supplements. 
Dosage
From this list alone, you can see that supplements carry different dosages of magnesium. Therefore, picking an amount that'll meet your needs is important. For example, if you're very deficient in magnesium, you probably wouldn't want to pick Kaged Hydra-Charge, as that only has 15 milligrams. However, it might be a good choice if you're already consuming a magnesium-rich diet and want to benefit from the other electrolytes it includes. 
Also, pay very close attention to the serving size. It's easy to assume that one scoop or pill equals the dosage on the label when two to three might be required. You also don't want to overdo it by taking more than what's recommended. 
Third-Party Testing
Dietary supplements, including the best whey protein powders and the best pre-workout supplements, do not have to receive FDA approval before they are marketed, so manufacturers must ensure the product is safe. Unfortunately, though, some companies don't do their due diligence in sourcing the best ingredients and/or following good manufacturing practices. Some supplements may contain illegal substances or contaminants, which could be devastating, especially for athletes and pregnant women. 
Third-party testing can give consumers some peace of mind, knowing that the product has been evaluated for purity and safety. Transparent Labs, Momentous, and a few more on our best magnesium supplements list have been third-party tested. While this isn't to say that those who haven't been tested are unsafe, you can't know for sure that they aren't contaminated with potentially toxic ingredients. 
Price
As you look for magnesium supplements, focus more on the price per serving than the product's total price. Let's consider Lifeforce Magnesium, for example. It's got 90 capsules and is $60, so you might assume you're getting three months' worth of product for about $20 per month. However, one serving equals three tablets, so you're only getting a month's worth. In reality, you'd be paying $2.00 per serving, which is on the more expensive end. 
Potential Side Effects of Magnesium
As with all supplements and medications, there are some side effects of magnesium you should be aware of. Common side effects include diarrhea, gas, bloating, and upset stomach. Some side effects are more serious and require a doctor's attention, such as vomiting, lightheadedness, fast or slow heart rate, and tingling of the skin. While most people tolerate magnesium well, it's better to be informed so you know what to look for. (51)
Best Magnesium Supplements: Side-by-Side Comparison
Best Magnesium Supplement Overall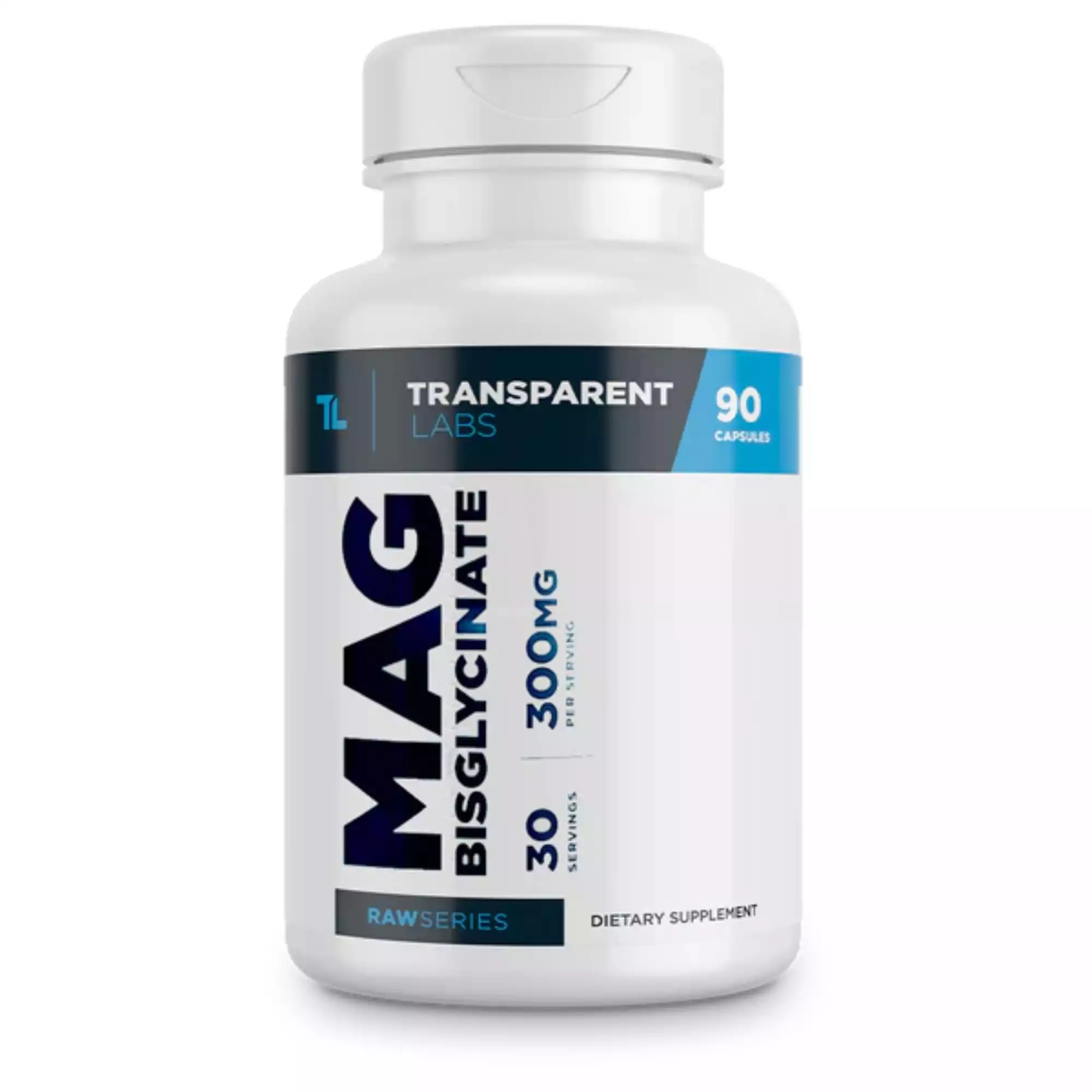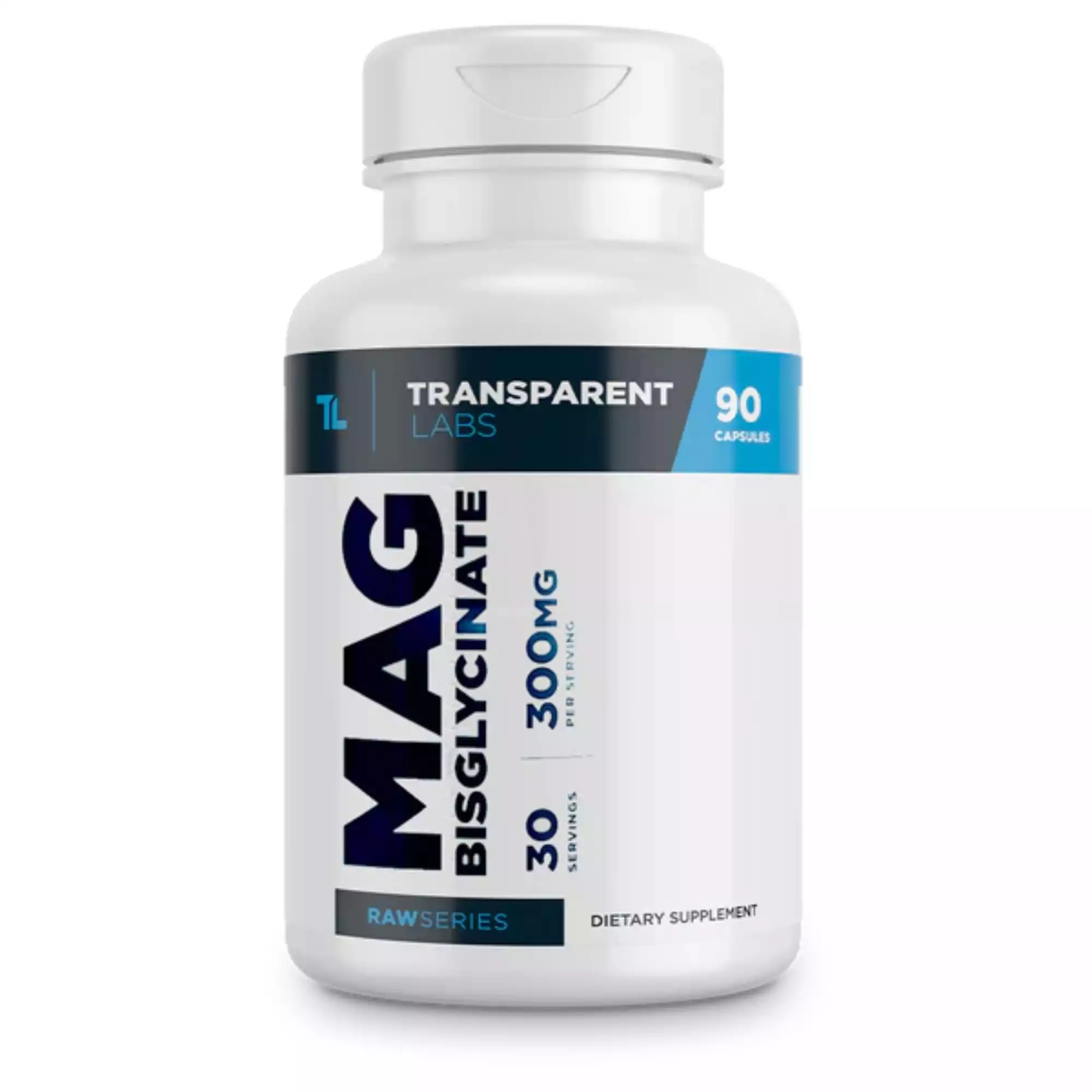 Description:
Number of servings: 30
Cost per serving: $1.76
Magnesium per serving: 300 milligrams
Daily value: 70 percent
Form: Capsules
Best Magnesium Supplement for Men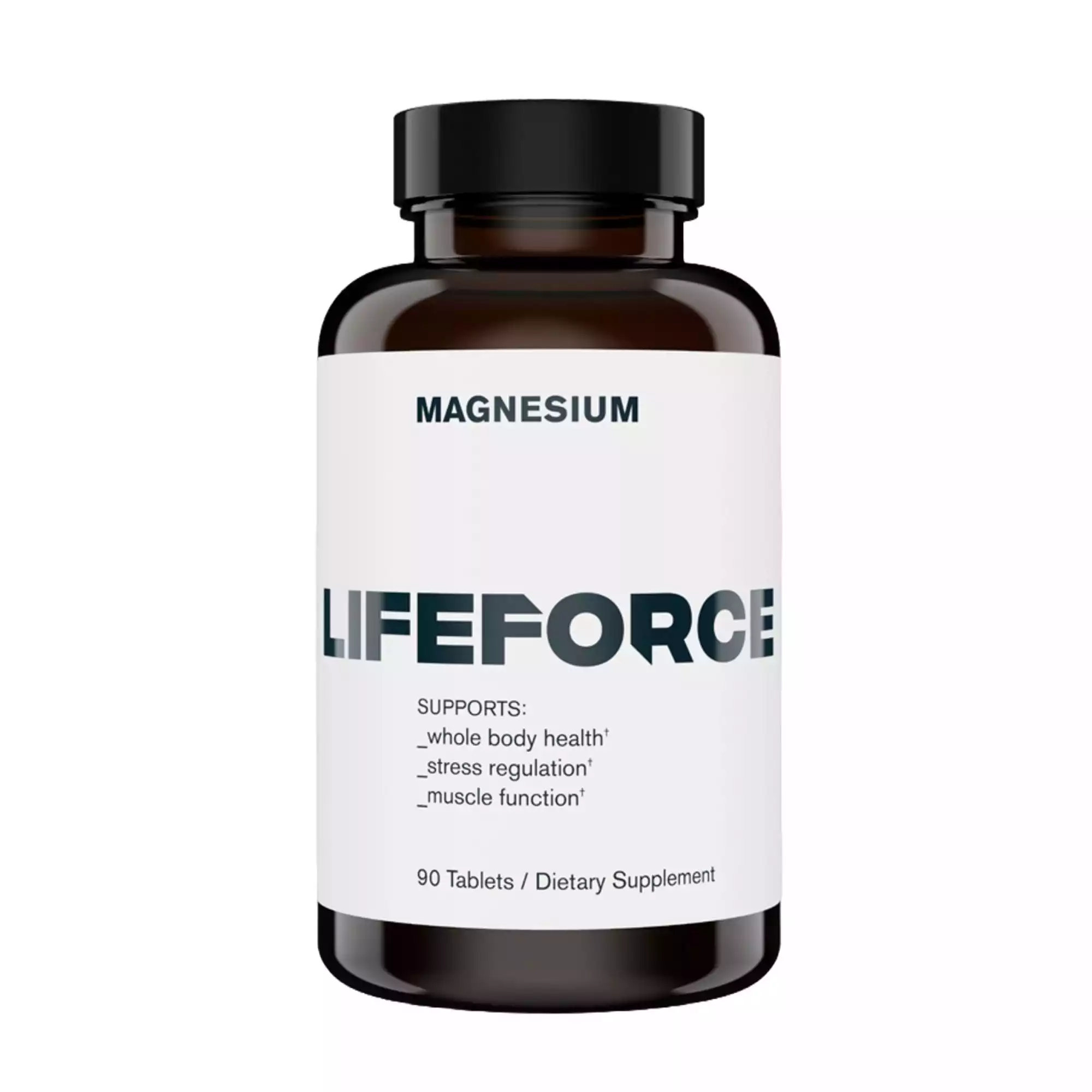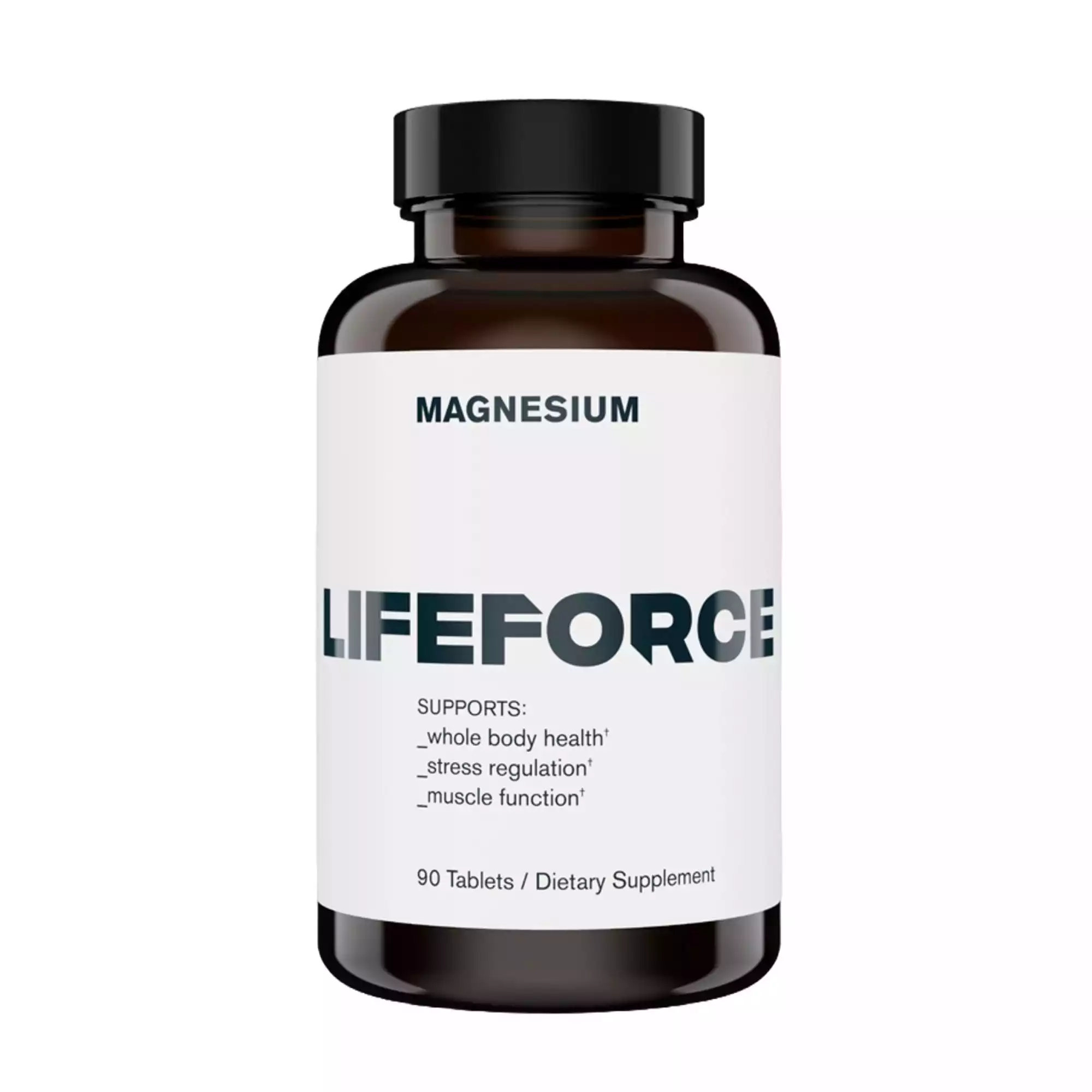 Description:
Number of servings: 30 servings
Cost per serving: $2.00
Magnesium per serving: 315 milligrams
Daily value: 75 percent
Form: Tablets
Best Magnesium Glycinate Supplement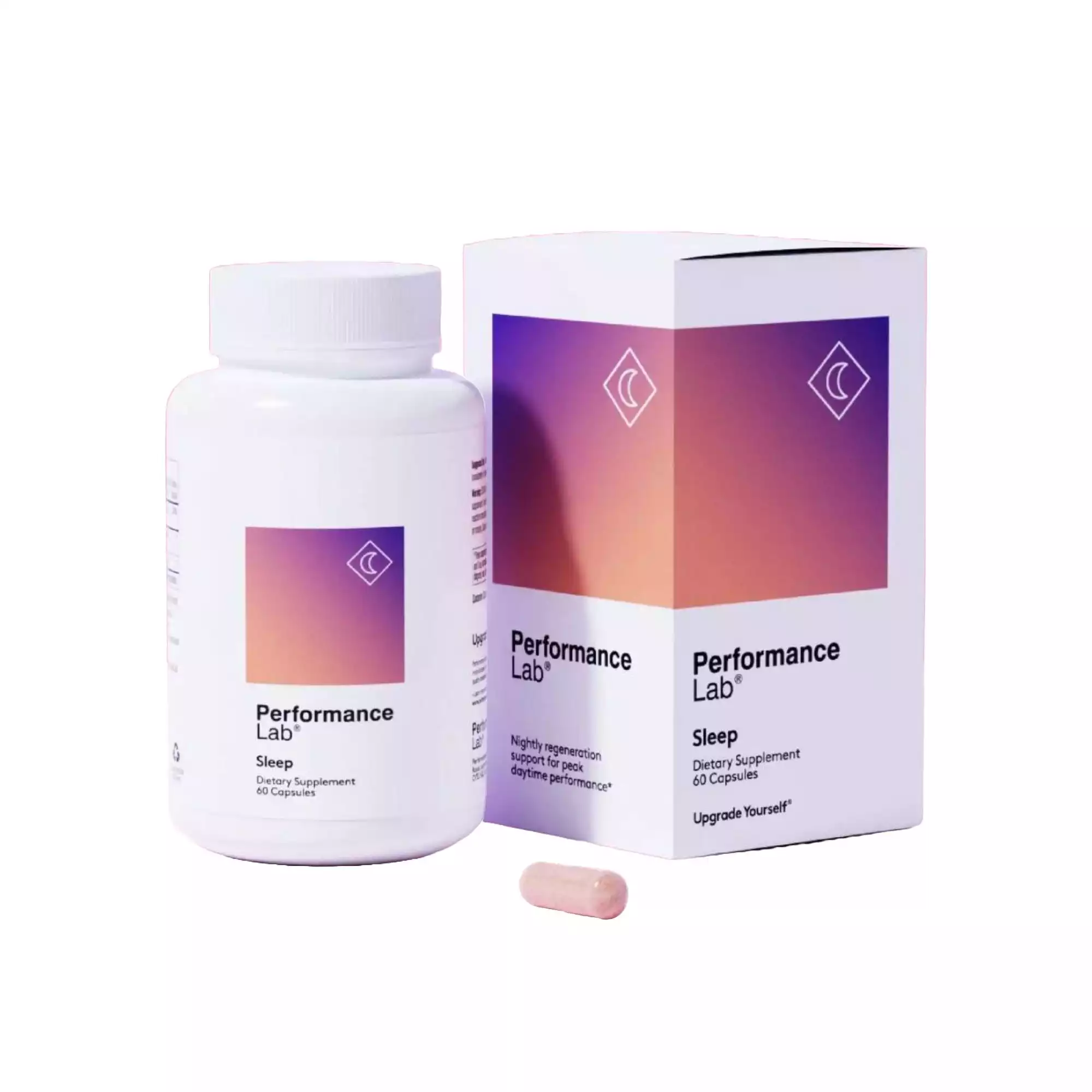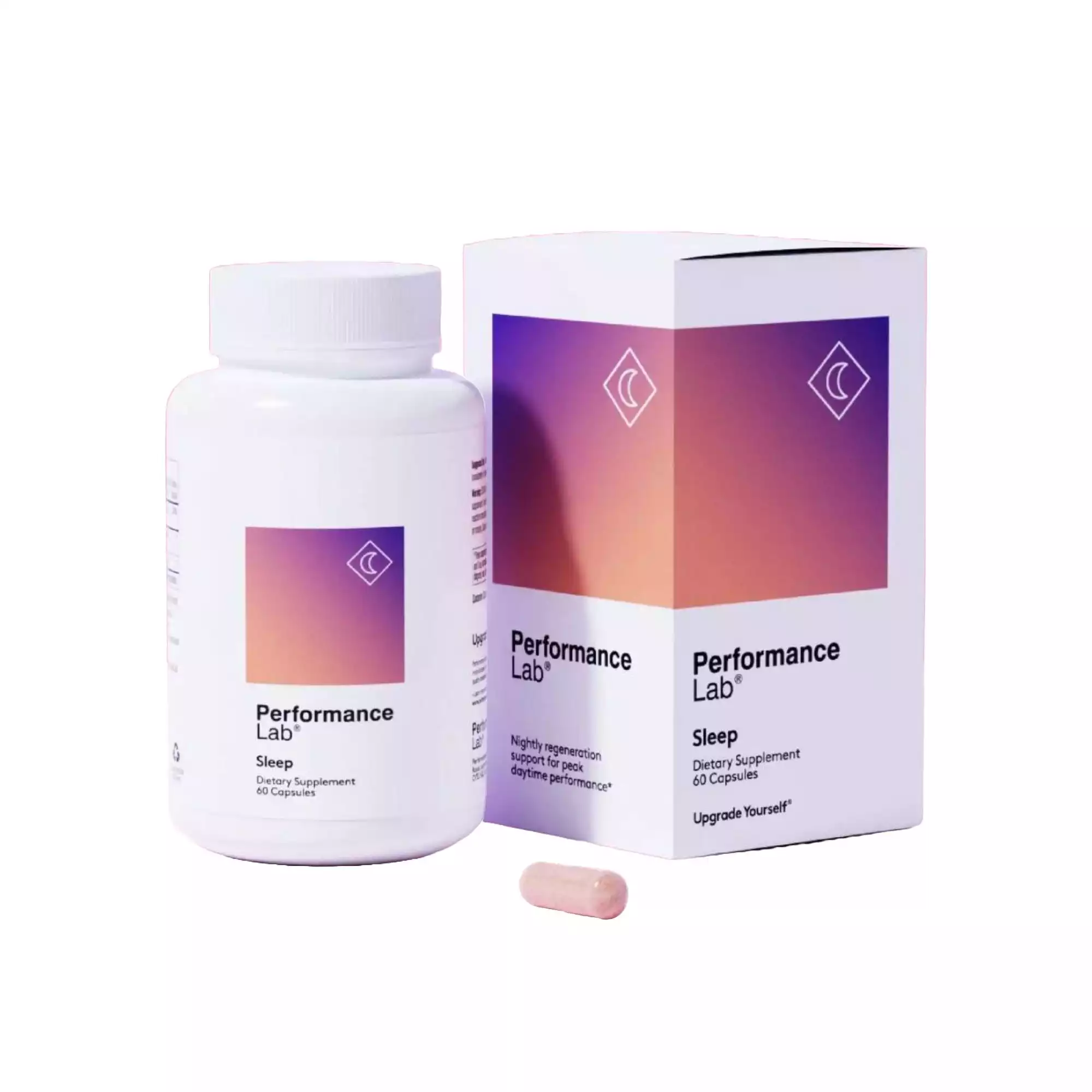 Description:
Number of servings: 30 servings
Cost per serving: $1.46
Magnesium per serving: 100 milligrams
Daily value: 24 percent
Form: Capsules
Best Magnesium Supplement for Women
Best Magnesium Supplement for Sleep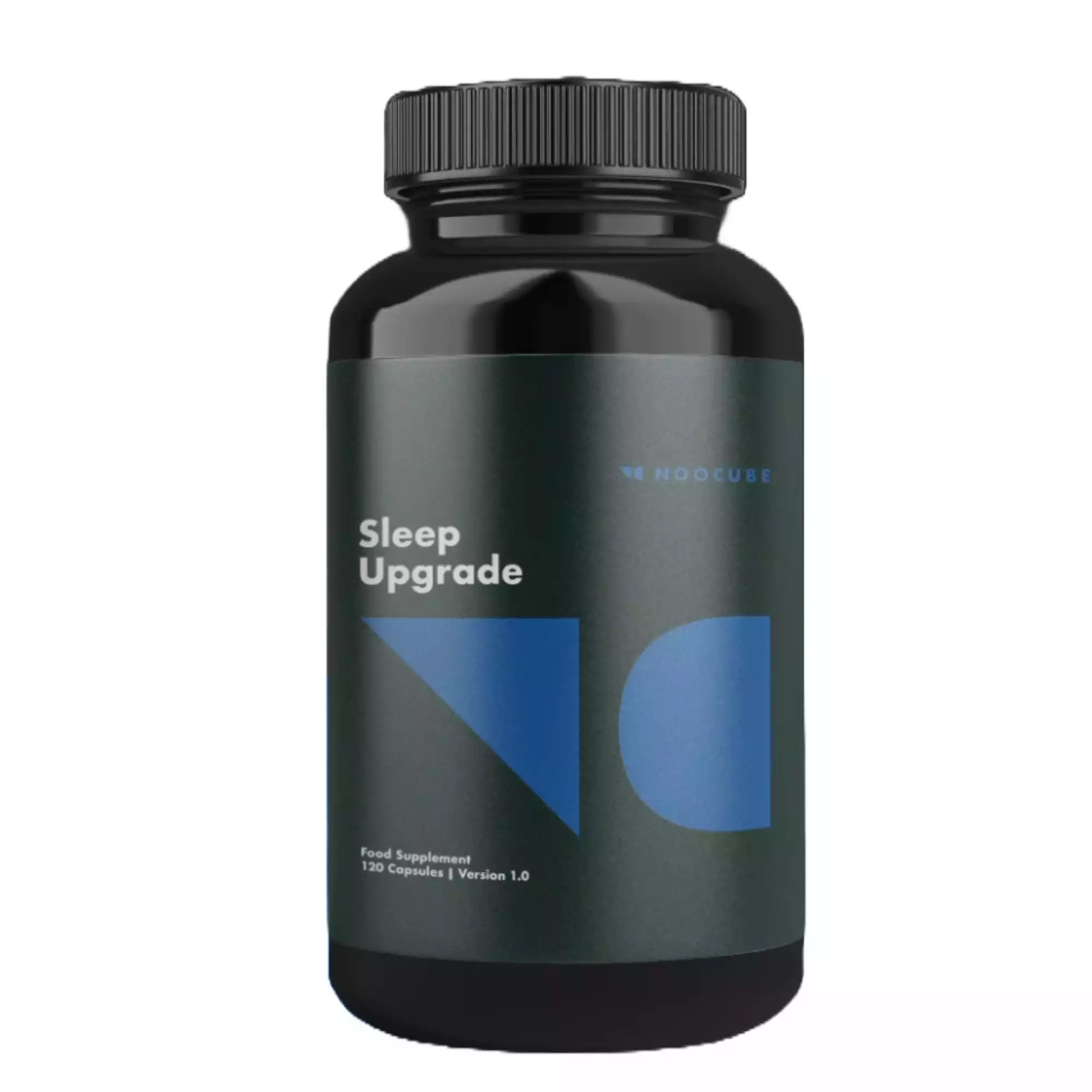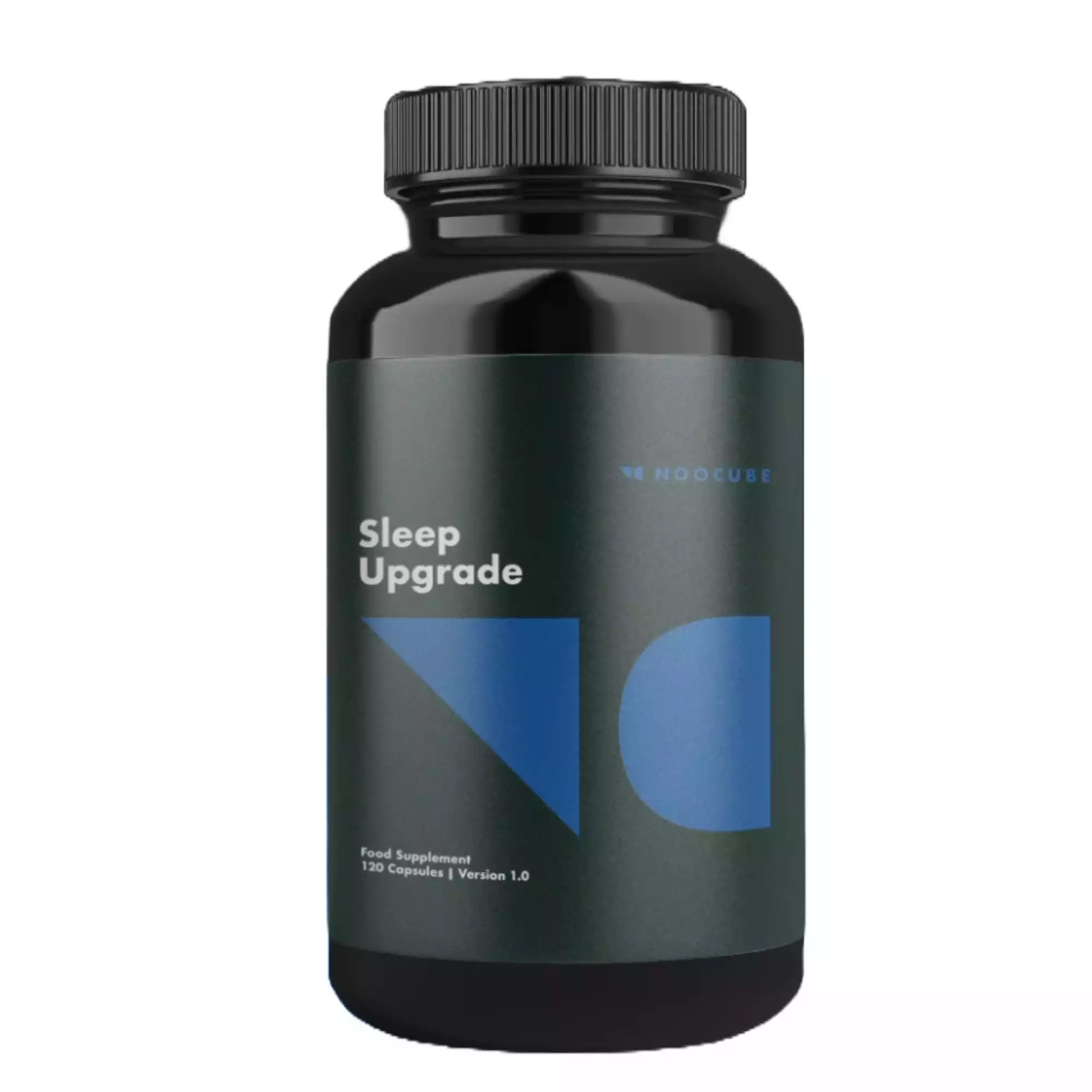 Description:
Number of servings: 60 servings
Cost per serving: $2.16
Magnesium per serving: 300 milligrams
Daily value: N/A
Form: Capsule
Best Magnesium for Weight Loss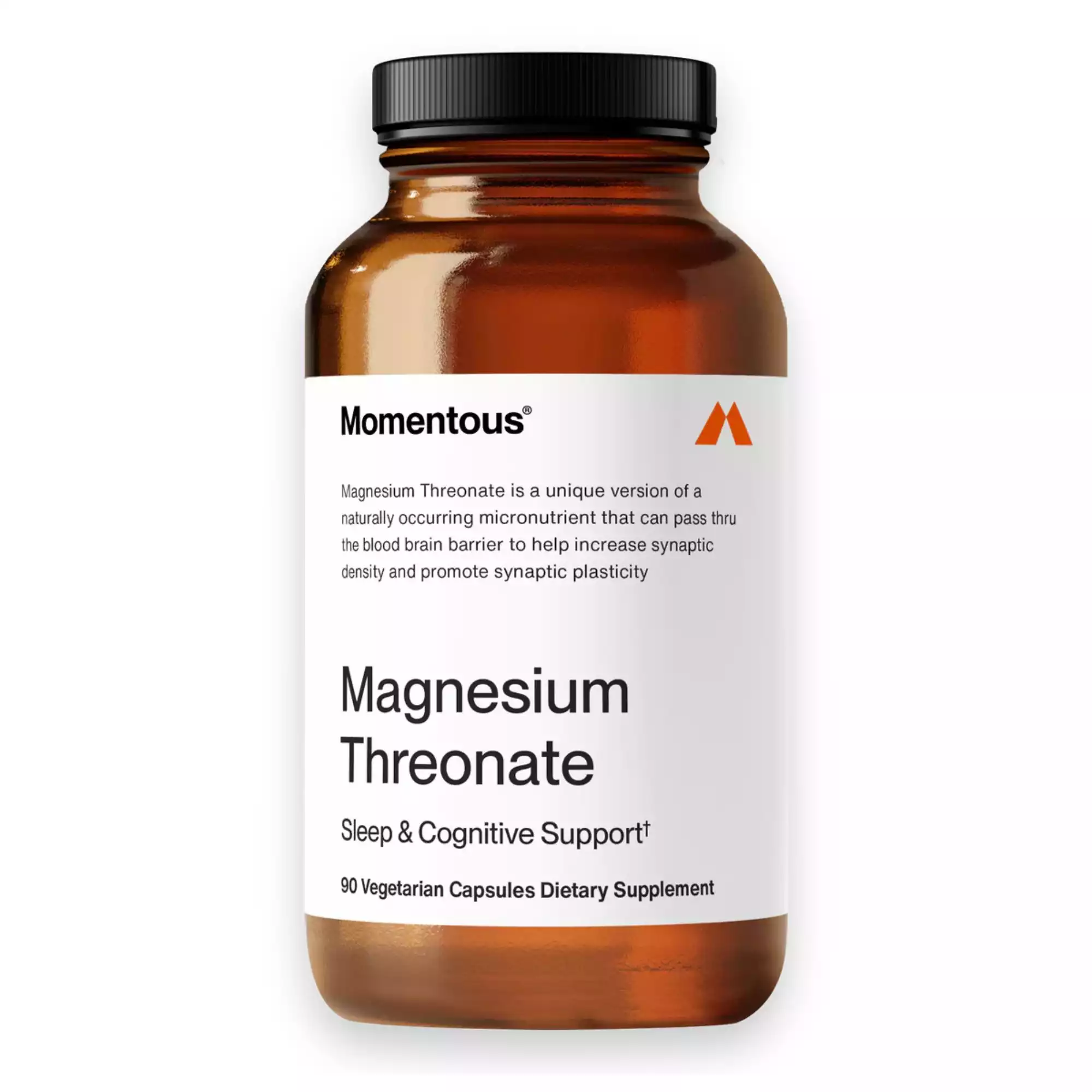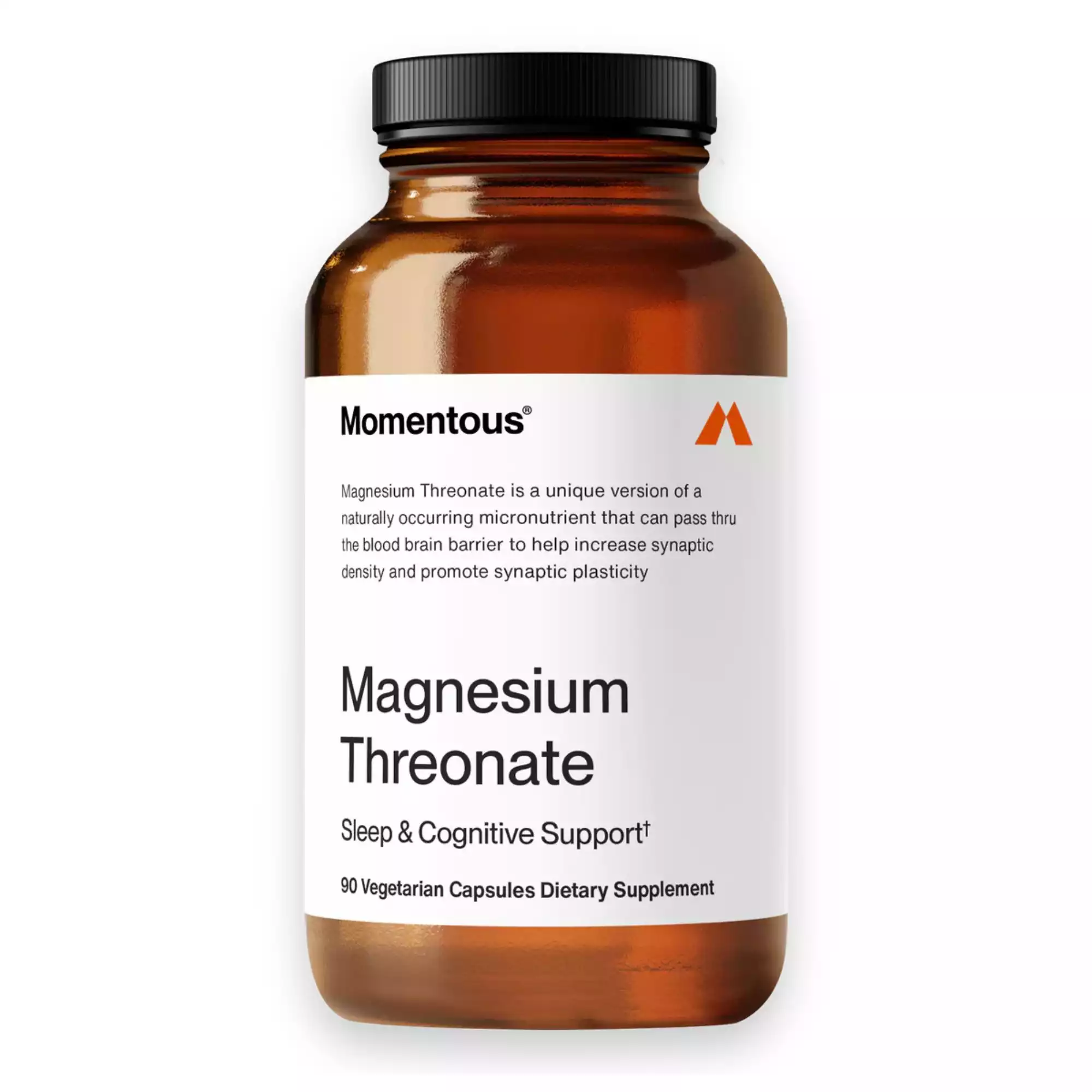 Description:
Number of servings: 30 servings
Cost per serving: $1.66
Magnesium per serving: 144 milligrams
Daily value: 34 percent
Form: Capsule
Best Magnesium Citrate Supplement
Best Magnesium Supplement for Muscles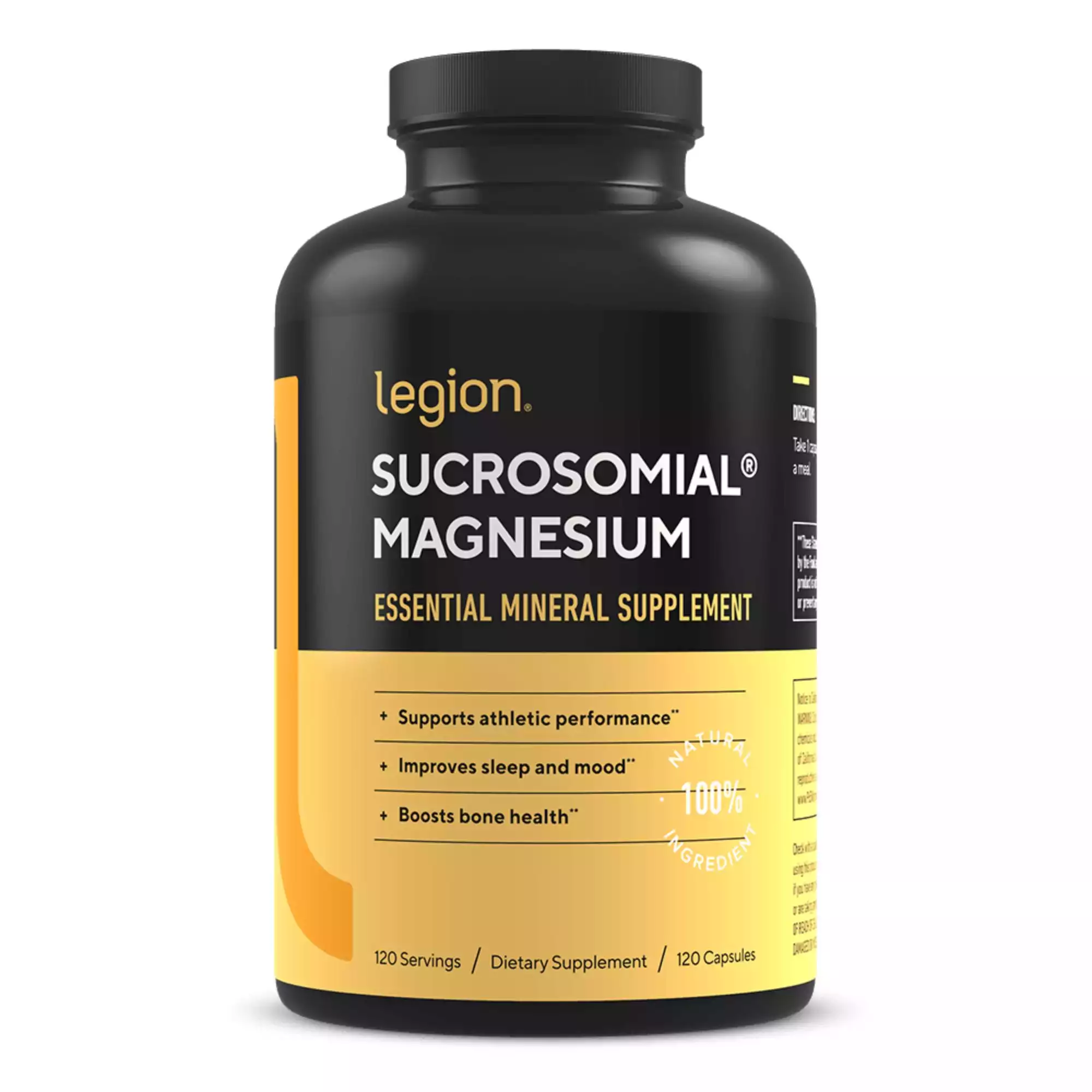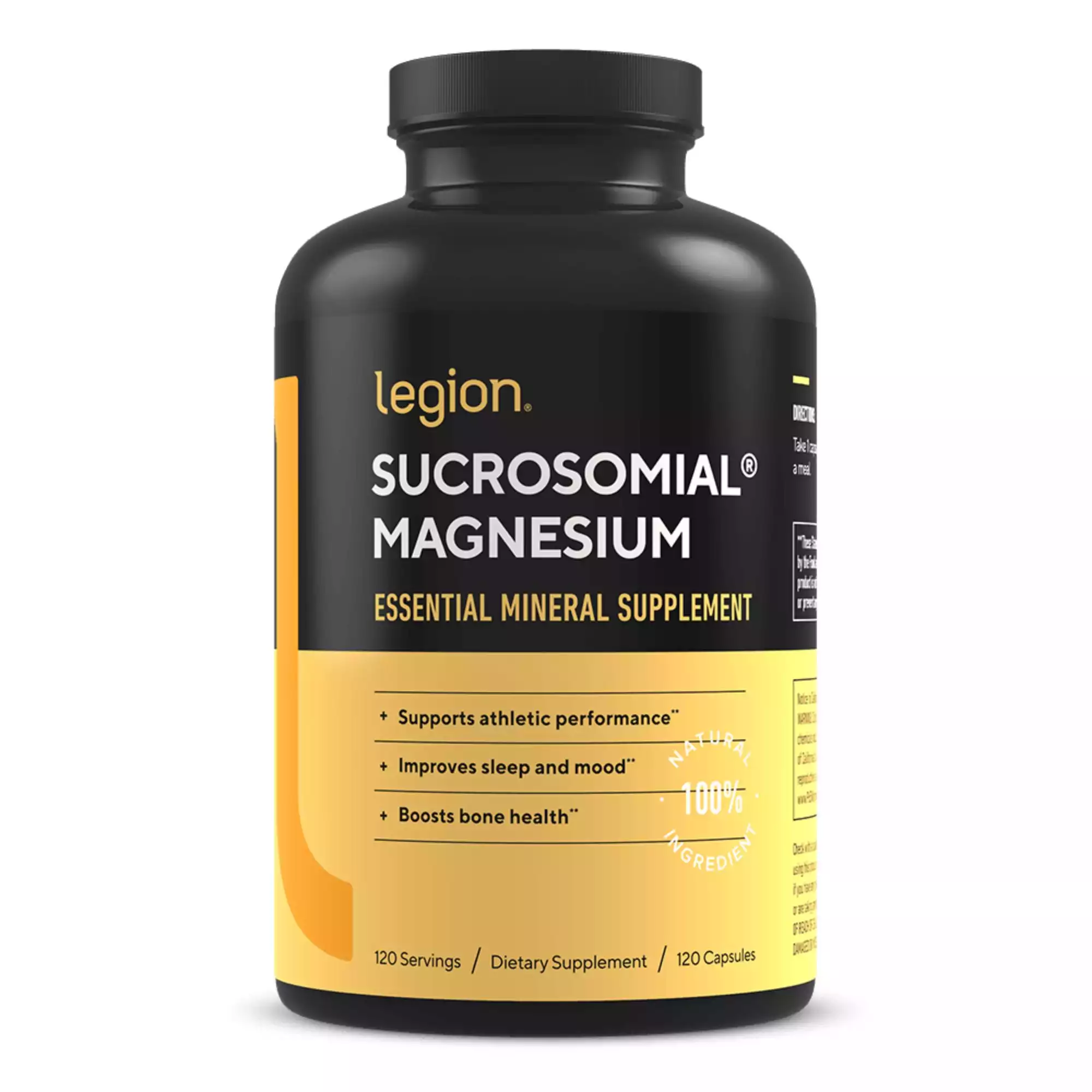 Description:
Number of servings: 120 servings
Cost per serving: $0.25
Magnesium per serving: 150 milligrams
Daily value: 36 percent
Form: Capsule
Best Magnesium for Leg Cramps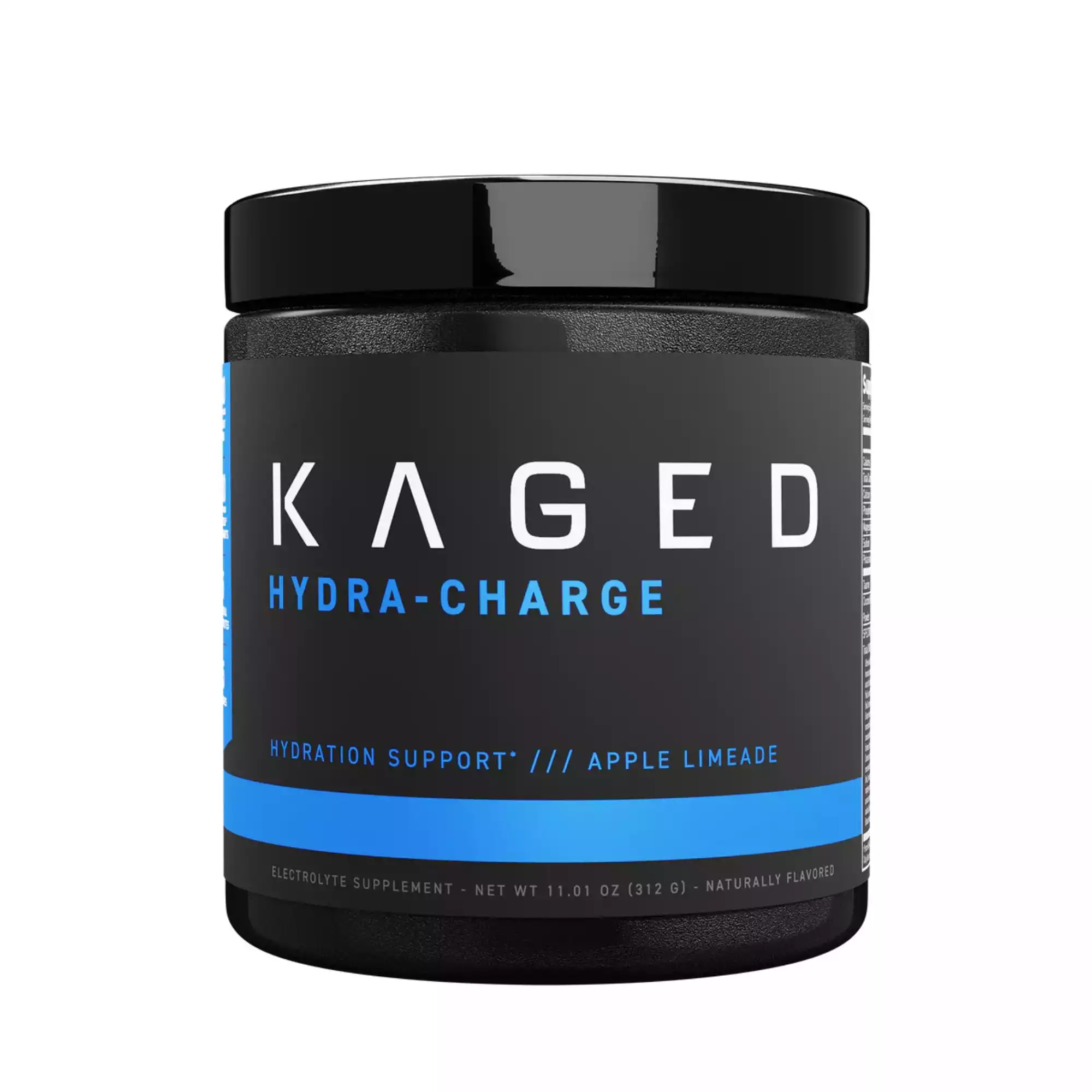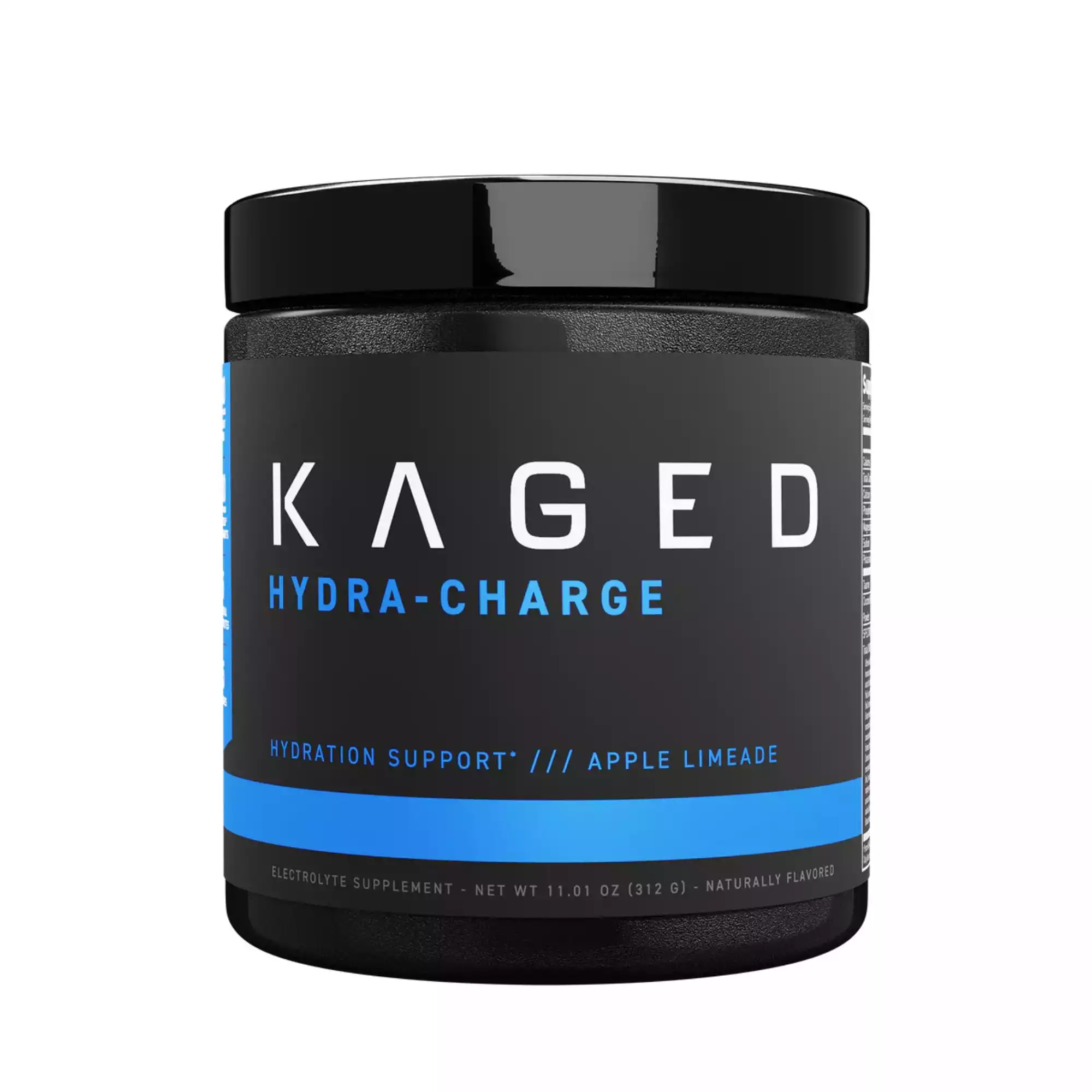 Description:
Number of servings: 60 servings
Cost per serving: $0.49
Magnesium per serving: 15 milligrams
Daily value: Four percent
Form: Drink mix
Final Thoughts
Magnesium is deemed an essential element for humans, so it's vital that you get enough of it. However, you also don't want to grab the first magnesium supplement you see. I've made this mistake before with supplements, and they ended up sitting unused in my medicine cabinet for months. Therefore, to help you get your money's worth, do your research and use this article as a guide to find the best magnesium supplement that fits your needs. 
FAQs
Which is the best form of magnesium to take?
The best form of magnesium to take depends on your personal preference. For instance, if you don't like taking pills or gummies, opt for a powder mix that you can add to a beverage. 
What is the absolute best magnesium supplement?
The best magnesium supplement for you will be different than the best for someone else. There are many different types of magnesium, so you have to choose wisely. We personally like Transparent Labs' magnesium supplement, but your experience may vary. Some are best at relieving constipation, while others are great for muscle recovery. Assess your needs and then select the type of magnesium supplement that helps address them. 
What is the best magnesium supplement for sleep?
Magnesium has a calming effect, but it helps if the supplement contains other sleep-promoting ingredients like melatonin, lavender, or calcium. NooCube Sleep Upgrade and Performance Lab Sleep are some of the best magnesium supplements for sleep.  
What is the average dose for magnesium?
According to the National Academy of Medicine, you shouldn't take more than 350 milligrams of supplemental magnesium daily. 
What is the best time of day to take magnesium supplements?
The best time of day to take magnesium supplements depends on what else is in the supplement. If it contains sleep-promoting ingredients like melatonin, it's best to take that at night before bed. The time of day doesn't matter as much if the formula is mainly just magnesium. 
Research
DiNicolantonio JJ, O'Keefe JH, Wilson W. Subclinical magnesium deficiency: a principal driver of cardiovascular disease and a public health crisis [published correction appears in Open Heart. 2018 Apr 5;5(1):e000668corr1]. Open Heart. 2018;5(1):e000668. Published 2018 Jan 13. doi:10.1136/openhrt-2017-000668
Uberti F, Morsanuto V, Ruga S, et al. Study of Magnesium Formulations on Intestinal Cells to Influence Myometrium Cell Relaxation. Nutrients. 2020;12(2):573. Published 2020 Feb 22. doi:10.3390/nu12020573
Firoz M, Graber M. Bioavailability of US commercial magnesium preparations. Magnes Res. 2001;14(4):257-262.
EFSA Panel on Food Additives and Nutrient Sources added to Food (ANS), Younes M, Aggett P, et al. Re-evaluation of silicon dioxide (E 551) as a food additive. EFSA J. 2018;16(1):e05088. Published 2018 Jan 17. doi:10.2903/j.efsa.2018.5088
Zhang Y, Xun P, Wang R, Mao L, He K. Can Magnesium Enhance Exercise Performance?. Nutrients. 2017;9(9):946. Published 2017 Aug 28. doi:10.3390/nu9090946
Sun Q, Weinger JG, Mao F, Liu G. Regulation of structural and functional synapse density by L-threonate through modulation of intraneuronal magnesium concentration. Neuropharmacology. 2016;108:426-439. doi:10.1016/j.neuropharm.2016.05.006
Hosgorler F, Koc B, Kizildag S, et al. Magnesium Acetyl Taurate Prevents Tissue Damage and Deterioration of Prosocial Behavior Related with Vasopressin Levels in Traumatic Brain Injured Rats. Turk Neurosurg. 2020;30(5):723-733. doi:10.5137/1019-5149.JTN.29272-20.1
Xu YJ, Arneja AS, Tappia PS, Dhalla NS. The potential health benefits of taurine in cardiovascular disease. Exp Clin Cardiol. 2008;13(2):57-65.
Weiss D, Brunk DK, Goodman DA. Scottsdale Magnesium Study: Absorption, Cellular Uptake, and Clinical Effectiveness of a Timed-Release Magnesium Supplement in a Standard Adult Clinical Population. J Am Coll Nutr. 2018;37(4):316-327. doi:10.1080/07315724.2017.1398686
 Stanworth RD, Jones TH. Testosterone for the aging male; current evidence and recommended practice. Clin Interv Aging. 2008;3(1):25-44. doi:10.2147/cia.s190
Huisman HW, Schutte AE, Van Rooyen JM, et al. The influence of testosterone on blood pressure and risk factors for cardiovascular disease in a black South African population. Ethn Dis. 2006;16(3):693-698.
Maggio M, De Vita F, Lauretani F, et al. The Interplay between Magnesium and Testosterone in Modulating Physical Function in Men. Int J Endocrinol. 2014;2014:525249. doi:10.1155/2014/525249
Larsson SC, Wolk A. Magnesium intake and risk of type 2 diabetes: A meta‐analysis. Wiley Online Library. https://onlinelibrary.wiley.com/doi/10.1111/j.1365-2796.2007.01840.x. Published July 3, 2007. Accessed September 18, 2023. 
Poivre M, Duez P. Biological activity and toxicity of the Chinese herb Magnolia officinalis Rehder & E. Wilson (Houpo) and its constituents. J Zhejiang Univ Sci B. 2017;18(3):194-214. doi:10.1631/jzus.B1600299
Schwalfenberg GK, Genuis SJ. The Importance of Magnesium in Clinical Healthcare. Scientifica (Cairo). 2017;2017:4179326. doi:10.1155/2017/4179326
1. Howatson G, Bell P, Tallent J, Middleton B. Effect of tart cherry juice (Prunus cerasus) on melatonin levels and enhanced sleep quality. ResearchGate. https://www.researchgate.net/publication/51753100_Effect_of_tart_cherry_juice_Prunus_cerasus_on_melatonin_levels_and_enhanced_sleep_quality. Published 2011. Accessed September 18, 2023. 
Young SN. Is tryptophan a natural hypnotic?. J Psychiatry Neurosci. 2003;28(2):160.
Jaśniewska A, Diowksz A. Wide Spectrum of Active Compounds in Sea Buckthorn (Hippophae rhamnoides) for Disease Prevention and Food Production. Antioxidants (Basel). 2021;10(8):1279. Published 2021 Aug 12. doi:10.3390/antiox10081279
3. NII Y, OSAWA T, KUNII D, et al. Effect of citrus fruit (sudachi) juice on absorption of calcium from whole small fish in healthy young men. Food Science and Technology Research. https://www.jstage.jst.go.jp/article/fstr/12/1/12_1_27/_article/-char/en. Published May 15, 2007. Accessed September 18, 2023. 
EFSA Panel on Food Additives and Flavourings (FAF), Younes, M., Aquilina, G., Engel, K. H., Fowler, P., Frutos Fernandez, M. J., Fürst, P., Gürtler, R., Gundert-Remy, U., Husøy, T., Mennes, W., Moldeus, P., Oskarsson, A., Shah, R., Waalkens-Berendsen, I., Wölfle, D., Degen, G., Herman, L., Gott, D., Leblanc, J. C., … Castle, L. (2019). Safety of use of Monk fruit extract as a food additive in different food categories. EFSA journal. European Food Safety Authority, 17(12), e05921. https://doi.org/10.2903/j.efsa.2019.5921
Zarean E, Tarjan A. Effect of Magnesium Supplement on Pregnancy Outcomes: A Randomized Control Trial. Adv Biomed Res. 2017;6:109. Published 2017 Aug 31. doi:10.4103/2277-9175.213879
ELDerawi WA, Naser IA, Taleb MH, Abutair AS. The Effects of Oral Magnesium Supplementation on Glycemic Response among Type 2 Diabetes Patients. Nutrients. 2018;11(1):44. Published 2018 Dec 26. doi:10.3390/nu11010044
Fanni D, Gerosa C, Nurchi VM, et al. The Role of Magnesium in Pregnancy and in Fetal Programming of Adult Diseases. Biol Trace Elem Res. 2021;199(10):3647-3657. doi:10.1007/s12011-020-02513-0
Fathizadeh N, Ebrahimi E, Valiani M, Tavakoli N, Yar MH. Evaluating the effect of magnesium and magnesium plus vitamin B6 supplement on the severity of premenstrual syndrome. Iran J Nurs Midwifery Res. 2010;15(Suppl 1):401-405.
Aydin H, Deyneli O, Yavuz D, et al. Short-term oral magnesium supplementation suppresses bone turnover in postmenopausal osteoporotic women. Biol Trace Elem Res. 2010;133(2):136-143. doi:10.1007/s12011-009-8416-8
Cases J, Ibarra A, Feuillère N, Roller M, Sukkar SG. Pilot trial of Melissa officinalis L. leaf extract in the treatment of volunteers suffering from mild-to-moderate anxiety disorders and sleep disturbances. Med J Nutrition Metab. 2011;4(3):211-218. doi:10.1007/s12349-010-0045-4
Hirokawa K, Nishimoto T, Taniguchi T. Effects of lavender aroma on sleep quality in healthy Japanese students. Percept Mot Skills. 2012;114(1):111-122. doi:10.2466/13.15.PMS.114.1.111-122
Romano F, Muscogiuri G, Di Benedetto E, et al. Vitamin D and Sleep Regulation: Is there a Role for Vitamin D?. Curr Pharm Des. 2020;26(21):2492-2496. doi:10.2174/1381612826666200310145935
​​Grandner MA, Jackson N, Gerstner JR, Knutson KL. Sleep symptoms associated with intake of specific dietary nutrients. J Sleep Res. 2014;23(1):22-34. doi:10.1111/jsr.12084
Wilkinson K, Shapiro C. Development and validation of the Nonrestorative Sleep Scale (NRSS). J Clin Sleep Med. 2013;9(9):929-937. doi:10.5664/jcsm.2996
Slutsky I, Abumaria N, Wu LJ, et al. Enhancement of learning and memory by elevating brain magnesium. Neuron. 2010;65(2):165-177. doi:10.1016/j.neuron.2009.12.026
Sadir S, Tabassum S, Emad S, et al. Neurobehavioral and biochemical effects of magnesium chloride (MgCl2), magnesium sulphate (MgSO4) and magnesium-L-threonate (MgT) supplementation in rats: A dose dependent comparative study. Pak J Pharm Sci. 2019;32(1(Supplementary)):277-283.
Zhang C, Hu Q, Li S, et al. A Magtein®, Magnesium L-Threonate, -Based Formula Improves Brain Cognitive Functions in Healthy Chinese Adults. Nutrients. 2022;14(24):5235. Published 2022 Dec 8. doi:10.3390/nu14245235
Askari M, Mozaffari H, Jafari A, Ghanbari M, Darooghegi Mofrad M. The effects of magnesium supplementation on obesity measures in adults: a systematic review and dose-response meta-analysis of randomized controlled trials. Crit Rev Food Sci Nutr. 2021;61(17):2921-2937. doi:10.1080/10408398.2020.1790498
Kass LS, Poeira F. The effect of acute vs chronic magnesium supplementation on exercise and recovery on resistance exercise, blood pressure and total peripheral resistance on normotensive adults [published correction appears in J Int Soc Sports Nutr. 2018 Jul 25;15(1):36]. J Int Soc Sports Nutr. 2015;12:19. Published 2015 Apr 24. doi:10.1186/s12970-015-0081-z
Koc B, Kizildag S, Hosgorler F, et al. Magnesium Citrate Increases Pain Threshold and Reduces TLR4 Concentration in the Brain. Biol Trace Elem Res. 2021;199(5):1954-1966. doi:10.1007/s12011-020-02384-5
Qiang F. Effect of Malate-oligosaccharide Solution on Antioxidant Capacity of Endurance Athletes. Open Biomed Eng J. 2015;9:326-329. Published 2015 Oct 19. doi:10.2174/1874120701509010326
Scaturro D, Vitagliani F, Terrana P, Tomasello S, Camarda L, Letizia Mauro G. Does the association of therapeutic exercise and supplementation with sucrosomial magnesium improve posture and balance and prevent the risk of new falls?. Aging Clin Exp Res. 2022;34(3):545-553. doi:10.1007/s40520-021-01977-x
Dai Y, Tang H, Pang S. The Crucial Roles of Phospholipids in Aging and Lifespan Regulation. Front Physiol. 2021;12:775648. Published 2021 Nov 23. doi:10.3389/fphys.2021.775648
Gómez-Ramírez S, Brilli E, Tarantino G, Muñoz M. Sucrosomial® Iron: A New Generation Iron for Improving Oral Supplementation. Pharmaceuticals (Basel). 2018;11(4):97. Published 2018 Oct 4. doi:10.3390/ph11040097
Brilli E, Khadge S, Fabiano A, Zambito Y, Williams T, Tarantino G. Magnesium bioavailability after administration of sucrosomial® magnesium: results of an ex-vivo study and a comparative, double-blinded, cross-over study in healthy subjects. Eur Rev Med Pharmacol Sci. 2018;22(6):1843-1851. doi:10.26355/eurrev_201803_14605
Scaturro D, Vitagliani F, Terrana P, Tomasello S, Camarda L, Letizia Mauro G. Does the association of therapeutic exercise and supplementation with sucrosomial magnesium improve posture and balance and prevent the risk of new falls?. Aging Clin Exp Res. 2022;34(3):545-553. doi:10.1007/s40520-021-01977-x
Galluzzo V, Zazzara MB, Ciciarello F, et al. Fatigue in Covid-19 survivors: The potential impact of a nutritional supplement on muscle strength and function. Clin Nutr ESPEN. 2022;51:215-221. doi:10.1016/j.clnesp.2022.08.029
Reno AM, Green M, Killen LG, O'Neal EK, Pritchett K, Hanson Z. Effects of Magnesium Supplementation on Muscle Soreness and Performance. J Strength Cond Res. 2022;36(8):2198-2203. doi:10.1519/JSC.0000000000003827
Lau WY, Kato H, Nosaka K. Water intake after dehydration makes muscles more susceptible to cramp but electrolytes reverse that effect [published correction appears in BMJ Open Sport Exerc Med. 2019 Apr 11;5(1):e000478corr1]. BMJ Open Sport Exerc Med. 2019;5(1):e000478. Published 2019 Mar 5. doi:10.1136/bmjsem-2018-000478
Nemzer BV, Fink N, Fink B. New insights on effects of a dietary supplement on oxidative and nitrosative stress in humans. Food Sci Nutr. 2014;2(6):828-839. doi:10.1002/fsn3.178
Schaffer S, Kim HW. Effects and Mechanisms of Taurine as a Therapeutic Agent. Biomol Ther (Seoul). 2018;26(3):225-241. doi:10.4062/biomolther.2017.251
National Center for Biotechnology Information. PubChem Compound Summary for CID 14792, Magnesium Oxide. https://pubchem.ncbi.nlm.nih.gov/compound/Magnesium-Oxide. Accessed Sept. 18, 2023.
Scaturro D, Vitagliani F, Terrana P, Tomasello S, Camarda L, Letizia Mauro G. Does the association of therapeutic exercise and supplementation with sucrosomial magnesium improve posture and balance and prevent the risk of new falls?. Aging Clin Exp Res. 2022;34(3):545-553. doi:10.1007/s40520-021-01977-x
Swaminathan R. Magnesium metabolism and its disorders. Clin Biochem Rev. 2003;24(2):47-66.
Guerrera MP, Volpe SL, Mao JJ. Therapeutic uses of magnesium. American Family Physician. https://www.aafp.org/pubs/afp/issues/2009/0715/p157.html#:~:text=for%20these%20conditions.-,Contraindications%2C%20Adverse%20Effects%2C%20and%20Interactions,nausea%2C%20vomiting%2C%20and%20diarrhea. Published July 15, 2009. Accessed September 18, 2023.


Credit : Source Post